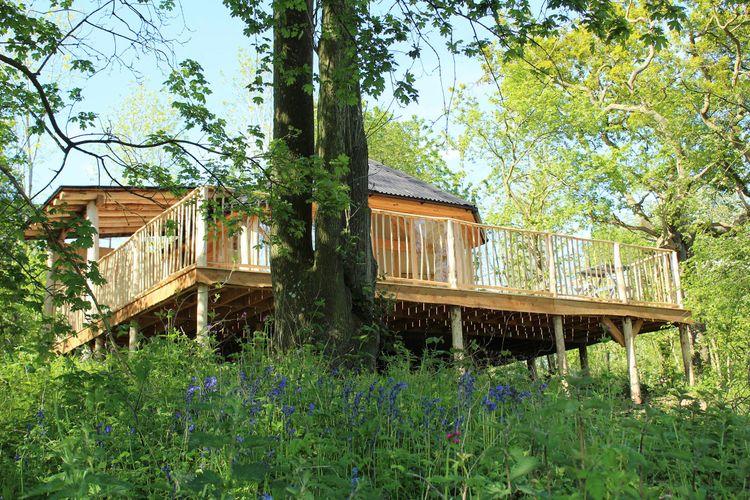 Why we love it
Stunning style and comfort and an outdoor bath on the treehouse deck for you, acres of woodland and muddy paw towels for the dog
---
What you'll love
Dogs will love
70 acres of woodland to roam
The fluffy rug by the wood burner
Being at a good height to bark at birds
Humans will love
Views from the bath out on the deck
The comfort and craftsmanship of the space
The chance to pick up some whittling skills
---
The place
The woodland surrounding Walden is an incredible place to wander and, if the mood takes you, whittle. The heart of the 70-acre site is a workshop where you can pick up some woodwork skills, although it might be a while before you reach the level of the craftspeople who built the treehouse. Everything in Walden has been beautifully designed and built, creating a haven of peace and simple style that lets you simply enjoy nature. There are miles of woodland paths to wander, including a pleasant (but not too long) stroll over to the dog-friendly Green Dragon pub or into the village of Bromyard to raid the pie shop. The roll-top tub out on the deck is such a lovely spot that even the most bath-shy dog might be tempted, but you'll probably want to keep it for yourself.
Sleeping
1 x King size bed in open plan layout
Feather duvets and Egyptian cotton bed linen
Washing
Bathroom with toilet, shower and sink
Outdoor bath tub
Towels and toiletries provided
Living and relaxing
Small library of mainly woodland themed books, board games, cards and some sketching equipment
Cooking and dining
Gas hob
Barbeque
Wood-fired pizza oven
Cooking basics supplied - oil, salt and pepper
Crockery, cutlery, pots and pans provided
For the dog
Towels for muddy paws and soggy coats
Booking information
Check in 1600
Check out 1100
Not suitable for children
Space for one baby, up to six months old. Some equipment available on request
You should know
The woods are home to a lot of wildlife, so please keep an eye on your dog
There are chickens loose in the workshop (4 mins walk away) and farmyard (10 mins walk away)
Read More
---
In the neighbourhood
Brook House Woods is part of a 350 acre farm criss-crossed with paths running through woodland, orchards and along the river Frome.
The Herefordshire Trail crosses the farm, Bromyard Downs and Bringsty Common offer beautiful routes, or hop in the car for 15 minutes and wander the Malvern Hills. Oriana has maps of favourite walks in the area.
Nearby Bromyard is home to many independent shops and a large co-op all within half an hours walk across a footpath or an 8 min drive
The dog-friendly Green Dragon pub is 4.2 miles away, a glorious walk from the woods with local ales and ciders on arrival. Visit for their swinging folk night every other Wednesday night
Legges of Bromyard is two miles away. A deli, butcher's and pie shop stuffed with tasty local produce from ales, gin and cider to quiche, pasties and pies. A huge deli of local cheeses, meats and breads to take away and enjoy back at the cabin
Ledbury, one of the best preserved market towns in England is only 12 miles from the Woods. Spend time wandering the streets, dropping into the cafes, bookshops and Design Quarter.
Read More
---
Find rates & dates
31
Arrival / Departure day
Sorry, this calendar requires javascript in order to work.
All prices include one dog. More dogs can be added in the booking process.
See our booking guide
Back to top