Feeling flexible? Browse the full collection of places to stay here
Dog-friendly cabins
If dogs could talk (excluding that sound they make when you forget to feed them on time), they'd tell you some of their favourite places to stay, are cabins. And it makes perfect sense. There are covered decks to sit on as you rock in a chair, there are wild spaces to explore and sniff, wood burners to stretch out in front of and most importantly, squirrels to be chased. That's why we've collected our favourites into one handy place, for you and the dog to dig through.
Bath & North East Somerset
1/1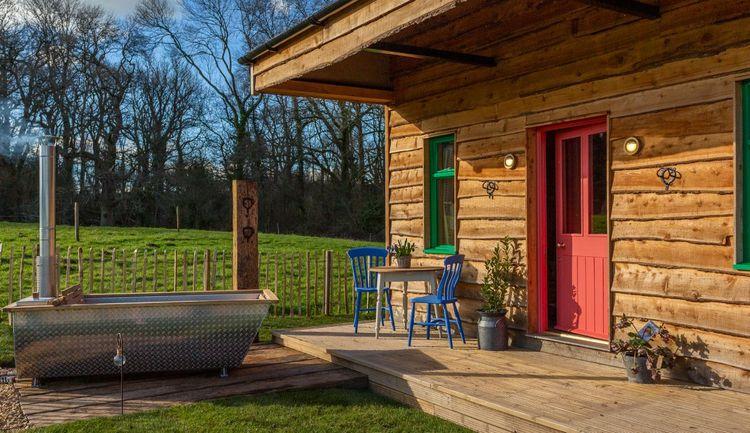 Dog-friendly cabins with hot tubs
Take a look at our full selection of the best dog-friendly cabins with hot tubs, which we've sniffed out across the UK.
Start exploring
Some of our favourite articles
About Paws & Stay dog-friendly cabins
Where did Paws & Stay come from?
We're the very same people behind Sawday's and Canopy & Stars, and with our decades of experience in special places to stay, we realised something pretty big. When we booked our own stays throughout the UK, there was a lot of places that claimed to be dog friendly, that were much more 'dog tolerant'. Sure, they accepted dogs, perhaps you'd even see the odd biscuit left for them. But what we wanted was truly dog friendly, where there'd be a warm welcome, an owner excited to meet them, and even lots of evidence of our four-legged friend's being considered.
How do we know each cabin is good enough?
We have a very unique process for checking whether somewhere's right for our collection. Not every travel company goes to inspect in person, some rely on looking at photos, and others don't bother to inspect at all. We go along, we meet the owners, take a look round, get a feel for the place and the local area. Are we wearing white gloves, carrying a clipboard and looking over our glasses in a scrutinising way? Nope, we send a human, and a dog inspector and don't check off boxes, we just keep an eye on tails for a healthy wag – and get the vibe the old-fashioned way.
What makes a cabin right for Paws & Stay?
Cabins, much like our other spaces, go through a pretty rigorous process. Not every space that applies makes it onto our collection. We're pretty discerning, and if you thought we were bad, you should meet our even more discerning inspector dogs – there's no fooling them. We look for somewhere with a great location, quality interiors, an immaculate vibe. Somewhere special, that an owner puts their whole heart and soul into – and most importantly, a warm welcome to your four-legged friend. And when it comes to cabins, there's an extra factor – phenomenal hygge.
Where will I find Paws & Stay places?
From the tip of Scotland to the most southern parts of the UK, Paws & Stay places are found all over these beautiful isles. Will they be everywhere? Well, not everywhere. But they are found all over the place, and the list just keeps growing. Every day, we're adding new spaces, whether that's cabins, beach houses, Georgian townhouses, little cottages down winding English lanes or shepherds' huts on gorgeous estates. Think you've seen them all? Just come back again in a few days, and we'll have some more to amaze you.
Sign up to our newsletter
Get new dog-friendly places, travel tips and destination ideas delivered to you in a format your dog can't chew to pieces.