The most dog-friendly National Trust places to visit
From castles to country house estates, the National Trust has some fascinating properties all over Britain, telling the stories of aristocrats, farmers, landscapers and well-to-do families from our history. Cultured dogs can join their owners on many a visit, too, exploring vast estates and even enjoying a cream tea in the onsite café, too. Here are the best National Trust properties to visit with dogs.
---
Arlington Court, Devon
With 20 miles of footpaths, there's walks aplenty at Arlington Court, a family estate near Barnstaple in Devon. But that's not why we love it – the best part for dog owners is the National Carriage Museum, which welcomes your pet on a short lead inside to see the Trust's collection of elegant coaches and simple carts from times gone by. You'll have to leave the dogs outside to visit the main house, but they're welcome to join you in the tearoom's indoor additional seating area for a cake and cuppa.
Visit Arlington Court >
Ickworth Estate, Suffolk
On a warm day, you'd be forgiven for imagining you're in Italy while strolling the grounds of the Ickworth Estate. While you can't go into the gardens of this round Italianate palace, you can wander through the surrounding parkland for glimpses of its regal exterior. Once you've pounded those footpaths, head to the Porter's Lodge, a dog-friendly cafe that offers beds and blankets for your dog to settle on while they enjoy a muffin or ice cream made just for four-legged visitors. Humans can expect excellent cakes, too, of course.
Visit Ickworth Estate >
Clumber Park, Nottinghamshire
The National Trust doesn't just look after fancy houses and posh palaces: Clumber Park is one of the many natural environments the organisation cares for, and it's one of the best for dogs in need of a walk. Dog history has been made here, too, as Clumber spaniels were created here by the Duke of Newcastle's estate. If your dog has good recall, you can even let them off lead in the quieter, more open spaces of the park. Plus, there's a dog-friendly cafe called Central Bark.
Visit Clumber Park >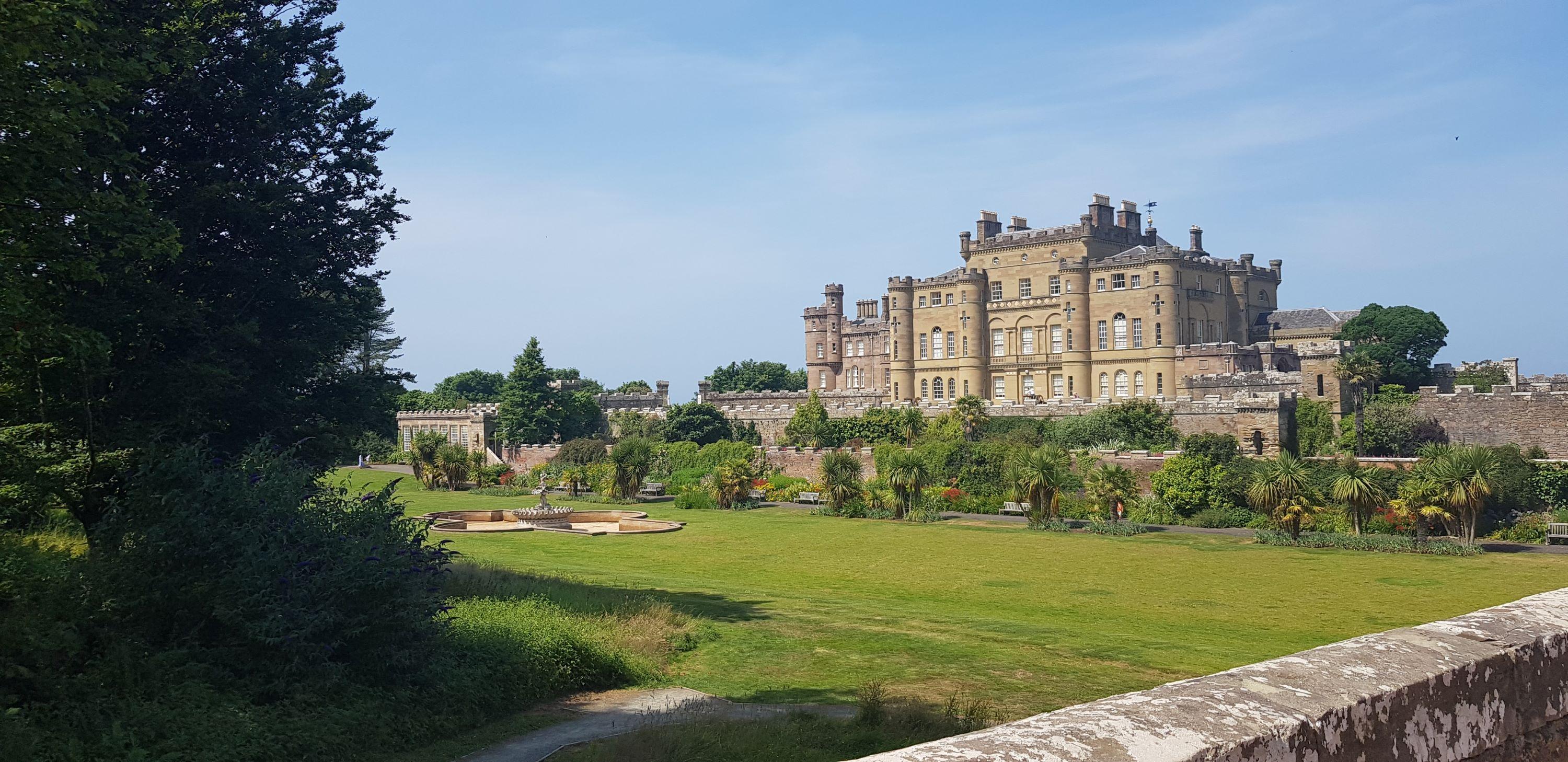 Belton House, Lincolnshire
There are Italianate gardens, quaint courtyards and acres of parkland to explore at Belton House, and the house itself is quite the impressive construction. You can't go inside with the dog, but from the outside you can still see the innovative-for-their-time sash windows installed in the 17th century, and an orangery made from cast iron during the Industrial Revolution; the house is a handsome testament to human engineering. Walk around the lakes and across the grazing pasture where sheep and deer cohabit, and then finish off with a dog ice cream and hot drink at the dog-friendly Stables Cafe.
Visit Belton House >
Tredgar House, Newport
This 17th-century house was home to one of Wales' most influential and wealthy families: the Morgans. Their wealth is evident in the mansion's ornate rooms, dripping with gold trim, ceiling murals and fancy plasterwork. You can't take the dog inside – only Lord Tredgegar's beloved Skye terrier had that privilege – but beyond the house is a warren of formal gardens, orangeries, parkland and lakes ripe for exploring on foot (the dog can roam off the lead in the wider parkland). There's a bookshop onsite which welcomes refined dogs seeking literary inspiration, and a dog-friendly cafe for a classic National Trust afternoon tea.
Visit Tredgar House >
Culzean Castle, Ayrshire
Created by 18th-century architect and designer Robert Adam, Culzean Castle is a magnificent clifftop construction, with crenellated towers and turrets on several corners. Dogs are welcome to explore the walled garden on a lead and can enjoy some freedom in the surrounding country park, where trails criss cross pasture, woodland and skirt around lakes and ponds. Come for the annual August Dog Jamboree and your pet might even win a rosette.
Visit Culzean Castle >
Plas Newydd House and Gardens, Anglesey
Overlooking the menacing Menai Strait, where fast-flowing waters separate the Isle of Anglesey from mainland Wales, Plas Newydd is a brilliant place to walk the dog. Here you might find red squirrels bounding through the woodland, or catch a glimpse of Mount Snowdon across the water on a clear day. Wander through its spectacular rhododendron gardens, which are particularly brilliant when in bloom through May and June, and end the day with lunch or Welsh cakes in the dog-friendly café.

Visit Plas Newydd House and Gardens >
Browse all our dog friendly holidays >
---