How to make birthday biscuits for your dog
To celebrate our birthday, we filled Paws & Stay HQ with our office dogs for some epic lunch break sticks-chasing, corridor racing, and of course birthday tea and cake. Our friends at Fur Babies supplied a delicious cake for our dogs. Fur Babies have also shared their recipe for peanut butter dog biscuits so you can treat your dogs on their next birthday too!
---
Peanut butter dog biscuits recipe
Baking your own dog biscuits is a fun and rewarding way to treat your furry family member. Best of all you can be sure of all the ingredients contained and there will be no nasty additives or preservatives. If your dog is sensitive to wheat you can swap the plain flour for a gluten free alternative, but the result may be crumblier in texture.

Your dog will love these sweet, crunchy biscuits! Peanut butter is my own dog's absolute favourite and the buckwheat flour adds a nutty, earthy flavour. (This is the flavour profile of my birthday cakes for dogs and he usually gets a little extra as a perk of being the chief taster!)

This recipe makes approx 34 large biscuits which will keep for two weeks in an airtight container. (Just be sure to check your peanut butter doesn't contain xylitol - this a sugar alternative which is sometimes added to peanut butter, usually reduced fat varieties.)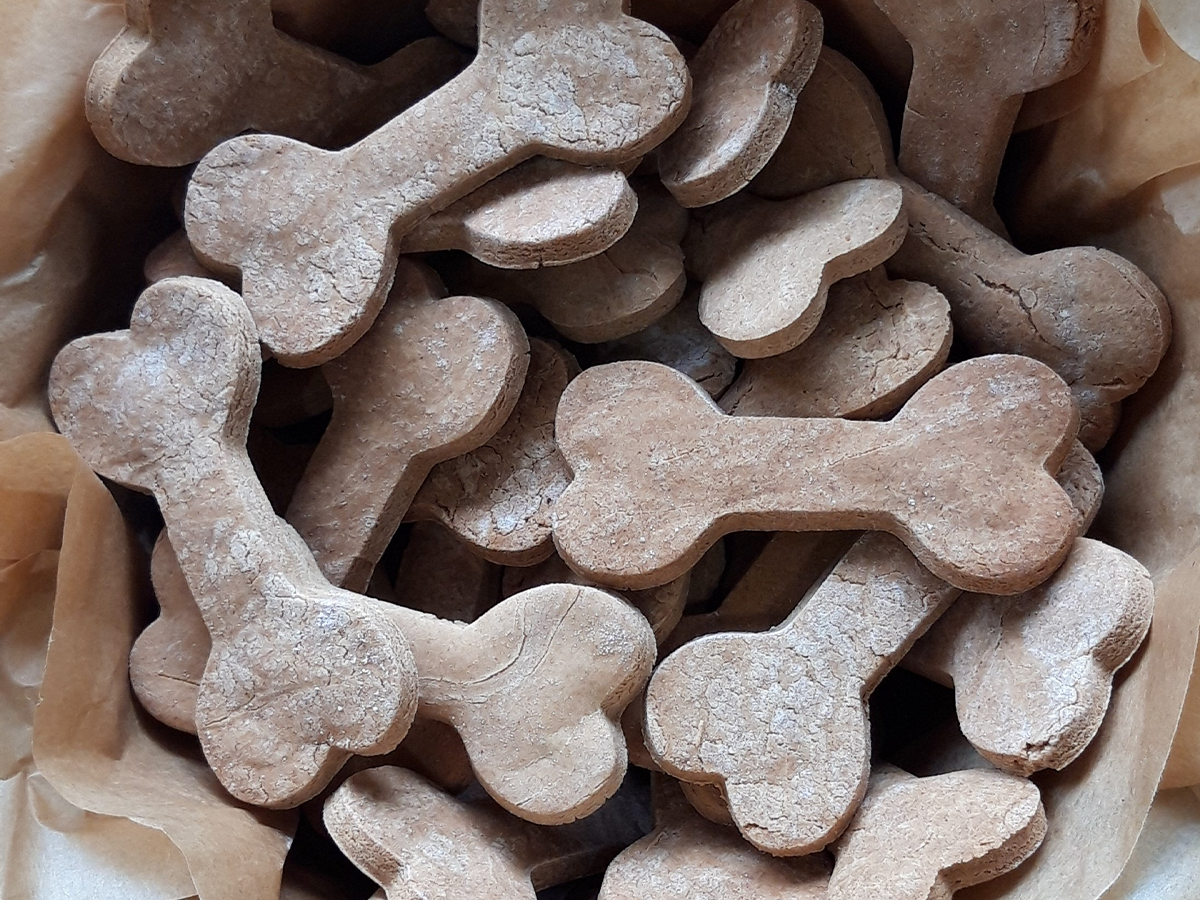 Ingredients
125 ml hot water
60g whole peanut butter, smooth*
1 large egg
150g buckwheat flour
200g plain flour

*Choose full fat peanut butter and check the product does NOT contain xylitol. This is poisonous to dogs!
Method
1. Preheat oven to 175 degrees Celsius and line a baking tray with greaseproof paper. Mix the peanut butter with the hot water and let it cool.

2. Combine the flours and stir in the peanut butter mixture along with the egg. Knead into a smooth but firm dough.

3. Roll onto a floured surface to approximately half an inch thick and cut out biscuits with a cookie cutter - use any shapes you like!

4. Place your biscuits on the baking tray and bake for 40 minutes. Allow to cool on a rack before treating your dog.

Thank you to our friends at Fur Babies for the recipe.
---