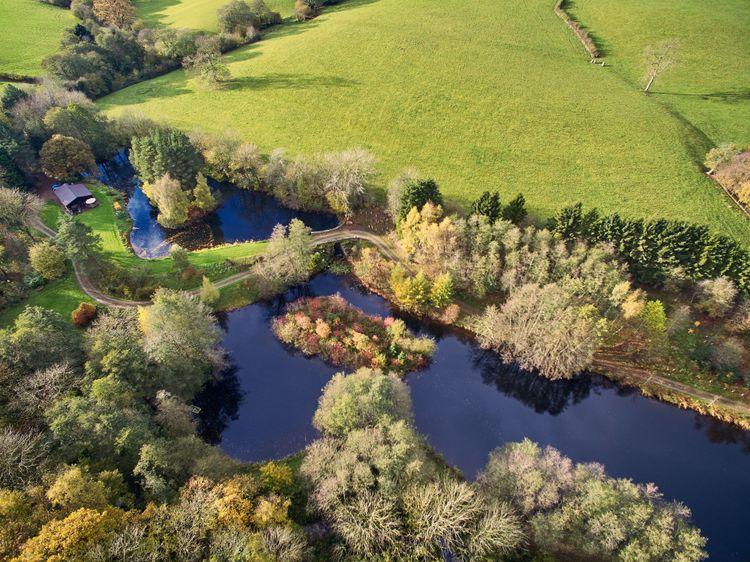 Why we love it
Your dog and you have the run of 35 acres of woodland and pasture, with four lakes to swim in and biscuits and blankets to come home to
---
What you'll love
Dogs will love
Splashing in and out of the lakes
Long walks through the stunning countryside
Thick fleece blankets to curl up under
Humans will love
The seclusion of a place ten minutes from the nearest building
Rowing about on the water with dragonflies buzzing around
Finishing great hikes at any one of the wealth of local pubs
---
The place
A shoes-off sort of place where you'll forget what time it is the moment you arrive and never check again. While there's a throwback simplicity to spending time here – picnicking, hiking, rowing on the lake, dozing on the jetty – the cabin is bright, spacious and well-appointed, so you get the best of the modern world mixed with the nostalgia of summers past. The comfort of the cabin, the little summerhouse, extensive grounds, flourishing wildlife and the arboretum might be more than enough to keep you occupied for a few days, but there's plenty to tempt you out. Great walks like the climb up Clee Hill or the Mawley circular can include visits to lovely local pubs, and foodie Ludlow is just round the corner, with the quiet of the woods and the firepit making a perfect end to the day.
Sleeping
1 x Super King room
1 x Single room
Living and relaxing
Open plan living room with corner sofa
Woodland and lakes for wild swimming and rowing
Small revolving summerhouse to enjoy the views
Welcome treats include homemade jam and baked goodies
Cooking and dining
Kitchen with induction hob, oven, microwave, dishwasher
BBQ
Outdoor dining table and chairs
For the dog
25 acres of woodland and lakes fenced in
Water bowl, fleece blankets and dog treats provided
Booking information
Check in 1600
Check out 1000
Not suitable for children or babies due to the open water
You should know
Surrounding fields contain livestock all year round
Read More
---
In the neighbourhood
Make the walk from the quarry car park to the spectacular views from the top of Clee Hill. Pick up fish & chips from Clee village on the way through and time it for a sunset dinner
The Cleobury Mortimer trail takes you past the famous crooked church spire and you can visit Hobsons brewery and pub along the way
Visit Ludlow for a walk on the Common, round the castle and along the river, and maybe to pick up BBQ supplies at the market
A ride on the colourful carriage of the Bridgnorth funicular railway is a fun way to spare yourself a climb
The Live and Let Live, in Neen Sollars (the next village over) is well worth a visit for a warm welcome, a great pint and views from the garden
Shrewsbury's beautiful old centre is a pleasant place to wander for a morning, with some great shops hidden in the narrow alleys
Read More
---
Find rates & dates
31
Arrival / Departure day
Sorry, this calendar requires javascript in order to work.
All prices include one dog. More dogs can be added in the booking process.
See our booking guide
Back to top