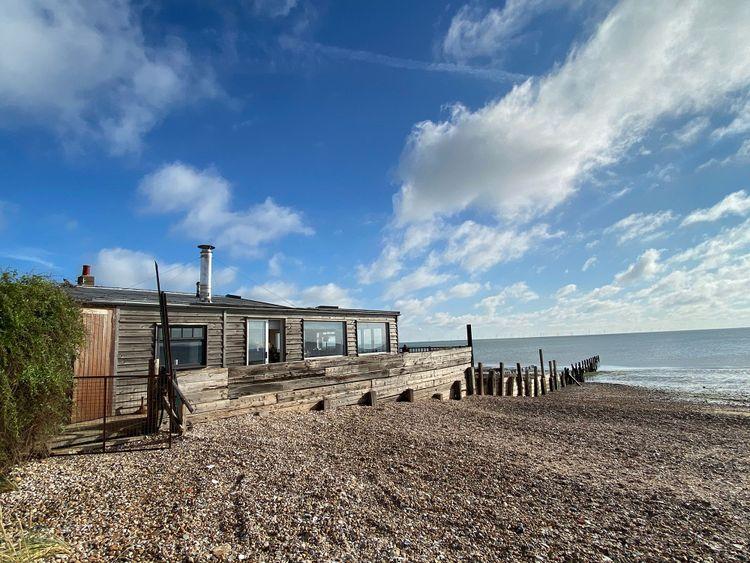 Why we love it
At high tide the surf is a few feet from the enclosed deck, so you can let your dog bark at the waves while you sit with sunset cocktails and amazing views
---
What you'll love
Dogs will love
Being able to run right out onto the beach
Next door's ridiculously friendly dog
Long walks through the Swale marshlands
Humans will love
Sitting in front of the ever-changing sea views
Living the barefoot beach bum life
A welcome gift of some Kent ale and honey made at the local prison!
---
The place
Pack your paddleboard and your dog's life jacket, or just a ball you can throw from the deck while you doze in the sun, because this is a beach house more than worthy of the name. At high tide the surf rolls up to within a few feet of the deck and it's incredibly soothing to have that soft sound always with you. Sandy Toes is a fairly remote place, with the nearest pub a couple of hours away on foot. The owners recommend stocking up with everything you'll need for your stay, including drinking water, and ditching the car so you can really relax into the beach bum lifestyle. The enclosed deck means your dog is safe outside on their own, but with the enormous stretch of beach and nearby nature reserve to explore, they'll be too tired to run off anyway. Well, you can hope.
Sleeping
2 x Double rooms
1 x Single room
Washing
Rainfall shower with toiletries provided
Living and relaxing
Binoculars for bird spotting on the surrounding nature reserve
Board games and beach toys for both adults and children
Woodburner with firewood provided, along with central heating in winter
Wifi
Sofas
Outdoor seating
Candles
Cooking and dining
Welcome pack of honey produced at the local prison and a couple of bottles of local Kent ale
Kitchen with gas hob, oven and large fridge freezer, with washing up liquid supplied
BBQ
Cooking basics supplied - filled 25 litre drinking water container, ice, tea, coffee, olive oil and herbs
Indoor dining table and chairs
Outdoor dining table and chairs
Booking information
Check in 1600
Check out 1000
Optional extras
Additional firewood available to purchase
Additional drinking water is available on request
You should know
If bringing babies, you will need to bring your own cots, high chairs etc
The cabin uses solar power to run all the electric sockets in the cabin, and three large rain water tanks, so supplied are limited
It is uneven ground and access to the house includes driving up a steep ramp but you can park 20 feet away from the front door
The owners have another house next door and might be around sometimes in spring/summer, but they'll leave you to your own devices
It's recommended that you bring your own drinking water, as the water from the taps is fine for washing up, but isn't potable
Read More
---
In the neighbourhood
The Ferry House Inn is a two-hour walk away and while you can always drive, it's a fairly scenic stroll along the beach, not a tough hike. It's a lovely gastropub with a dog-friendly bar area which is very popular locally, so it's worth booking in advance.
The Farm Shop in Brambledown has everything you need for a great meal in. You'll pass through Brambledown on the way to Leysdown, on the island. The farm shop is on the left. It has a butchers, bakers and tonnes of farm-fresh vegetables.
Walk left from the cabin and enjoy a walk into Leysdown or turn right and walk to the disused lookout and beyond, into the swale marshlands that take you across to Harty.
If you fancy a massage but don't want to take the dog to a salon, get a taste of Champneys' pampering – a trained massage therapist can provide Massage Treatments at Sandy Toes Beach House.
If you manage to tire of the beach right on your doorstep, Minster Beach, near Bartons Point Coastal Park, is worth a visit for a change of scenery, although it's only dog friendly in winter.
Bring a stack of bird books as there's plenty to be spotted while you walk in the marshlands or even just from the deck, although with a nudist area just down the beach, you might want to be careful where you point the binoculars.
Read More
---
Find rates & dates
31
Arrival / Departure day
Sorry, this calendar requires javascript in order to work.
All prices include one dog. More dogs can be added in the booking process.
See our booking guide
Back to top