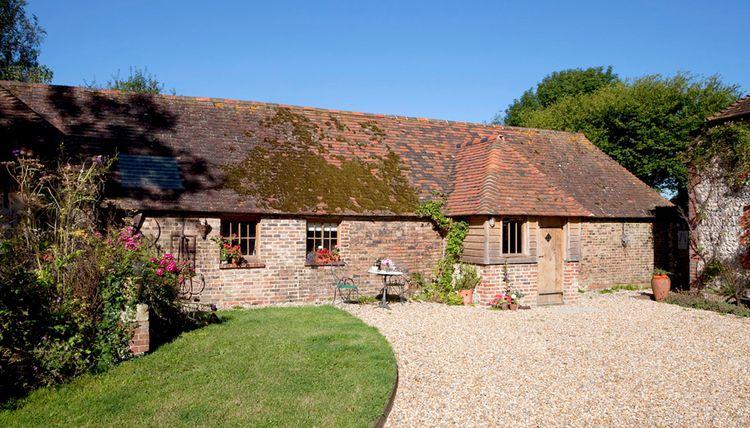 Why we love it
Authentic, tumbledown charm and colour, with a walled garden for little trips out and South Downs walks right from the door
---
What you'll love
Dogs will love
Being able to roam the little garden
Sniffing out the welcome treats
Meeting Wilfy, Mano and Duffy, the three resident collie crosses
Humans will love
Ditching the car and walking straight onto the South Downs
Keeping the welcome treats for humans out of hungry paws
Beautiful views from the garden at the front
---
The place
You'll be welcomed to the dairy by Wilfy, Mano and Duffy, the three resident collies, along with their human Jinks, a jewellery designer whose creativity is what gives the place its flair and charm. The little table in the courtyard is a great morning suntrap and there's a more private garden out the back with amazing views, that's great for evening meals. The back garden is walled, so there's no worry about the dog running off, but when they do need a proper walk, you couldn't be better placed. The South Downs is right on your doorstep so you can ditch the car and hike the hills or take off-road trails and footpaths to any one of three great dog-friendly pubs nearby.
Sleeping
1 x King room
1 x Small double sofa bed - extra space that sleeps one
Washing
Large bath with shower over, toiletries are provided
Living and relaxing
WiFi
TV with Amazon Fire stick
Wide collection of books and DVDs
Private garden with deckchairs to enjoy the view of the South Downs
Cooking and dining
Kitchen with hob, microwave and dishwasher
Outdoor dining table and chairs
All kitchen utensils provided
Cooking basics supplied - Salt, pepper, oil, vinegar, sugar, tea, instant and ground coffee
Welcome breakfast gift basket
For the dog
Dog bed, bowl and towel provided on request
Booking information
Check in 1600
Check out 1000
Space for two adults included in the cost. Third adult charged at £15 per night
You should know
There may be livestock in the surrounding fields
It can get very muddy in the area when it rains, so bring wellies
Read More
---
In the neighbourhood
Nearby Lewes (7 miles) and Brighton (10 miles) are great to drop into if you fancy a bit of sightseeing and shopping. Both have a good mix of historic architecture and contemporary art and culture
The Jolly Sportsman is a great dog-friendly pub in East Chiltington, a 40-minute walk along footpaths and trails to the east
Head west for 40 minutes and you'll end up in Ditchling, where you can stock up on supplies or try two more dog-friendly pubs, The White Horse and The Bull
A potentially muddier walk across fields to Plumpton will take you to The Half Moon, which is dog-friendly of course and has a lovely garden
The South Downs was designated a National Park in 2010, meaning the whole area is now protected. It's an absolute goldmine of walking trails.
Read More
---
Find rates & dates
31
Arrival / Departure day
Sorry, this calendar requires javascript in order to work.
All prices include one dog. More dogs can be added in the booking process.
See our booking guide
Back to top