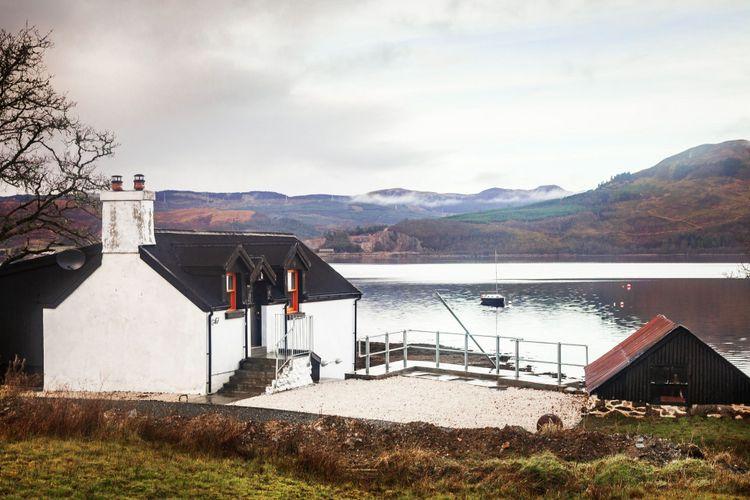 Why we love it
Dog treats and lochside rock rummaging for the mutt, fabulous food and sunsets on the water for you. Hiking the glens and naps by the wood burner for you both
---
What you'll love
Dogs will love
Staring at the complimentary treat jar until you give in
Sampling dog beer at the Fyne Ales Brewery Tap
Snuffling on the rocky loch shore right outside
Humans will love
Incredible sunset views from the sofa or the balcony
The nautical and historical artefacts scattered around the space
Keeping an eye out for red squirrels, seals and sea birds
---
The place
If your dog didn't drag you out, you could end up sitting all day on the balcony here, just watching the water. Sunsets are spectacular, seals and seabirds are worth keeping an eye out for and, if the night gets chilly, you can retreat into the lounge and the corner sofa by the wood burner. When the dog does demand a walk, you have plenty of scope, from the loch's shoreline to the deep woodlands of Puck's Glen or the paths around Castle Lachlan. If you want to end the day with a great dinner out, you'll need to drive, with the Fyne Ales Brewery Tap and the famous Inver restaurant about 20 minutes away but well worth the trip. The former even serves dog beer! That being said, The Douglas Boathouse is a great place to rock up with everything you need and switch off for a couple of days.
Washing
Wet room bathroom with rainfall shower
Living and relaxing
Storage for you to bring your own bikes, small boat, kayak or SUPs
Woodburner with firewood provided
Books and games
Sky TV
Boot store outside the property for wellies and muddy boots
Cooking and dining
Cooking basics supplied - salt, pepper, tea, coffee and sugar
Kitchen with oven, microwave and fridge freezer
BBQ
For the dog
Bowl and sleeping mat provided
Two dog blankets - please bring more if you're travelling with additional dogs
Booking information
Check in 1500
Check out 1100
Optional extras
Additional dogs may be allowed, on request.
You should know
The property is accessed by a 'forestair' on the outside. Although this is not steep and is only a few steps, you will need to bring a ramp if using a wheelchair
Proximity to the water means children should be closely supervised at all times
The storage is not locked - something to be aware of if you're bringing precious bikes!
Read More
---
In the neighbourhood
Puck's Glen is great for dog walking. It's a deep woodland gorge with plenty of waterfalls in an area managed by Forestry and Land Scotland. There are also several burns and the loch itself for dogs who love to splash.
The small restaurant Inver, in Loch Fyne about 20 minutes away, is well worth a visit for the a la carte lunch or the evening tasting menu. Whilst dogs aren't allowed at the restaurant, but it's well worth visiting for the incredible food.
The Old Castle Lachlan walking trails offer something for every ability and energy level, from strolls up to the castle ruins to longer walks that end up in sheltered bays great for wildlife spotting.
Wildlife watching is pretty easy here – seals have been spotted in the loch and all kinds of birdlife hunt over the water. Keep an eye out for red squirrels in the woods as well.
At the Fyne Ales Brewery Tap you can sample a range of great beers... and so can your dog, with a special brew and biscuits tuned to the canine palate available. The Oystercatcher at Otter Ferry is another pub with great food and drink, where dogs are warmly welcomed.
Inveraray Jail is one of the odder days out you'll ever experience, with a dog-friendly tour of the costumed character-filled former prison including audio extracts from real trials conducted there.
Read More
---
Find rates & dates
31
Arrival / Departure day
Sorry, this calendar requires javascript in order to work.
All prices include one dog. More dogs can be added in the booking process.
See our booking guide
Back to top