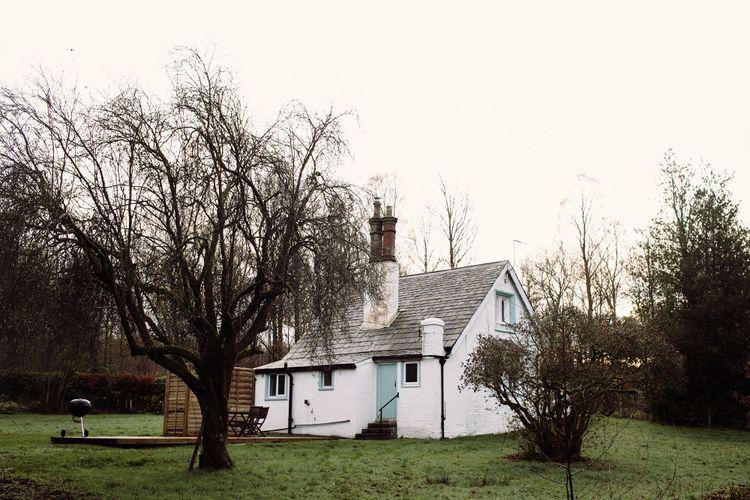 Top Lodge Cottage
---
2 Humans
2 Dogs
Babies welcome
---
Enclosed garden
Owner has pets
Livestock on site
Check rates and dates
Why we love it
There's endless walking from the door, a cosy woodburner to come home to and an outdoor bath island that dogs might not like, but humans will love
---
What you'll love
Dogs will love
Exploring the woods and walks along the River Esk
The cosy spot in front of the woodburner (and probably right under your feet)
Getting completely away from the noise of the city
Humans will love
The amazing outdoor bath, with a roll top indoors for the less naturist inclined
The clean, simple elegance of the space
Produce from the garden and the chickens, in season
---
The place
This is definitely a place to come and relax, rather than pack in a lot of adventure. Exploring the area will be more about long walks where you don't see a soul all day than dropping in to pubs and market towns. It's a bit of a hike to the nearest... anything, so stock up on food, biscuits and books, then get ready to disappear into the woods for a few days. Once you're settled, you'll have nothing more pressing to do than choose between the indoor roll top bath and the outdoor one, in the woods behind the cottage. There's a garden where dogs can be let out in the morning and evening, but you'll need to keep an eye on them if they've got plenty of energy. It's far better to take them out to Hadrian's Wall or along the many paths through the estate, to get them good and tired for another lazy evening in.
Washing
Bathroom with roll top bath and toiletries included
Washing machine
Shower
Living and relaxing
Wood-fired outdoor bath with beach towels
Woodburner with a basket of logs, kindling and firelighters included
TV
Sofa and armchair
Reading corner in the bay window
Candles
Cooking and dining
Kitchen with induction hob, electric oven, fridge, kettle and toaster
Cooking basics supplied - tea, coffee, sugar, salt, pepper along with seasonal goodies from the garden and chickens, where possible
BBQ
Dining table and chairs
Outdoor dining table and chairs
Booking information
Check in 1500
Check out 1000
Not suitable for children
Optional extras
Additional firewood available from the owners at £5 per bag for the woodburner or £15 per bag for the outdoor bath, via an honesty box
Celebration package
Campfire package
You should know
The garden is enclosed, but there are gaps that a determined dog could get through
The cottage is on a working farm so you'll have to keep your dog on a lead while on estate grounds and an eye out for ticks
The stairs down from the bedroom are steep
Read More
---
In the neighbourhood
There is a private garden but there are gaps in the fencing and it also backs onto open woodland. So it's enclosed in a way but they can escape!
The cottage has its own private garden which backs onto open woodland so there are BUCKET loads of walks for you. There is also a wood burning stove to snuggle up in front of at night.
The quirky cottage is perfect for someone looking to hideaway in a rural location. With roll top bath in the bedroom and outdoor bath in the woods behind, you will be able to bathe and relax after all that walking with your pooch!
The cottage is on a working estate with farmland and woodland surrounding the property so you will need to keep your dog on a lead while walking around the private estate. As it is private, you will rarely see another person or dog, but there are sheep, cows, pheasants around!
There will be tea, coffee, sugar, salt and pepper, plus (hopefully!) some goodies from the chickens and garden depending on the time of year. Sometimes we put some homemade jam or baked goods in depending on what we have at the time - no promises!
Robert and Emily live up in North Cumbria with their three sons Freddie, Finn, Albie and dog Mabel. The Gruesome Grahams have been here for centuries. But during their time, they have been a little more friendly! Having started welcoming guests in B&B cottages at Netherby, the Graham family decided that a yurt would be much more fun, and so set up Netherby Woodland Yurt in a quiet corner of their larch wood.
Read More
---
Find rates & dates
31
Arrival / Departure day
Sorry, this calendar requires javascript in order to work.
All prices include one dog. More dogs can be added in the booking process.
See our booking guide
Back to top