Feeling flexible? Browse the full collection of places to stay here
Dog-friendly holidays with hot tubs
Ok, so, we're going to be upfront about it. We've yet to find a space so dog friendly that they have a hot tub for dogs. We know, it's criminal. But for the sake of everyone's water filters, it's probably for the best. What we have discovered is, for the most part, the dogs don't seem to mind, and even more importantly, their owners seem pretty chuffed to go ahead and melt into one without them. And what's good for the owner, is good for the dog. So, without further ado, here's our collection of dog-friendly holidays with hot tubs.
Suggested dog-friendly places to stay with hot tubs
1/6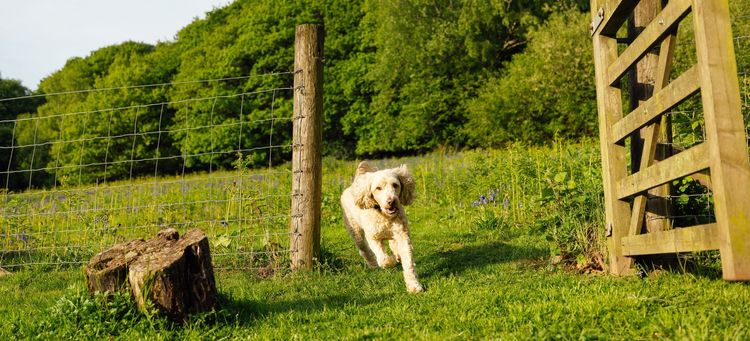 Dog-friendly holidays
Take a look at our full selection of the best dog-friendly places to stay, which we've sniffed out across the UK.
Start exploring
Places with an outdoor bath tub
1/6
Some of our favourite articles
About Paws & Stay dog-friendly holidays
Where did Paws & Stay come from?
Like all good creations, Paws & Stay came from a big gap in the market. Using our experience at Sawday's and Canopy & Stars, exploring the country for incredible places to stay, we found that often places that claimed to be dog-friendly, were erring more on the side of 'dog-tolerant'. But this wasn't the case with every space, in fact, we kept finding places where owners were beside themselves to meet our four-legged friends – and that's how we believe it should be. With that in mind, we decided to make a place where all these incredible owners could be found together – and Paws & Stay was born.
How do we know each place is good enough?
Dog-friendly places are a lot like dogs – they come in all shapes and sizes, and all manner of different colours. But most important, is what they have in common – they all love dogs. You can expect a warm welcome, somewhere snug to sleep, and a stay that's designed to be loved by our four-legged friends (and of course, yourself).
What makes a place right for Paws & Stay
There's really only one way to know – and that's to go and check. When we consider taking a space on, we don't hide behind a term like 'inspection' like some companies do – we don't just look at the photos and give it the thumbs up. We send a dog-friendly travel expert out to view the space, alongside a four-legged companion. It only gets the seal of approval if the owner walks out smiling, and the dog trots out tail wagging.
Where will I find Paws & Stay places?
We're closing in on having a space in half of all the UK counties – and the list keeps going. Paws & Stay is still young, and though we count our company's years in human years, we count our experience in dog years – as we bring all the expertise of many decades with Sawday's and Canopy & Stars. Every day, new places are added to our collection, and by the time you read this, we could be on the way to closing in on all 48 counties.
Sign up to our newsletter
Get new dog-friendly places, travel tips and destination ideas delivered to you in a format your dog can't chew to pieces.