Bracing winter dog walks to get tails wagging
There's nothing like a bracing and restorative walk to blow the cobwebs away. We've rounded up a handful of the best winter dog walks around the UK, whether you're at home or holidaying in a cosy self-catering cottage. Dogs and humans will love scampering around the coast in Devon or Cornwall, conquering a dragon in the Brecon Beacons and snuffling through glorious woodland in Gloucestershire.
---
Devon
Little Dartmouth circular walk
Near Dittisham Hideaways, Dittisham

Setting off from Dartmouth National Trust car park, this is an easy-breezy 4-mile coastal walk, with charming sea and estuary views: watch boats chug into Dartmouth harbour, spot basking grey seals and myriad birdlife in the cliffs and coastal grassland. You join the coast path at Warren Point, on a clear day glimpse Start Point Lighthouse, 8 miles away, then follow the path skirting Western Combe Cove, past the gorse-covered outcrop of Combe Point and the rocky inlets of Shinglehill Cove and Willow Cove. As you loop around Compass Valley, take a detour down to the tiny cove to throw a few sticks, then back onto the path as it climbs steeply through woods. You have the option to visit Gallants Bower (an old Civil War fort with panoramic views) or Dartmouth Castle before heading back to your start point. The tea rooms at the castle welcome furry, four-legged types.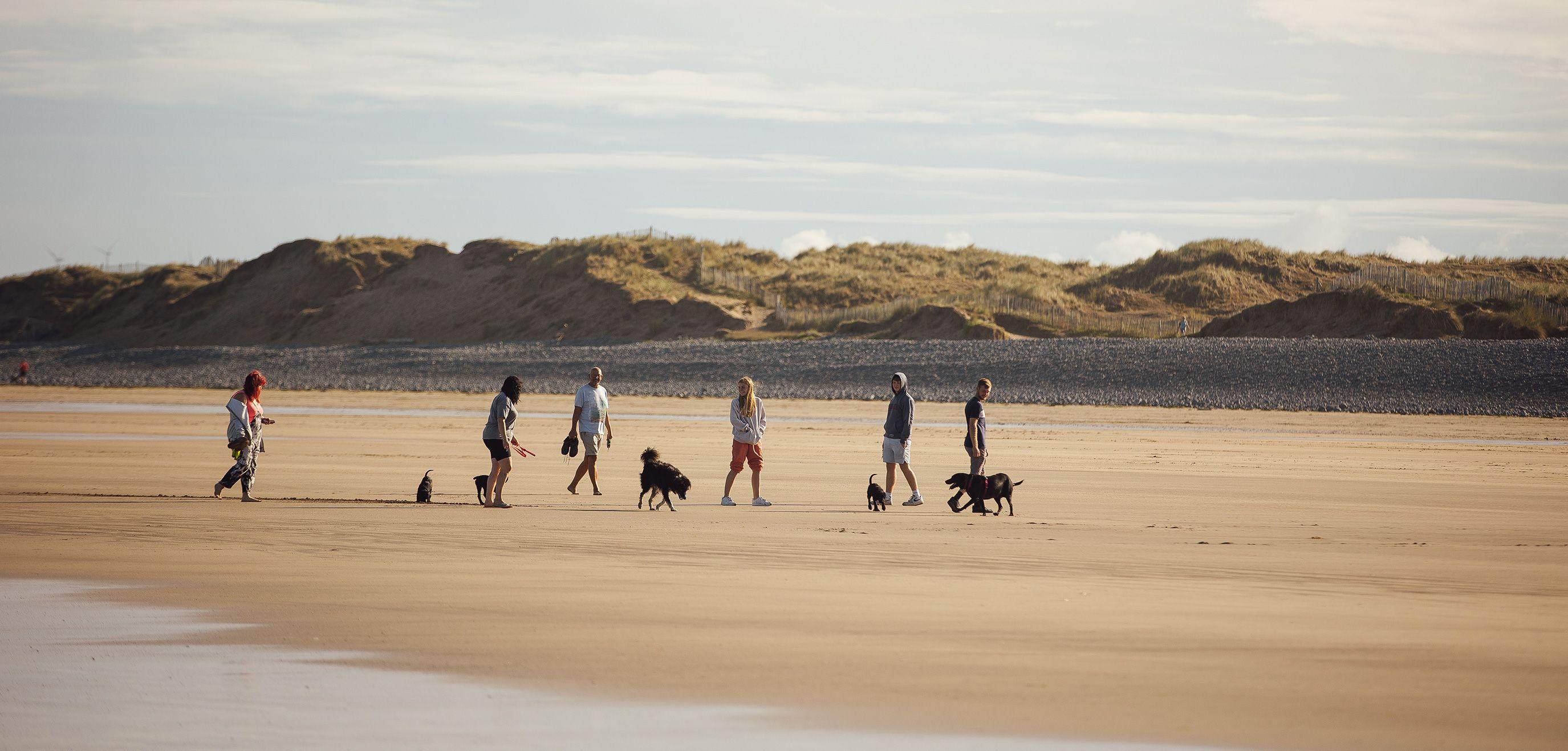 Herefordshire/Brecon
Dragons Back, Brecon Beacons
Near Cynefin Retreats, Herefordshire

In the north-eastern tip of the breathtakingly beautiful Brecon Beacons National Park, is the mythically-named Dragons Back circular walk. This vigorous 7-mile route, starting from the small village of Pengenffordd, has glorious views from its high mountain plateaus. As you negotiate the ups-and-downs of the sleeping dragon's spine, you'll be rewarded with spellbinding views from the highest point of the Black Mountains, Waun Fach. Take a breather at Castell Dinas hillfort (at 450 metres it's the highest castle in Wales) then onto the path, through peat bogs and marshy ground, leading away from the summit. Remember to keep dogs on leads past grazing livestock and roaming wild ponies. You descend into the Rhiangoll valley, which leads to a country lane, then a muddy track and back to the car park. Once you've conquered the dragon, nip into bookish Hay for a well-deserved cuppa and pop your pup under the table for a snooze.
Lake District
Howtown to Glenridding, Ullswater
Near Crookwath Cottage, Dockray

Did you know dogs can travel on board the Ullswater Steamers? Take the Glenridding to Howtown crossing to wander back along one of Wainwright's best-loved paths in the Lake District National Park. Stroll the 6-mile shoreline track beneath the backdrop of the Helvellyn Range Catch with Glencoyne Wood, home to Wordsworth's daffodils, on the left shore. You follow the signs to Sandwick, around the rocks at Kailpot Crag and to Sandwick Bay where you turn inland, crossing a beck to skirt Scalehow Wood. The path climbs beside a roaring waterfall before curving right to Silver Bay, a lovely paddling and ball-throwing spot, with glistening lake views. You may spot roaming herds of red deer so remember to take a lead. Soon you'll arrive in Glenridding village, perfect for a pit stop, and you've got the option to do this walk in reverse, with the lake crossing at the end.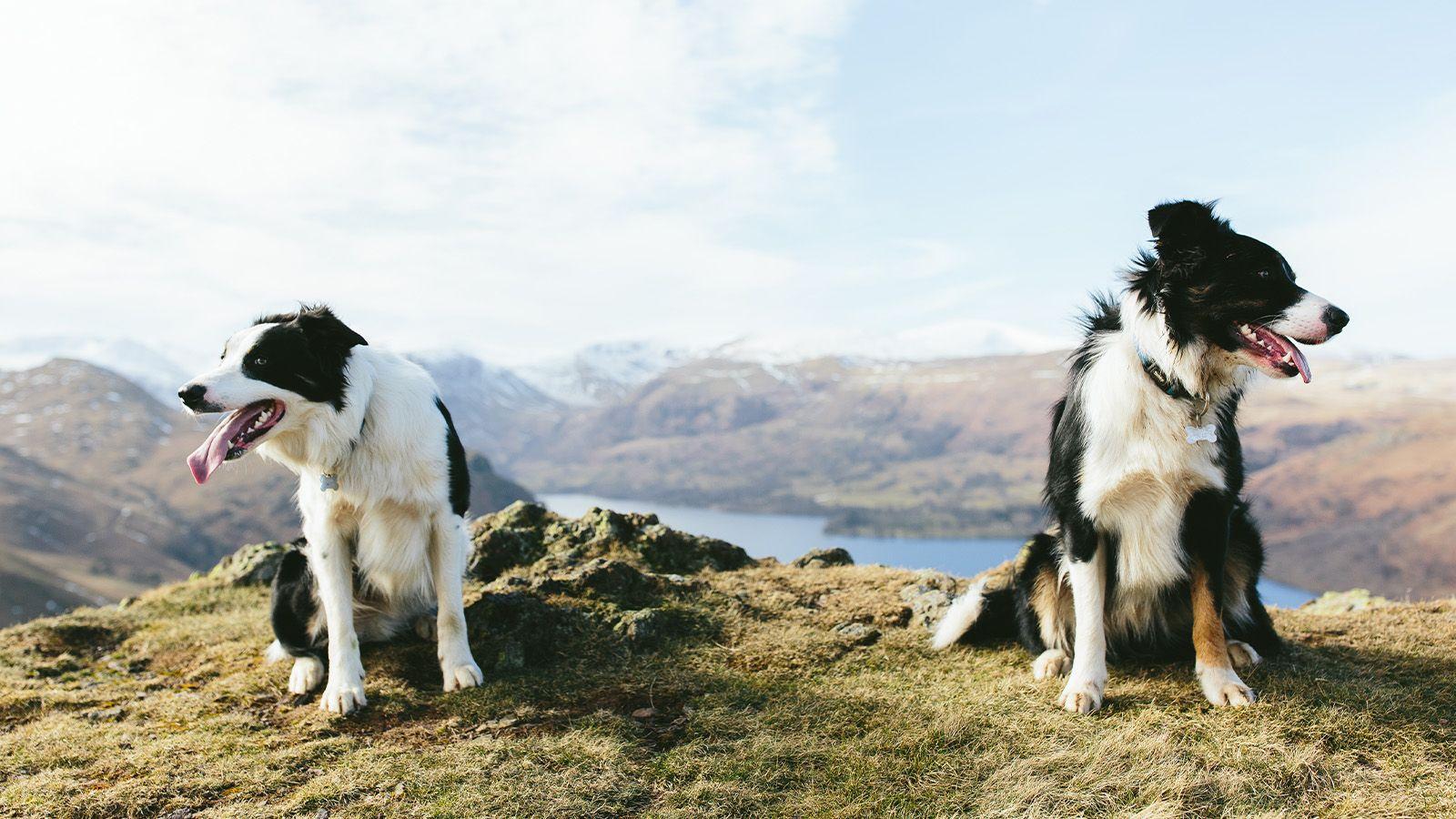 Cornwall
Trebarwith Strand to Tintagel Castle walk
Near Spring Park, Launceston

Start from Trebarwith Strand, a mile-long silky ribbon of beach at low tide, dog-friendly year round, with rock pools and surf; then follow the path up to the cliff top looking for the waymarks to Tintagel. Along the rocky headland you'll spot Trebarwith's teetering coastal slate quarries and follow the path that donkeys laden with slate once plodded to cargo ships waiting on the coast. Continue around the cliff edge to Penhallic Point, find a handy bench to soak up glorious coastal views, then climb up the path to Glebe Cliff and wander around ancient St Materiana church; from here you'll glimpse the ruins of Tintagel Castle on its island, home to King Arthur, or so the legends say. Take a detour to explore the castle - dogs on leads are welcome. Steep steps take you down to the beach and Merlin's Cave, another character from Arthurian legend, then it's a steep climb back up to Barras Nose headland and into Tintagel village.
Gloucestershire
Laurie Lee Woodland walk
Near Asphodel Cottage, Cirencester

Laurie Lee Wood is named after the Cider with Rosie author, who grew up in nearby Slad village and bought the woodland in the 1950s to preserve it from a recent spate of tree felling. It feels like stepping back in time: much of the woodland here is ancient, home to less common species of trees and a wealth of wildflowers and fungi, depending on the time of year, as well as a glorious array of beech trees. Dart around the 5.3 mile circular walk that covers much of the picturesque Slad Valley and look out for poetry posts featuring Lee's work. Today the woodland is owned and managed by the Gloucestershire Wildlife Trust. They also manage nearby Swift's Hill and Frith Wood which you can add on to your ramble if you're still feeling energetic. Finish up at the dog-friendly Woolpack Inn, favourite drinking hole of Laurie Lee's.
Chiltern Hills AONB
Watlington Hill walk

The Chiltern Hills is a chalk escarpment northwest of London, covering 660 square miles across Oxfordshire, Buckinghamshire, Hertfordshire and Bedfordshire. On this gentle 2.5 circular mile walk you'll discover rare chalk grassland (some is fenced to protect the Horseshoe Vetch wildflower from being eaten by rabbits), woodland habitats and gorgeous views over the Vale of Oxford and along the Chiltern Escarpment. Beginning at the Watlington Hill NT car park, take the path into the woodland and soon lovely views open up and you may spot soaring red kites. Go past a circle of yew trees, historically used as a mausoleum for the Esher family who once owned the land. Once you reach the top of the Watlington White Mark, take a pit stop on the bench and enjoy the scenes over pretty Watlington and the gently rolling Oxford Vale.
Browse all of our dog-friendly holidays here >
---