Eight dog-friendly cabins for a cosy getaway
As the leaves are falling from the trees, the nights feel cooler, and the scarves are no longer on offer in the shops, your four-legged friend is likely looking forward to some weather better suited to their lovely coat. There's no better time to be considering a getaway to celebrate. If you've never taken a trip with your dog, this is the way to do it right the first time – with four walls steeped in hygge and perhaps a rocking chair or two, or a veranda to watch the shades of autumn creep in.
---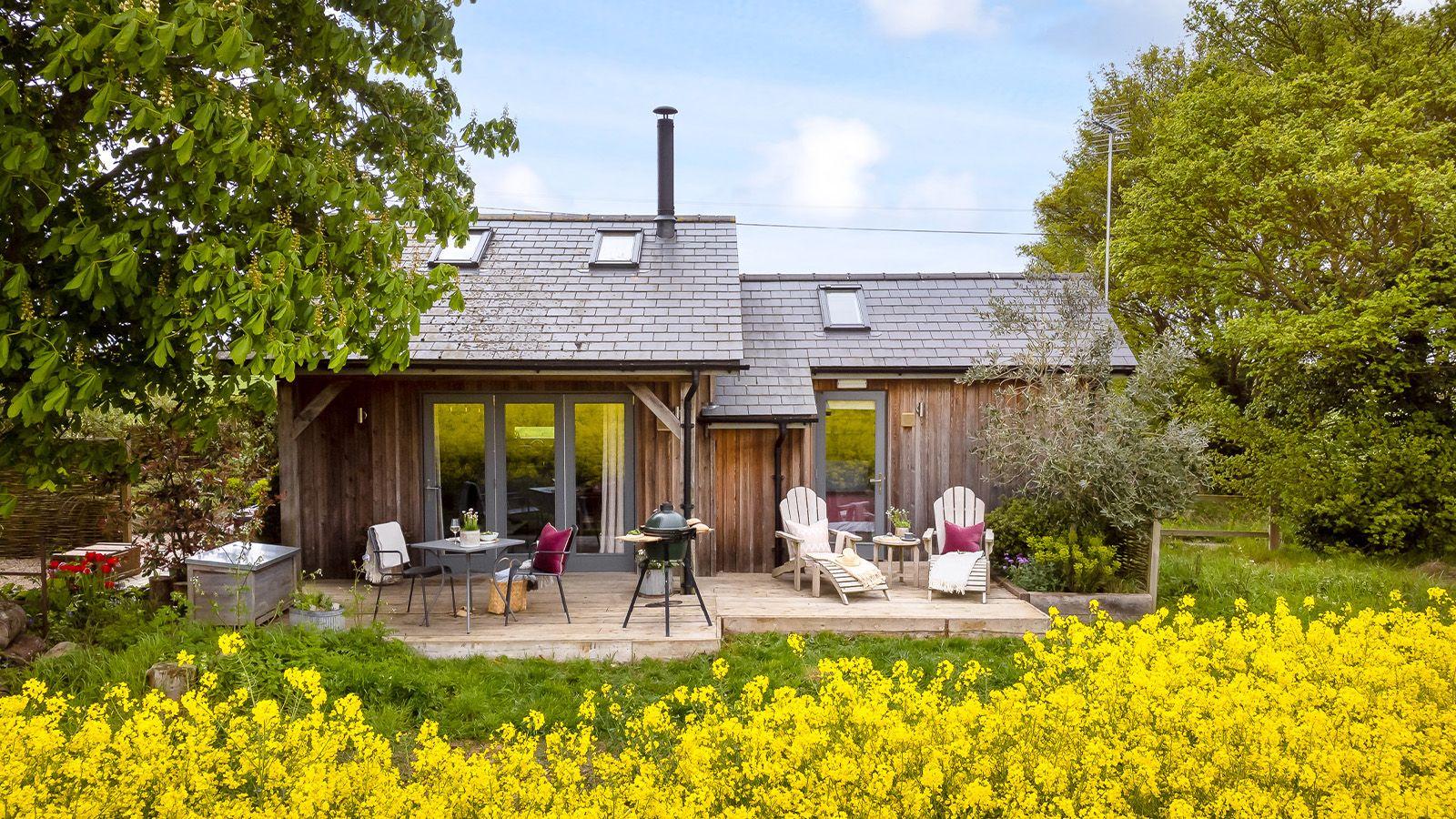 Hare Field Cabin
The perfect break from the sound of the city, find a little peace in the gentle Suffolk countryside. If you're in the mood for adventure, it's surrounded by fields and footpaths perfect for dogs (and their humans) to roam. But if your dog's the river going kind, there's canoeing and kayaking on the river Stour that's dog friendly! If you're considering taking things at a slower pace, then just amble to the local historic towns and breeze around with coffee breaks at dog friendly coffee shops, returning to a luxurious monsoon shower and an evening toasting marshmallows over the firepit.
Stay at Hare Field Cabin >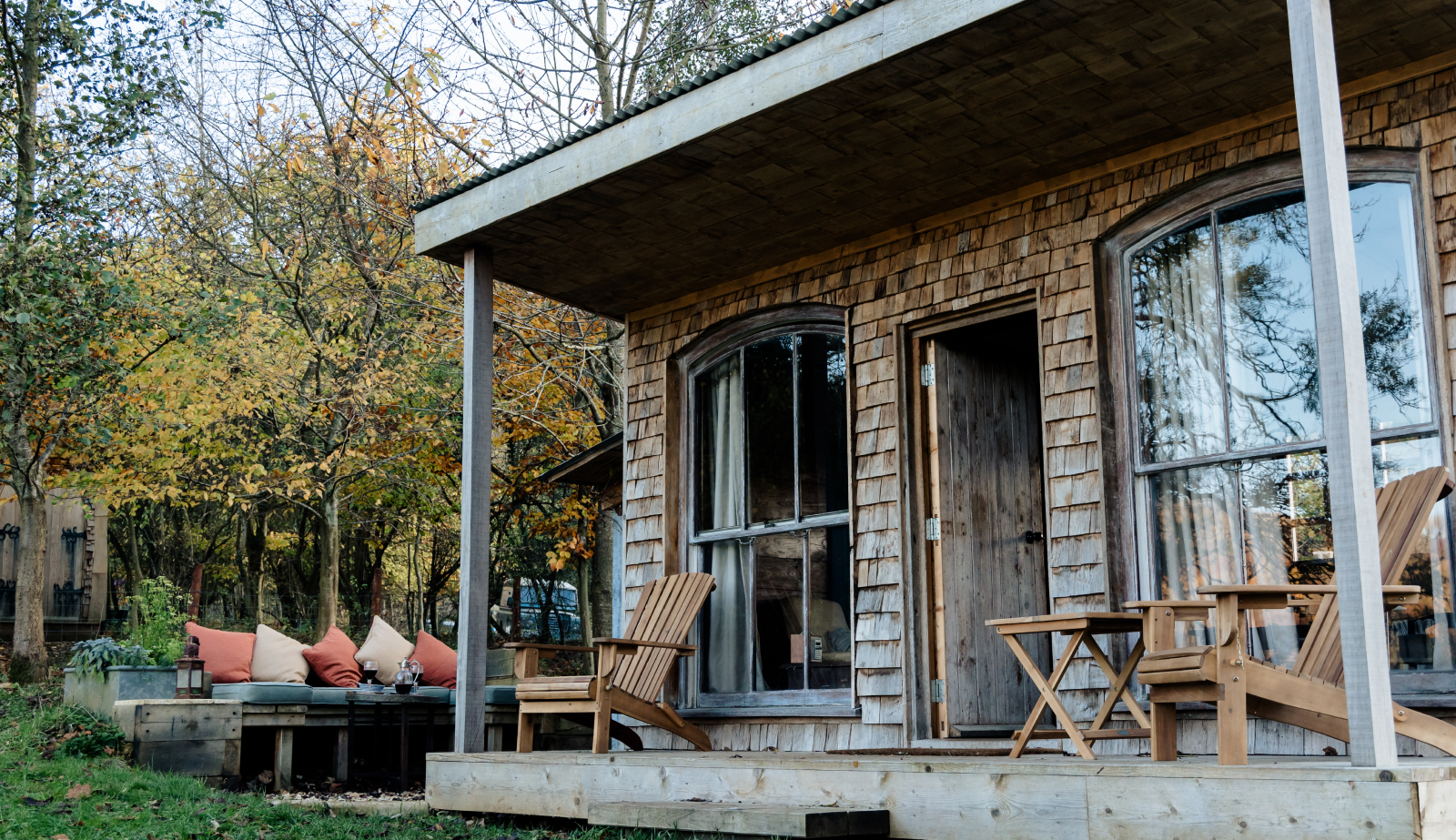 Buzzard's Reach
Sometimes the thing you're craving is a hearty dose of seclusion – and Buzzard's Reach offers it by the bucketful, at the end of a fairy-light trail, in its own elevated clearing in the Ebworth Valley. Surrounded by walks and woods to explore, you'll spend your days wandering with your hound, watching them sniff everything available. On your return, you'll be kicking back with your partner at the dining table under upcycled Parisian streetlights or serving glasses of red to a deserving other half in the Japanese plunge bath. Outside, you'll be moving from sipping steaming cups on the covered deck, to one of the three outside seating areas available to track the sun across the sky. All the while watching your tiny pal tummy scoot from warm patch to warm patch.
Stay at Buzzard's Reach >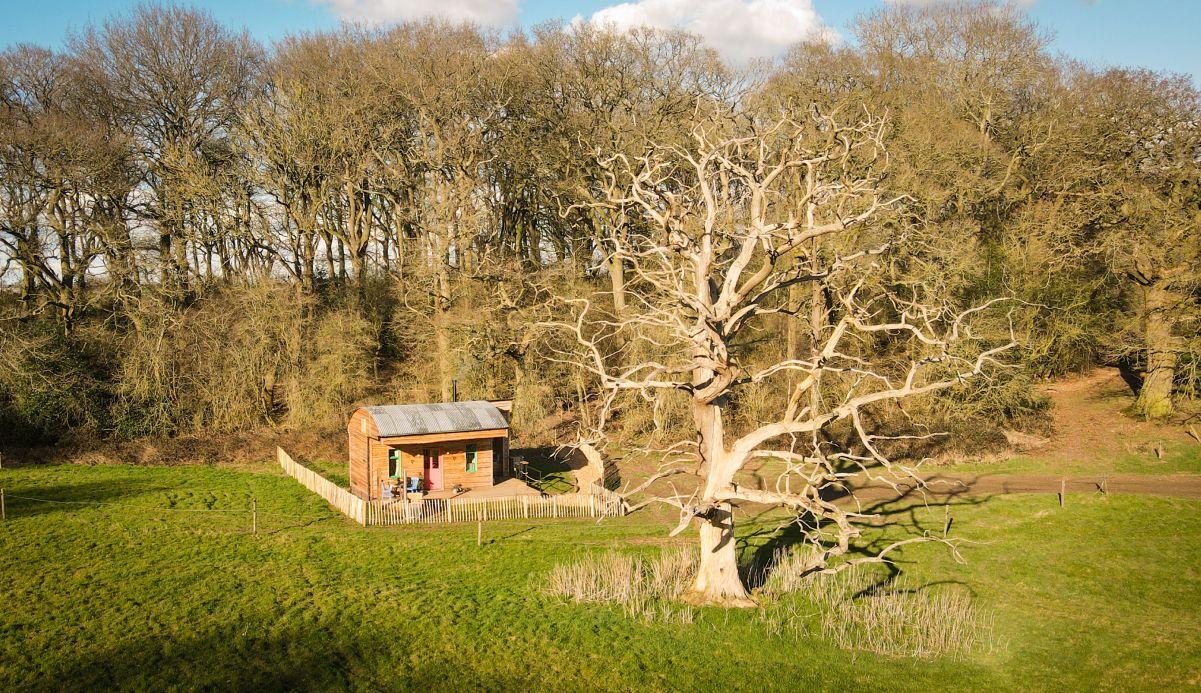 McLaughlin's
Whilst the dog's not going to appreciate all the bright colours around this cabin, they will undoubtedly notice the scent-laden walks through wildflower meadows and the mature woodland, stretching out in the enclosed garden every morning, or napping by the wood-burning range indoors. Further afield, there's National Trust spaces to wander and even Alderford Lake for a doggy paddle. Once you've spent the day royally spoiling your hound, you can head home, kick back and hop in the Hikki hot tub to watch the stars poke their way out of the sky, with a tired dog close by.
Stay at McLaughlin's >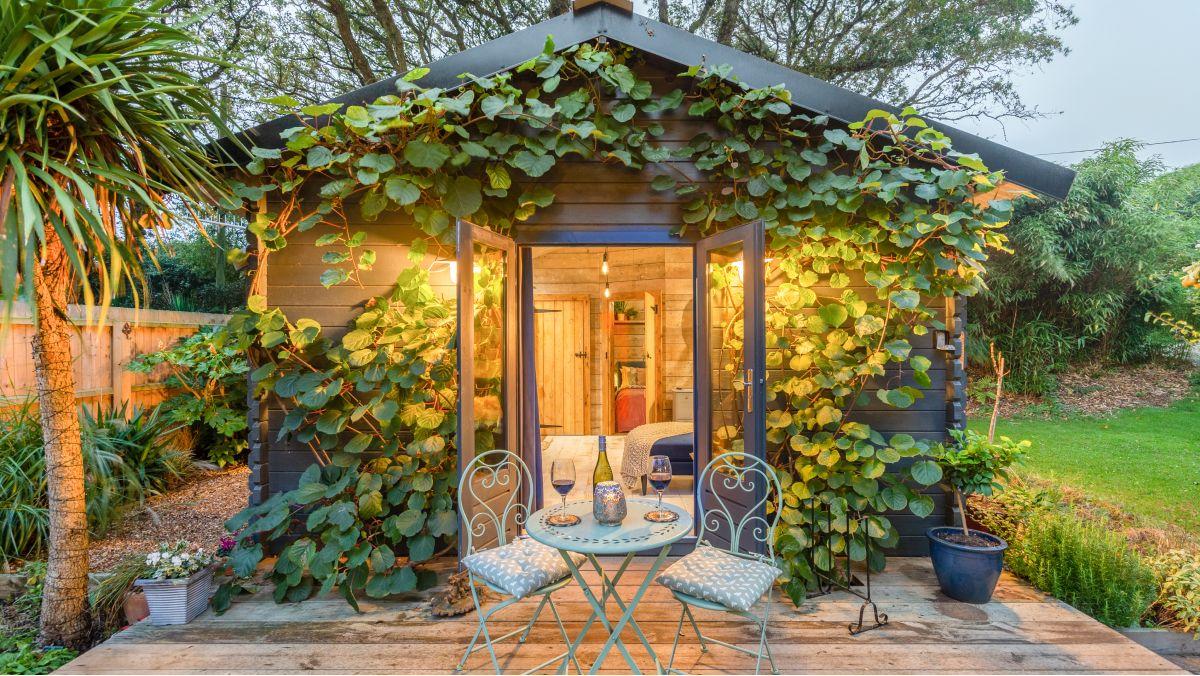 Lymore Orchard
Here's a treat for both the two-legged and four-legged sorts. An enviable 15-minute walk from the sea, this stunning little cabin is within its very own fenced kingdom. You run the risk of losing time here, disappearing into a book, cooking something fancy or just listening to birdcall out on the deck with a mug or glass of something. You can take the walk to the ocean, for coastal walks and seagull near misses on your tiny friend's part, but nighttime brings a whole host of other fun. Trot a few steps with your dog in tow to the firepit, and kick back for a few hours — getting mesmerised by the lick of flames and talking into the night. If you're in the mood to loosen the muscles, pop into the hot tub, and sky watch for stars.
Stay at Lymore Orchard >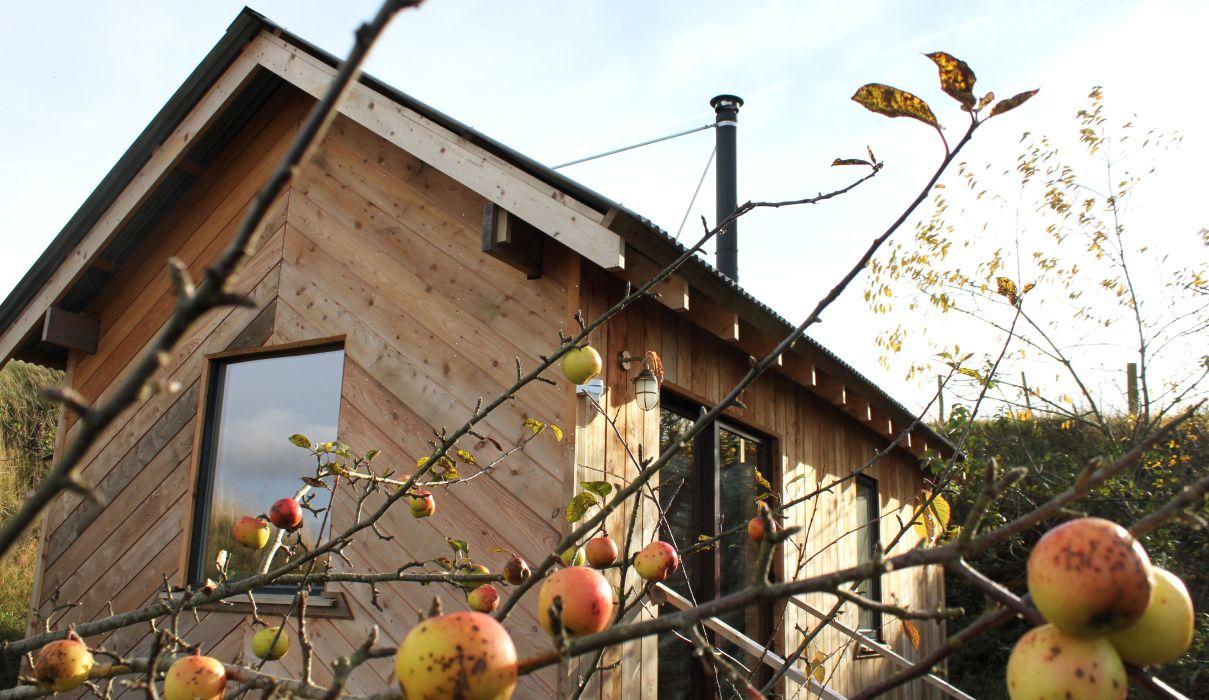 The Wilderkin Cabin
Sometimes, all you want, and all you need are the same thing. And sometimes, that looks like very little. It can be as simple as a stellar view of, say, the rolling Pentland Hills – complete with roaming herds of deer. It might be a morning cuppa on a bench by apple and cherry trees – as your dog's nose nudges you to hurry up. Well, if that sounds like you (and your dog), then look no further. A stylish respite from tech, Wilderkin cabin is as beautiful as it is integrated into the local habitat. With the whole of the Scottish Borders on your doorstep to adventure in, and a record turntable a jewel among the very best of the basics – this envy-inspiring retreat is welcoming dogs and their humans to live out their cabin daydreams in a stunning location.
Stay at The Wilderkin Cabin >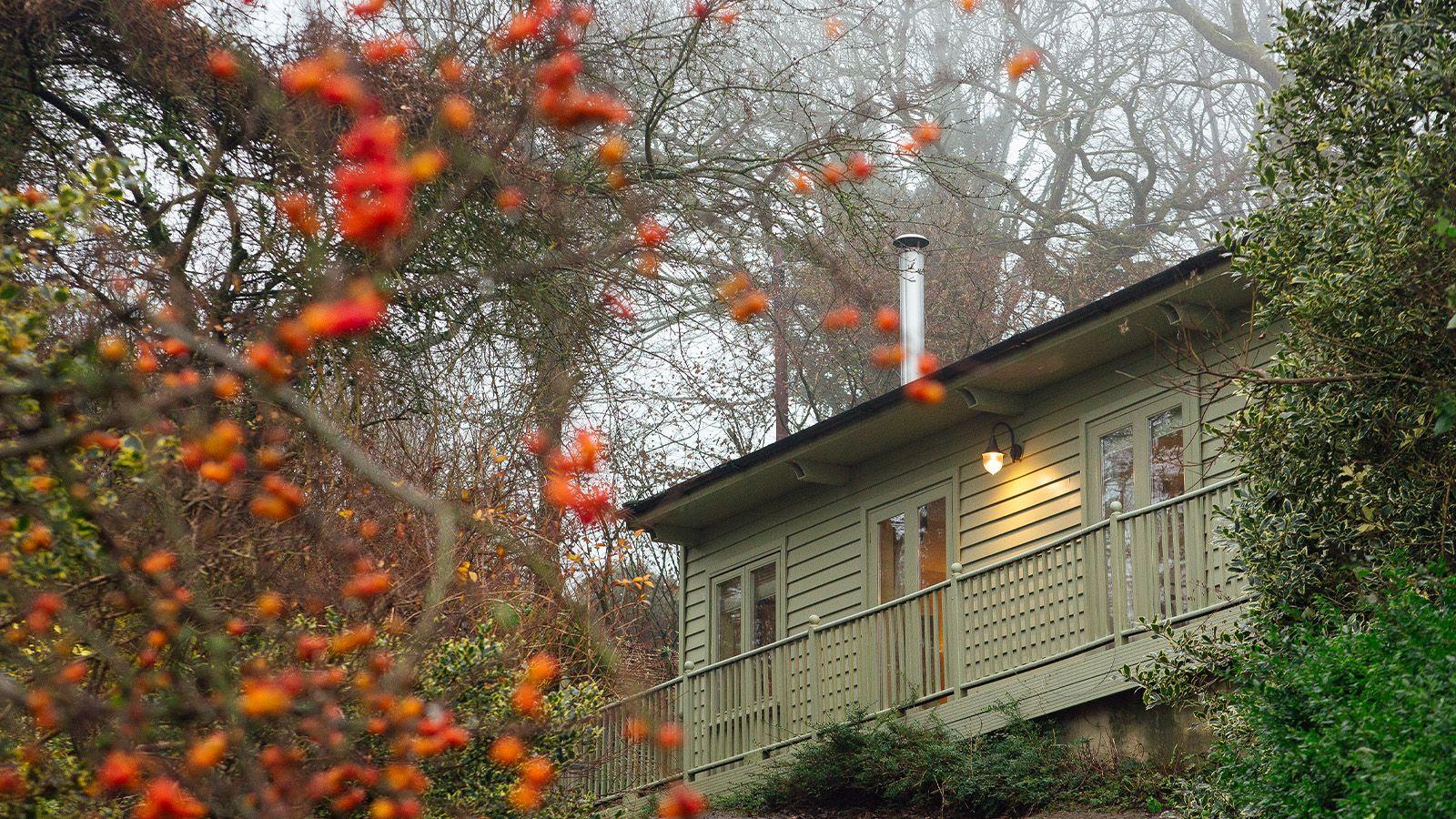 The Workshop
If you're thinking Cotswolds, look no further. With views all the way to the Brecon Beacons on a clear day and an instant feeling of warmth and welcome, The Workshop is a lovely place to put your feet up for a few days. If you don't want to move much, there are fields at the top of the drive where dogs can take care of business in the morning and evenings, but the Cotswold Way is only a minute from your doorstep if you fancy a proper walk. If you start getting peckish, you're in luck, there are a fair few pubs in the area with bars and gardens that welcome dogs. But best of all, it's just a half hour's drive from Westonbirt Arboretum – which is absolutely amazing for a walk.
Stay at The Workshop >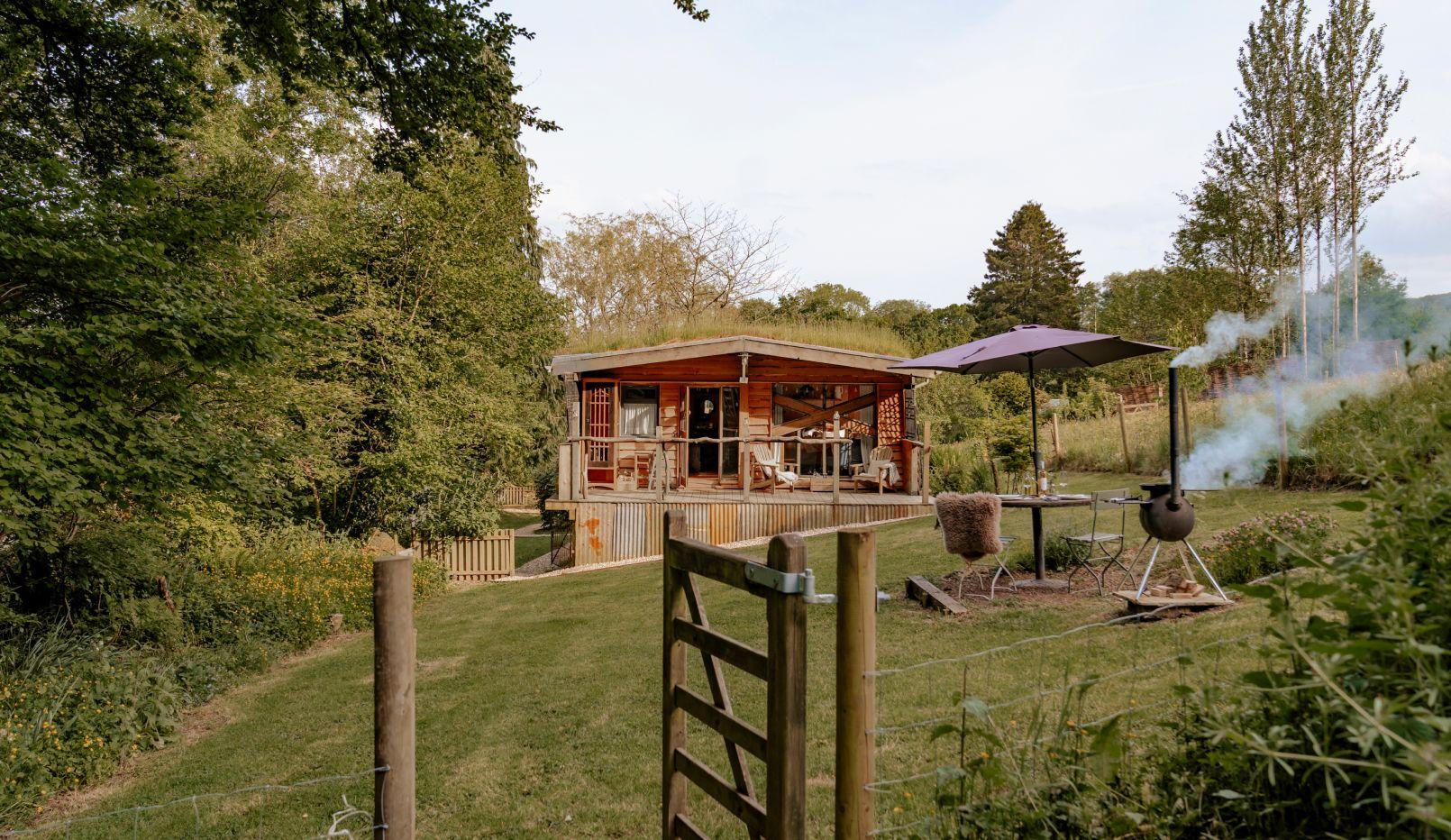 Hill's Cross Hide
Maybe you've been in Devon, maybe even around Devon, but have you been underneath it? Using a turf roof for natural insulation, Hill's Cross Hide is in the Blackdown Hills AONB, just a half hour from the coast. It's the perfect spot to truly switch off with your dog and let nature into your life. Take breakfast on the big outdoor beechwood bar in front of serene views. Enjoy long days of exploring the wild – heading to Shute Woods for a wander, or the coast, before coming back to hitting a local pub for dinner. Or simply lying around the fire pit and watching sparks fly skyward. There's no wrong way to enjoy Hill's Cross Hide, just lie back and let it happen.
Stay at Hill's Cross Hide >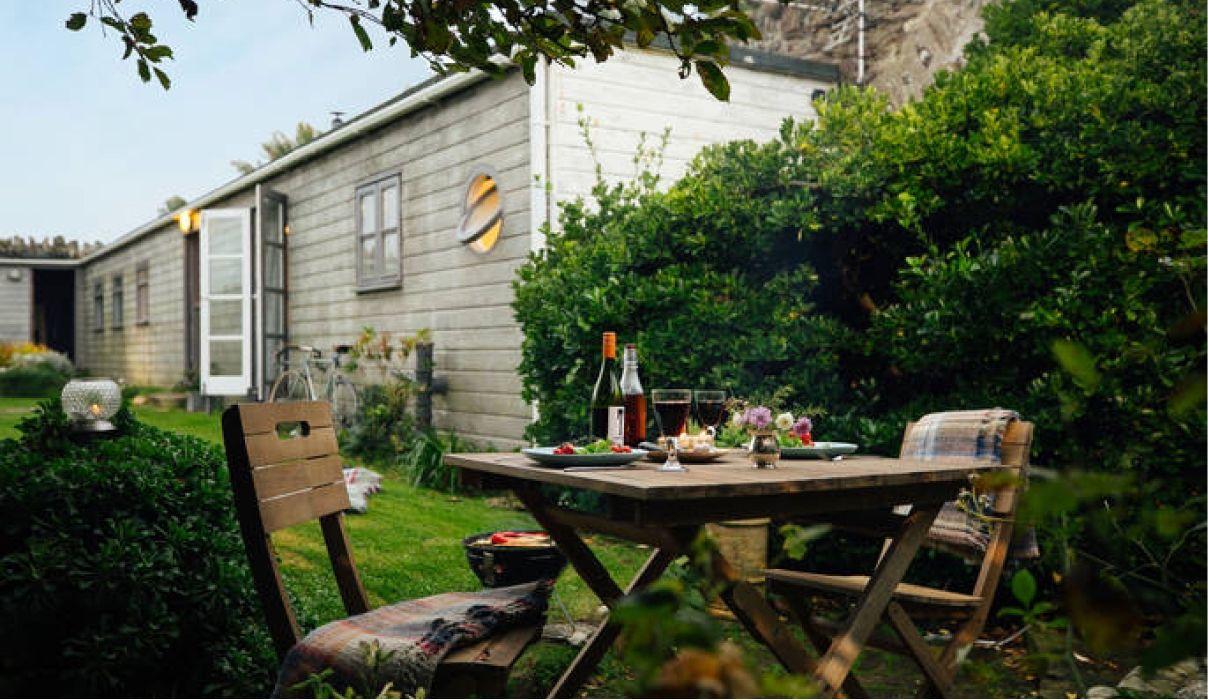 The Cabin at Halzephron House
Cornwall isn't a hard sell, and neither is The Cabin at Halzephron House. This is the spot for people who say, 'I want to stay by the sea' – and really mean it. With views over the cove from your breakfast bar, it doesn't get much closer than this. There's a stunning double-ended bath, and a wood burner to retire in front of, drying your salty hair from a quick wander down to the beach. Your large French doors open onto the lawn, and just outside you'll find an al fresco dining space to lap up the fresh air in the morning, whilst your dog happily bounds about.

Stay at The Cabin at Halzephron House >
Browse all our dog-friendly holidays in the UK >
---