Our best dog-friendly pubs for spring and summer
We reckon there's an atmosphere that comes from being a really good dog-friendly pub. It's almost like being dog-friendly is a sign that says, "we're pretty relaxed here". It means you won't find a dress code, serving staff in waistcoats or starched white linen in a silent dining room. This is going to be a casual, welcoming sort of place. So these pubs aren't just great and also dog-friendly, they're probably great, at least in part, because they're dog-friendly.
---
19th April, 5-minute read
The Dog, Grundisburgh, Surrey
The usual problem with looking for dog-friendly pubs is that you can't determine dog-friendliness from the outside, but when a place is called The Dog, you'd have to think you were onto a winner. And you'd be right. The big pink country inn, winner of the Dog-Friendly Pub Awards 2018, has a brilliant step-by-step walk to help you work up an appetite and a menu to help you satisfy it. They pride themselves on being "a proper pub" so although the chefs are let off the leash a bit here and there, you can still find classic fish and chips and simple bar snacks, with a great roast on Sundays. They've opened up a deli in the village too, so you can stuff a picnic hamper if you're out on a longer walk.
Visit The Dog
The Bull Inn, Totnes, Devon
The perfect afternoon finishes at The Bull, sitting in the sun on one of the little tables outside for a pint before you head in to see what's been chalked up on the board for dinner. There are walks straight up the hill you can see from the pub itself, or out along the Dart to the Sharpham Valley vineyard and you'll almost always find a couple of dogs sprawled under the tables somewhere when you come back. The ethos of the place, local, sustainable and then some, is visible everywhere. Every piece of furniture, tile and light fitting has a story of being donated, upcycled, opportunistically acquired or locally made. It makes for a nourishing visit in every sense.
Visit The Bull Inn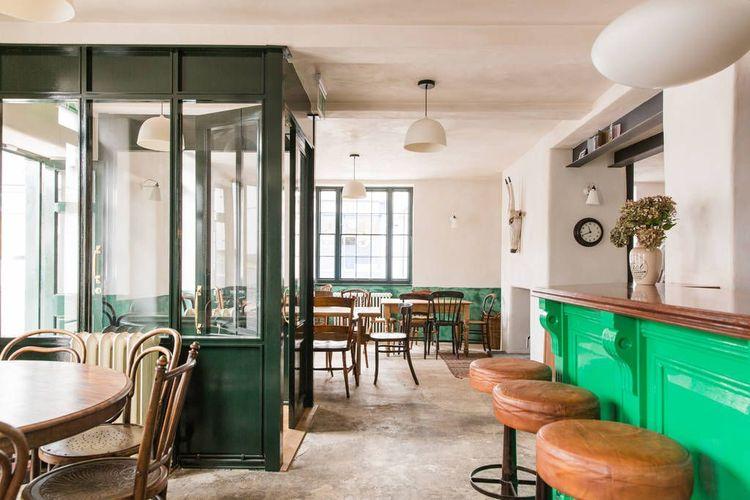 The Holford Arms, Tetbury, Gloucestershire
The pub is dog-friendly, of course, but The Holford Arms is a pleasure to visit whether you've got a dog with you or not. It even won Sawday's England & Wales Pub of the Year Award 2019. Dogs are welcomed with treats, there's a seven-acre garden for them to roam in and resident dogs for them to make friends with. It's right round the corner from Westonbirt Arboretum, the Cotswolds and lovely Tetbury too, so there are plenty of places to exercise. What's more, if you really needed more, is the amount of produce that's not just sourced locally, but made by the pub's team, from beer and cider to their own line of jams and chutneys.
Visit The Holford Arms
The Bell at Skenfrith, Abergavenny, South Wales
This burnished beauty of a pub sits at the foot of the hills glowing with welcome for travellers two and four-legged. This being Wales though, they know that their fabulous interior wouldn't stay fabulous for long without taking some measures, so there are areas that'll house you whatever weather you've been walking through. The Dog and Boot bar is for when you've got a bit of splash on your paws and wellies and the Pooch Parlour out the back is for the ones who couldn't resist leaping into the biggest muddy puddle they could find. The airy restaurant will welcome you (once you've knocked the worst off) with an ever-changing menu designed by Head Chef Joseph Colman.
Visit The Bell at Skenfrith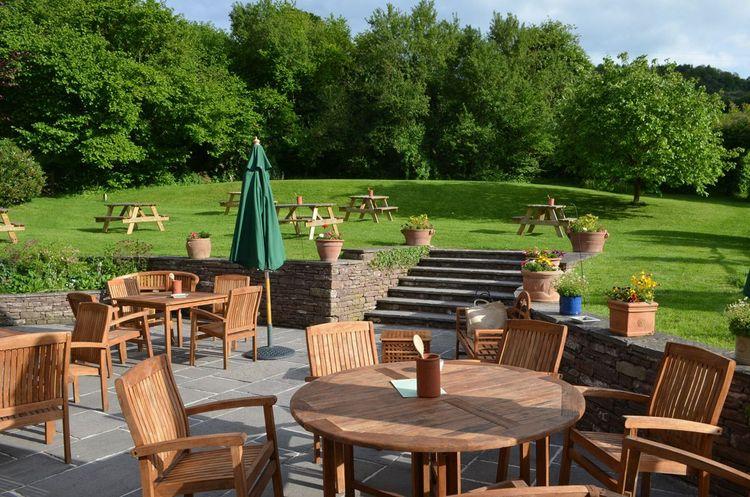 Halzephron Inn, Gunwalloe, Cornwall
Being right on the south-west coastal path, it's no surprise that this old stone tavern is a very dog-friendly pub indeed. Where would their two Irish setters go for lunch otherwise? In fact, the Halzephron puts dog happiness and welfare pretty high on their list of priorities. The biscuit jar is always well stocked and there are water bowls inside and out, and owner Claire frequently greets dogs before their humans. There's a storied history to the pub, involving secret tunnels, Portuguese shipwrecks and smuggling - it's lovely to wander the coast, stop in for lunch and add your own name to the ever-growing tale.
Visit the Hazlephron Inn
The Jolly Cricketers, Beaconsfield, Buckinghamshire
Locals Chris and Amanda have made this pub the hub - local freehouse ales, a modern British menu and coffee mornings all add to the charm. There are walks through the Chiltern countryside leading right up to the front door where refreshments await all explorers. There are water bowls to cool down with and homemade dog biscuits for sale, with money raised going to Search Dogs Bucks charity.
Visit The Jolly Cricketers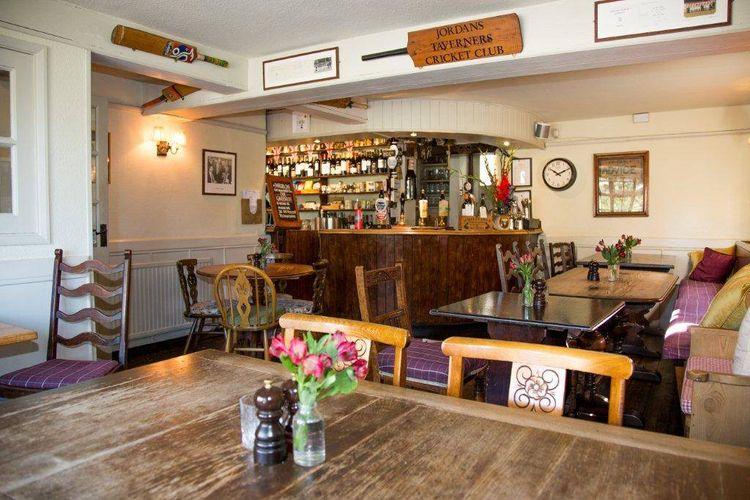 Tweedies, Grasmere, Cumbria
Offering a top selection of draught cask beers, this is a great spot for drinking, walking and soaking up the wonderful views with your dog. There are sprawling gardens within three acres of grounds surrounding this pub, just in case your hikes through the hills have left your dog with enough energy for one last game of fetch.
Visit Tweedies
---