Our favourite dog-friendly springtime walks through bluebell woods and gardens
If you're looking for a reason to go down to the woods then bluebell season has got to be it. For a brief period in April and May these delicate azure flowers carpet woodland floors all over the UK as a reminder that warmer days are on the horizon. We've rounded up a handful of dog-friendly bluebell walks in forests, along the coast, in nature reserves and formal gardens, and all within 30-minutes of one of our dog-friendly places to stay. Each bluebell walk is open to dogs, although they may need to be on the lead for various sections, where they can scamper and snuffle in delight while you soak up the glorious scenes and sweet scent of one of the UK's best-loved and most iconic flowers.
---
It's worth noting that, if eaten, bluebells can be toxic. So if your dog is a serial muncher, perhaps it's best to try some different walks instead!
Cornwall
Enys Garden, near Penrhyn

A hop from Penrhyn, Enys's beautifully landscaped 30-acres are thought to be the oldest in Cornwall and were originally laid out in a formal Italianate style. Today it's a free-flowing garden with a web of paths leading through natural gardens and mature woodland. Discover the pretty orchard, shimmering ponds and frothy flower borders. The current owners began a restoration of the buildings and gardens in 2010 and today this unshowy garden is relaxed and welcoming - the gardens and the little tea rooms are dog-friendly. The Bluebell Festival in early May, when the Parc Lye meadow erupts into a spectacular show of bluebells, is not to be missed.
Stay nearby at The Old Barn at Lower Tresithick, Truro
Devon
Brownsham Woods & Blackchurch Rock, Hartland Peninsula

The entire Hartland Peninsula is a bluebell-lovers dream, swept in waves of deep blue, but this one is our favourite dog-friendly walk. Climb blowy cliff tops for spectacular sea views across Bideford Bay and stroll through woods with masses of azure flowers. Start from Brownsham National Trust car park and set off along the 2.5 mile circular walk that takes you up to Windbury Hill Iron Age Hillfort at a staggering 330ft above sea level, through Brownsham Woods carpeted in bluebells, and down to Mouthmill beach, an ancient smugglers cove, where you can explore the awe-inspiring and impressive natural formation of Blackchurch Rock arch.
Stay nearby at The Sleepy Owl, Hartland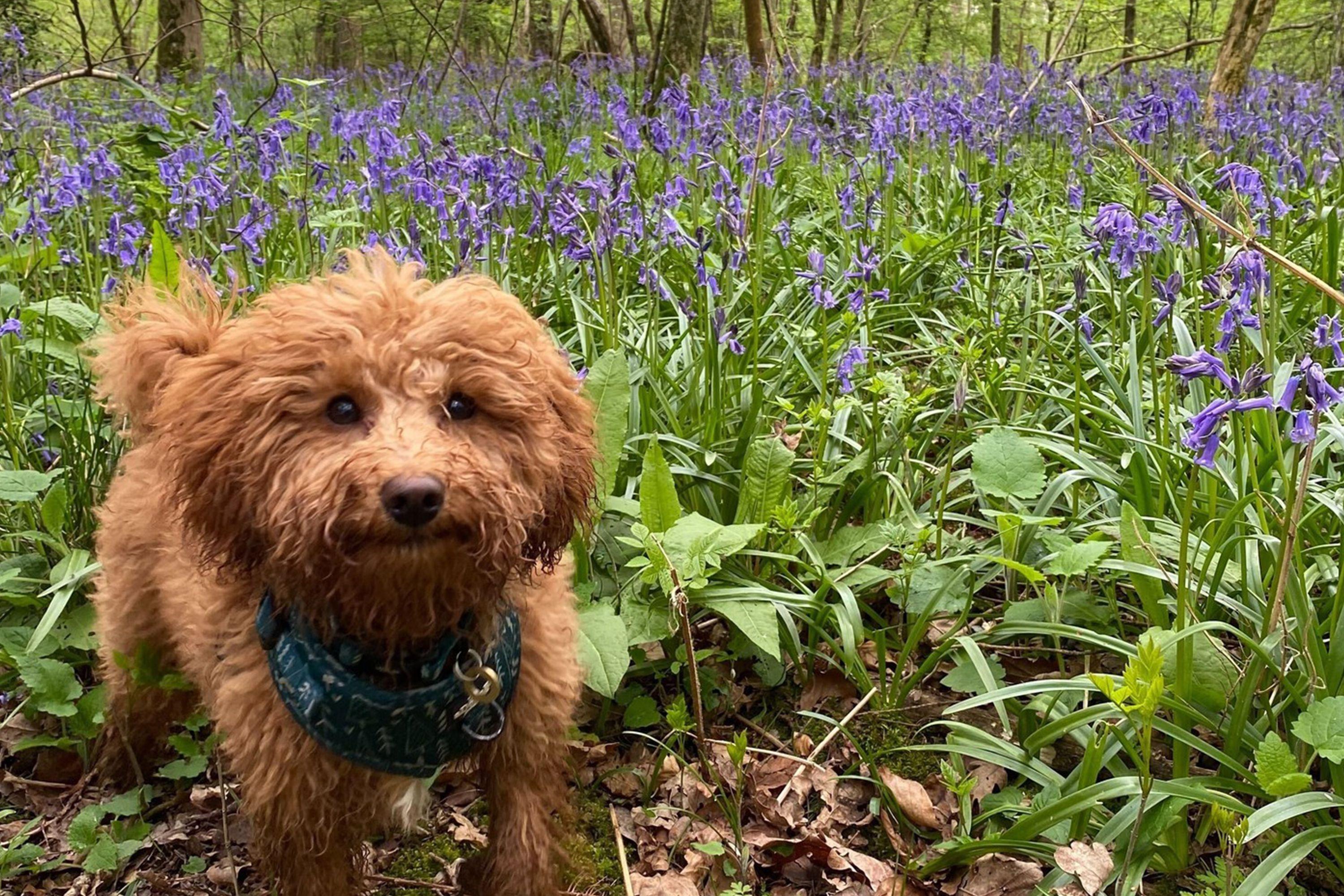 Herefordshire
Mortimer Forest

Straddling the Herefordshire/Shropshire border, Mortimer Forest is a one-thousand hectare patch of woodland. Originally made up of royal hunting land and deer parks, most of the Douglas Fir and larch trees you see today were planted by the Forestry Commission in the 1920s, and they're working to restore ancient woodland species too. Walks range from one mile to nine and we recommend the 3-mile Vinnalls loop. Start from Vinnalls car park, and ascend to the summit of High Vinnalls (375 metres) with its glorious views in all directions. The area is wildlife-rich: nuthatches and warblers are commonly spotted, and occasionally a bird of prey. Bring your dog in spring and you'll be wowed by the gently swaying, blue-hued meadows.
Stay nearby at Orchard Cottage, Presteigne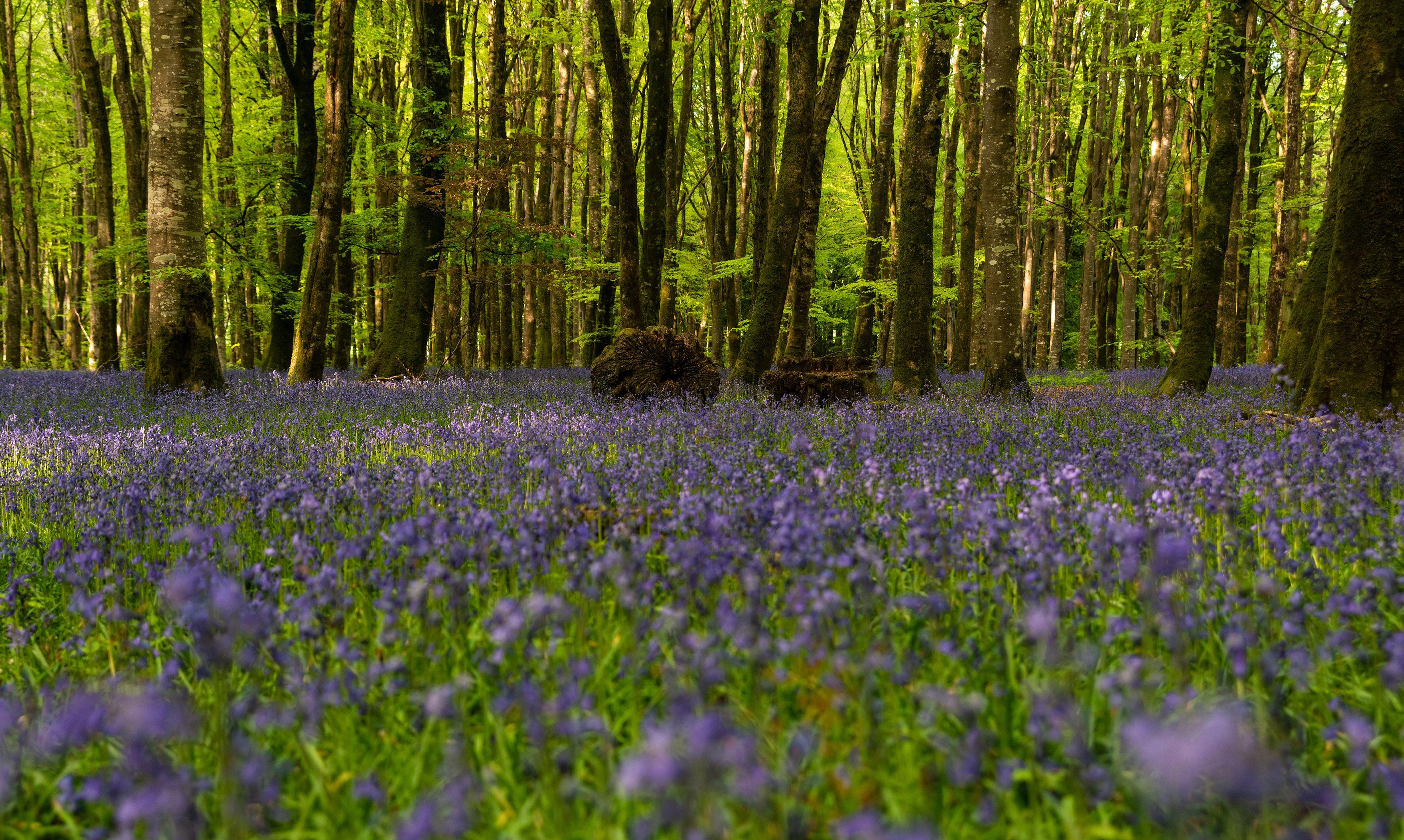 The Lake District
Skelghyll Woods, Ambleside

Skelghyll Woods' ancient woodland is home to award-winning trees, including the tallest Grand Fir in England, and the tallest Douglas Fir in Cumbria. Starting from the Stagshaw Garden National Trust car park this gentle meander follows the NT's Champion Tree Trail which winds its way through those impressive trees (look out for the plaques), Victorian conifers where you may catch a glimpse of red squirrels and swathes of bluebells beneath the tree canopy. There are benches and picnic spots all along the way. This dog-friendly walk takes you through the woodland and up to Jenkin Crag, where you can soak up glittering Lake Windermere views. If you have time, include a stroll through rambling, tree-studded Stagshaw Gardens.
Stay nearby at Crookwath Cottage, Dockray
Cotswolds
Foxholes Nature Reserve

Foxholes, once part of the ancient forest of Wychwood, is a charming and peaceful woodland sloping down to the River Evenlode near Bruern in Oxfordshire. The reserve is beautiful throughout the year with a jumble of colours in every season and plenty of bird and wildlife interest. It's also renowned for its stunning bluebell display every spring. There's a very pleasant circular walk from the honey-hued Cotswold village of Fifield, it's an extremely gentle and mostly flat trail that passes through the reserve (follow the badger waymarkers inside the woodland) where you may spot nuthatches, treecreepers and colonies of white admiral butterflies. So far, 23 species of butterfly have been recorded on the reserve, and it's a haven for bats.
Stay nearby at Jasmine Cottage, Upper Slaughter
Sussex
Leonardslee Garden

Laid out as parkland and gardens in the early 1800s, Leonardslee's 240-acres have a rich and varied history. One owner collected a huge menagerie of wild animals including wallabies, kangaroos, emus and unusual deer species, and it managed to survive periods of neglect as well as being closed to the public in 2010, before reopening in 2019. The present owners are committed to restoring the Grade-I listed gardens to their full glory; they've planted a pinot noir vineyard and revived the wallaby enclosure. Discover the gardens famous and riotous rhododendrons, frothy azaleas, towering magnolias and a vibrant springtime display of bluebells. Savour the enchanting walk along the glorious Bluebell Bank - a carpet of blue and purple stretching across the glade. Dogs are welcome on leads throughout the gardens and in the Courtyard Café and Doll's House Museum.

Stay nearby at Beneath the Branches, Ashurst
View all of our dog-friendly holidays >
---