The Caledonian Sleeper Train: What it's like to ride a dog-friendly night train
Travel writer Lottie Gross hit the rails with her Manchester Terrier Arty to find out what it's like to travel on an overnight train with a dog.
---
I had my proudest dog-owner moment on the Caledonian Sleeper
It was on the return journey where Arty – my often disgruntled, antisocial Manchester Terrier – showed me, and the entire train crew, what a truly good boy he can be.

It was midnight and we were trundling through some anonymous glen in the Highlands, its woodlands and waterfalls and burns made invisible by the darkness of the Scottish winter. I had slept through the "last call" for dogs to hop off for their final toilet opportunity – the train crew had knocked on my door, but I was in deep, post-hike sleep on my bunk – when I then heard the unmistakable tap of my dog's claws on the side of the bed. It was the sausage I let him have in the pub, I expect, and there was no convincing him he could wait until the morning.

We were stopping soon, the train guard told me over the in-room speaker system, but only for 90 seconds. I stood with the staff by the doors ready to jump out and there was much deliberation about what to do if he wouldn't "go" – he's famously fussy about where he has his morning constitutional – and where to put it if he did, but before we could come up with an answer the doors began to beep and they opened to a scene of sideways rain whipping wind. Brilliant, I thought, we've got no chance.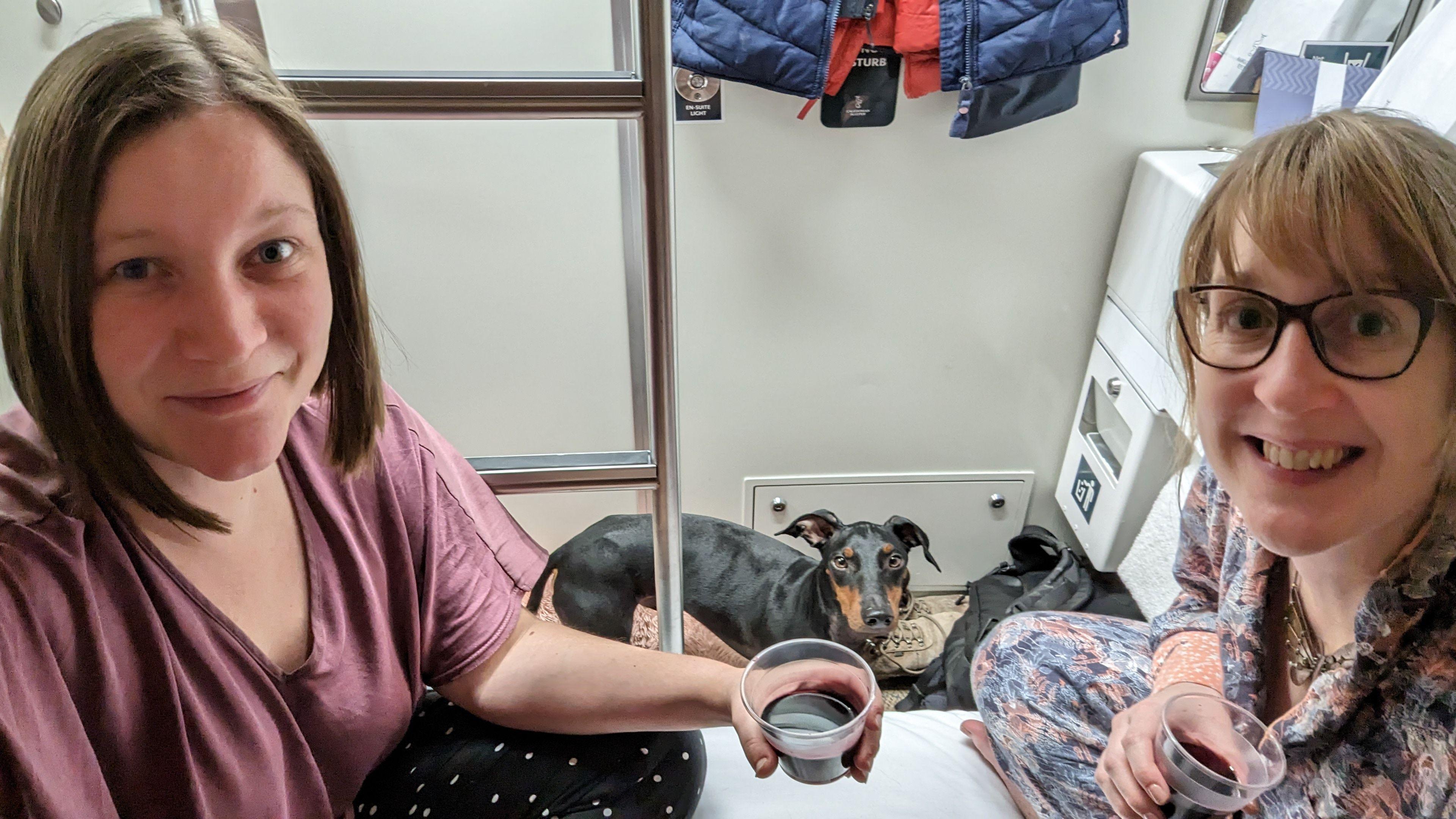 And yet, as if he knew he was performing for an unusually invested train crew...
He hopped onto the platform, did the classic turn one way and then the other, and squatted down right next to the only bin on the platform almost immediately. I let out an involuntary whoop, cleaned up, and we managed to board the train with twelve seconds to spare. I smugly got back into bed and let the train rock us to sleep again and woke the next morning to a sunny London.

Of course, not all journeys on the Caledonian Sleeper are plagued with such high-octane drama as mine was – not least because the train crew will go out of their way to make your journey with the dog as stress-free and simple as they can. They'll notify you of the longer stops where you can disembark with the dog, and they'll even bring your breakfast to your cabin if you don't want to leave them alone while dining in the restaurant car. And if you decide to take the train to your Scottish holiday destination, you can rest assured it's a much more environmentally friendly way to travel than going by car.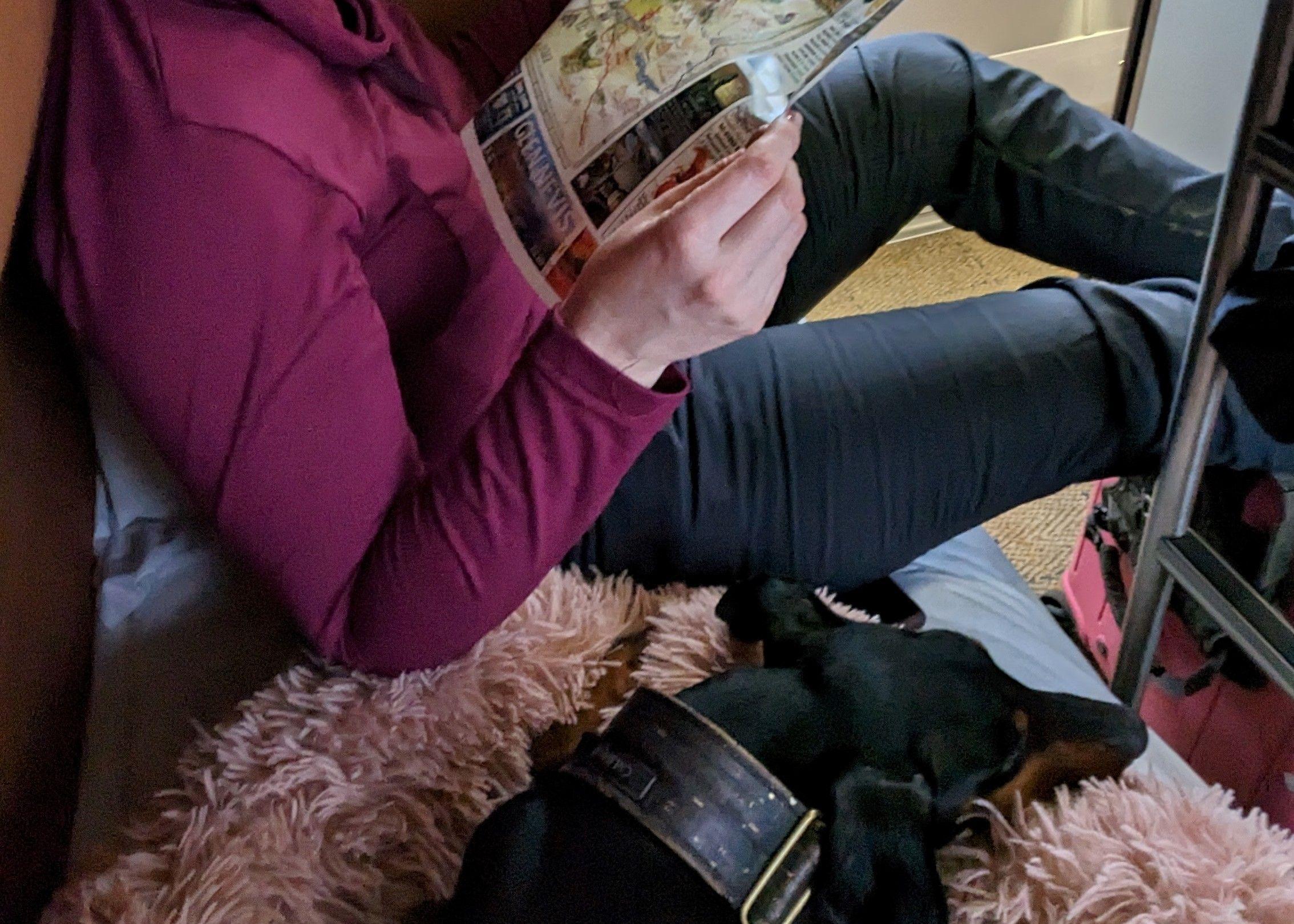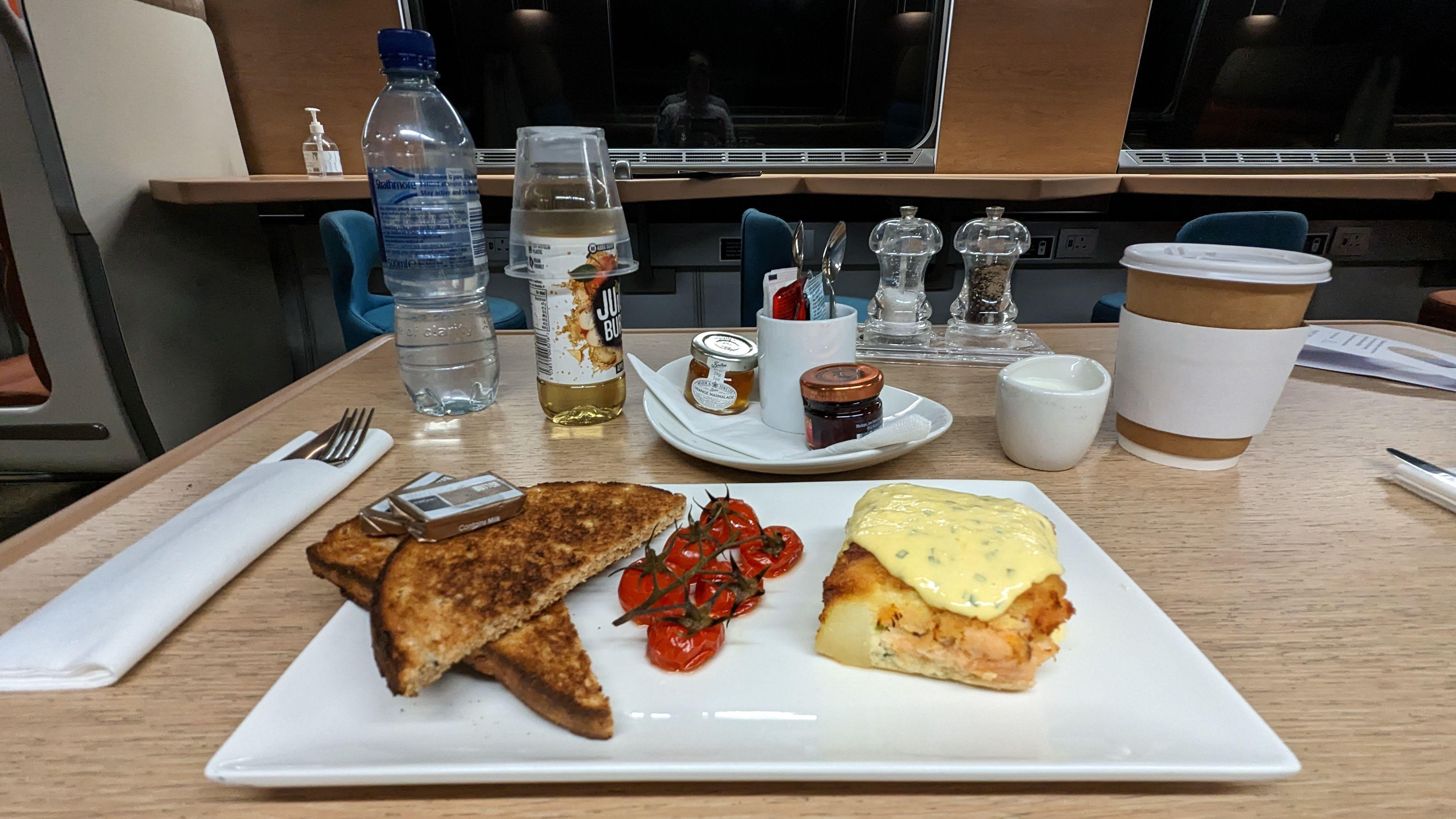 Thinking of booking a dog-friendly trip on the sleeper train? Here's what you need to know:

What is it like on board the Caledonian Sleeper with a dog?

The Caledonian Sleeper has dog-friendly berths, meaning you can book into a private two-bunk room for the overnight journey between London and Scotland. Fresh bedding is included, and the berths are surprisingly comfortable, with soft mattresses and USB ports for charging. The Club rooms have an en suite too, and there's a reasonable amount of space on the floor for a labrador-sized dog to settle down in their own bed.

What are the rules for dogs on board the Caledonian Sleeper?

You'll pay a £30 cleaning surcharge for bringing the dog with you and they can't join you in the dining car, but room service is available for hot dinners, breakfast and drinks throughout the journey. You'll be notified of dog toilet breaks when you board.

Where can you go on the Caledonian Sleeper with your dog?

If you're travelling north from London, there are plenty of exciting places to hop off with the dog. There are routes to Edinburgh, Glasgow, Aberdeen for dog-friendly city breaks, and the Fort William route offers access to spectacular hiking country. Each station connects to local services, too, so you can explore all over Scotland for a dog-friendly adventure by rail.

Browse all our dog friendly places to stay in Scotland >
---