Crowd-free dog-friendly beaches in Wales
Whether you've got a dog that loves to swim or they're a passionate sand digger, the beach can provide endless hours of fun for both you and your pet. Wales has some truly spectacular stretches of sand, but they're not all dog-friendly year-round. We've picked out some of the best dog-friendly beaches for your next holiday in Wales.
---
Little Quay Beach, Ceredigion
A lovely 20-minute walk along the coastline from New Quay is Cei Bach Beach, or Little Quay Beach. Away from the bustle of the town, this is a spacious stretch of sand and shingles to let the dog run free. Wooded cliffs at either end give the beach a beautiful frame, and if you look up you'll often see Red Kites circling in the skies. The beach is particularly lovely at sunset, so bring a sundowner and enjoy the show. Make it a dog-friendly beach holiday by staying at one of our dog-friendly cottages in Ceredigion
Stay at Irmas Cottage >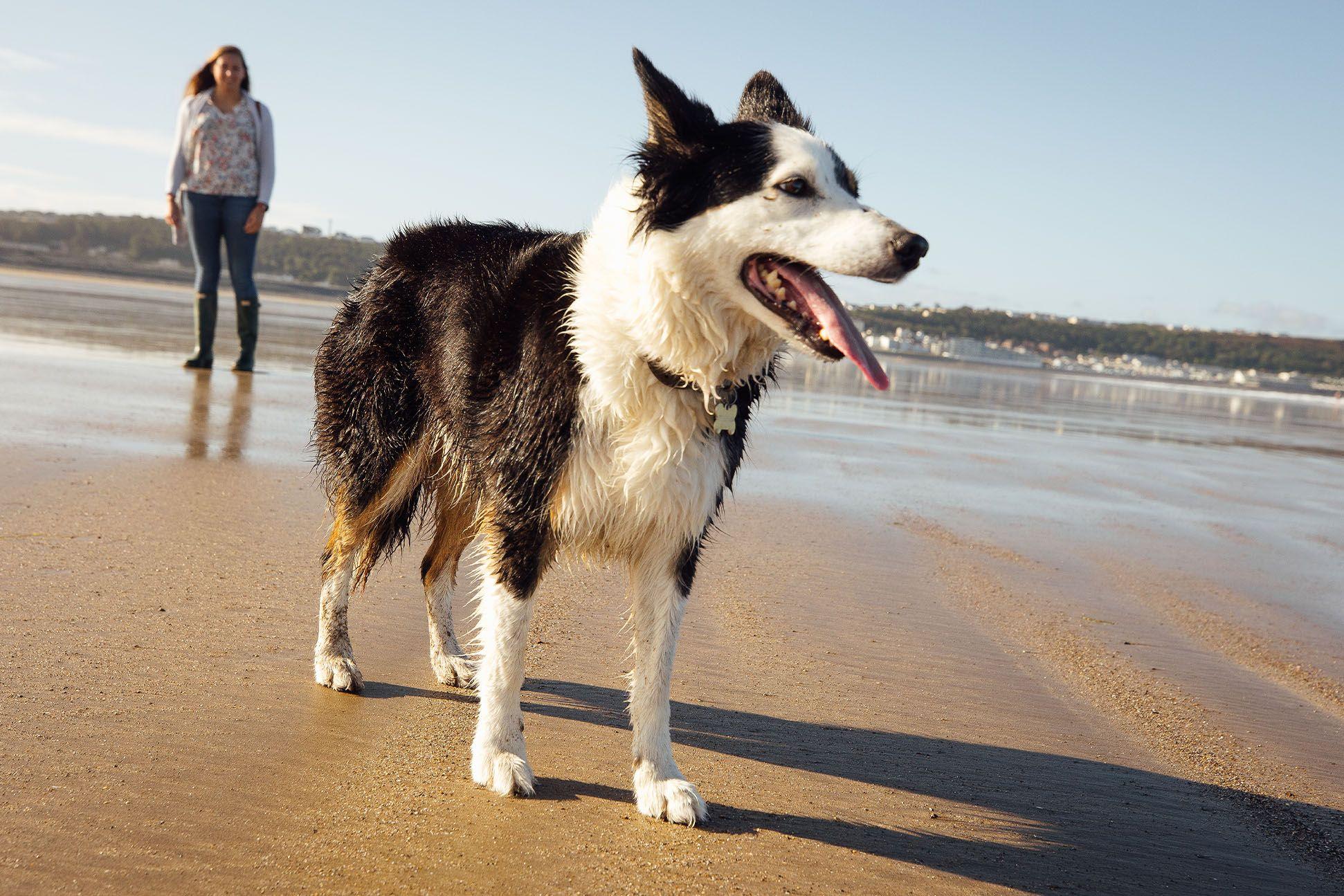 Broad Haven South Beach, Pembrokeshire
Locals are often put out when they see more than five people on this vast beach in Pembrokeshire, as it's one of the quietest in the region. There's a lovely walk to get here from Bosherston Lily Ponds, or you can park in the designated car park atop the cliffs south of the beach. The highlight here is the soft sugar-like sand and the views out to Church Rock, a dramatic sea stack that resembles a church and steeple.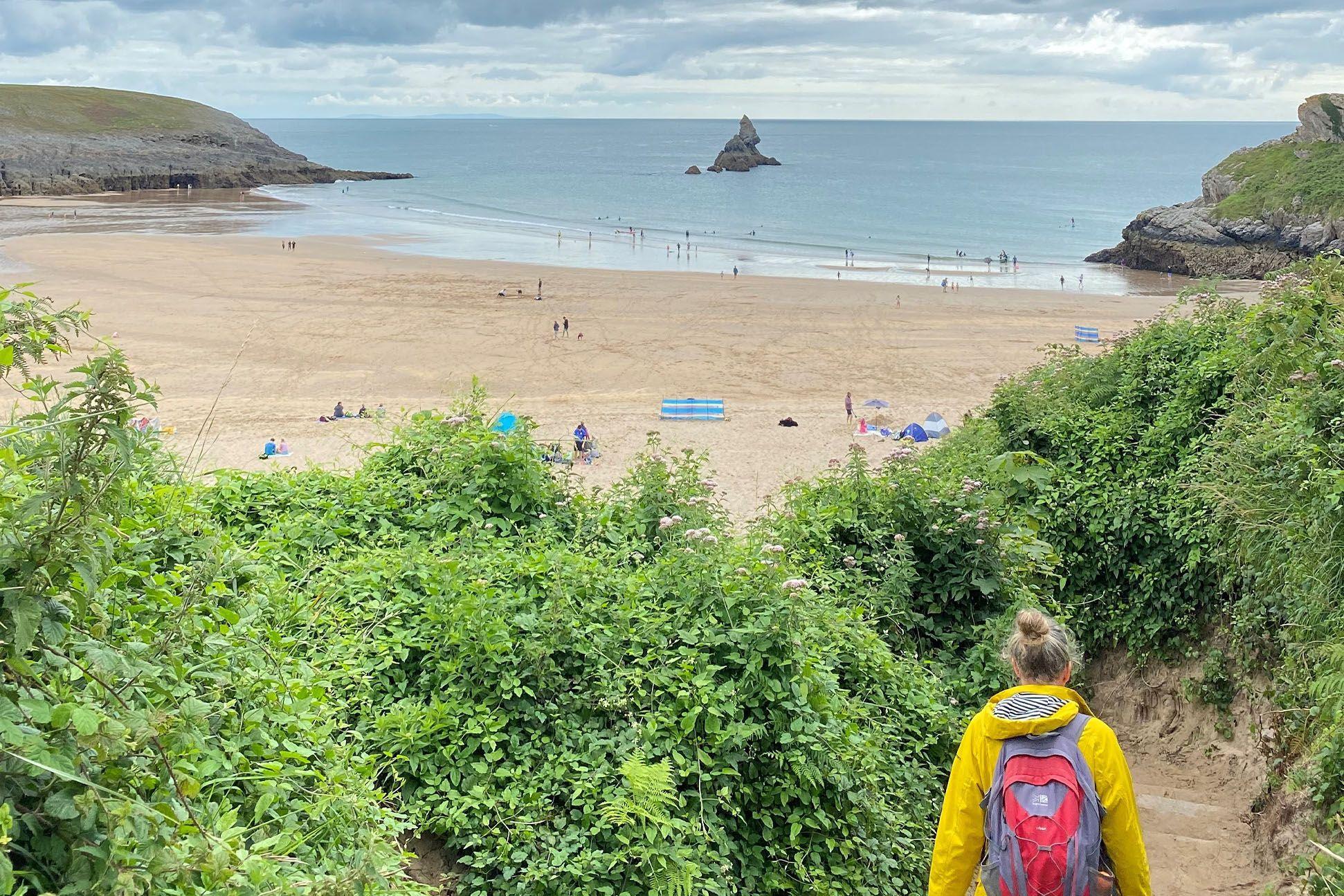 Castell Bach, Ceredigion
This unusual little corner of the Welsh coastline has history, dramatic views and lovely waters for swimming. Named for the iron-age hill fort that once sat on the cliffs above the beach, this small beach is well sheltered by some interesting rock formations: a large lump of grass-topped rock with very distinctive layers in it sits slap-bang in the middle of the beach. Park at Cwmtydu beach and head north on the coast path to get here. Stay nearby at Irma's Cottage or Locke's Cottage for an unforgettable dog-friendly holiday in Wales.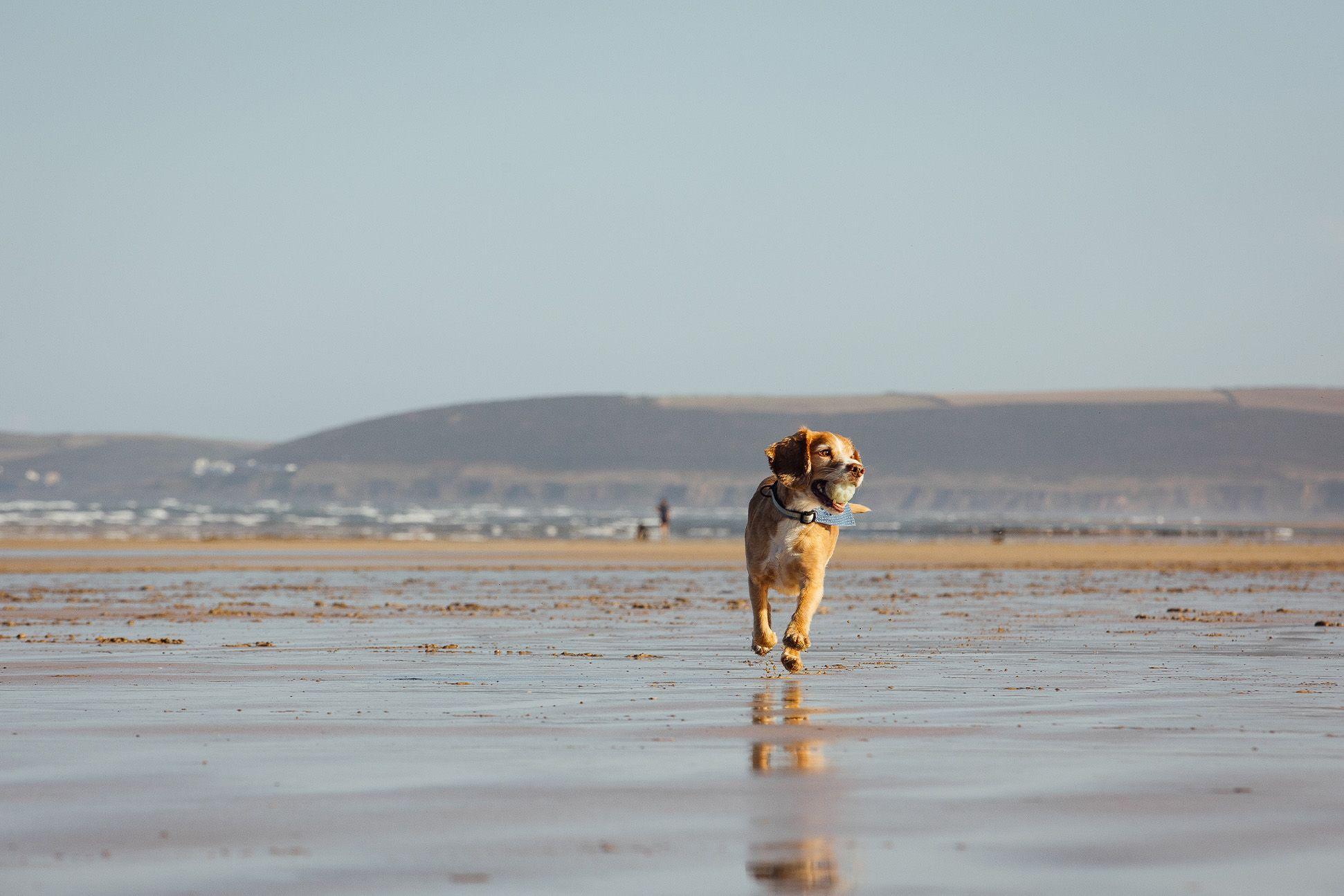 Traeth Llanddwyn, Anglesey
The western end of this large sandy beach is often quietest, and has a spectacular sandbar connecting to a tiny island well worth exploring. If you fancy a walk before your beach day, park at Malltraeth and follow the track through the Corsican pine woodland down to the beach – it takes around 60 minutes and on a warm day feels positively Mediterranean. If you've brought all but the kitchen sink, though, Ynys Llanddwyn car park is the best bet. Bring your own lunch here, it's a remote spot with lovely views to Snowdonia.
Gronant Dunes
An hour's drive from the lovely Copse Camp – a perfect dog-friendly holiday base – Gronant Dunes is a real treat. Sitting between Barkby Beach (despite its name, no dogs allowed in summer, unfortunately) and Talacre Beach is a huge dune system, filled with unique habitats and intriguing wildlife. Marsh harriers and short-eared owls winter here, and throughout the year warblers enjoy nesting here alongside lizards and natterjack toads. The dog should be on the lead while walking through the dunes, but they can run free on the clean sand by the sea. Park at Gamfa Wen Car Park and head west through the dunes.
Barafundle Bay, Pembrokeshire
Only dedicated beach-goers make it onto the sands of Barafundle Bay, as there's no car park and certainly no facilities here. This makes it perfect for days out with the dog on the sand, as it's a quiet little cove, protected tall cliffs and grassy dunes. Park at Stackpole Quay and head onto the southbound coast path. You'll walk over a grassy headland – keep the dog on a lead as there are sheer drops at the cliff edge – and then descend the steps down onto the sand. It's the soft, golden stuff of beachy dreams, and a brilliant spot for swimming.
Browse all of our dog-friendly places to stay in Wales >
---