The best dog-friendly beaches in Sussex
Digging in the sand, chasing pebbles or splashing about in the shallows of the briny English Channel, you simply can't beat a scamper around the seaside. Sussex has some of the best dog-friendly beaches along the South Coast. And unlike the sandy shores of Cornwall, Devon and Dorset, Sussex beaches are largely of the shingle variety, so no damp sandy paws to deal with. From Hastings to Bognor Regis, Camber to Climbing, we've picked our favourite dog-friendly beaches to explore with your four-legged friends.
---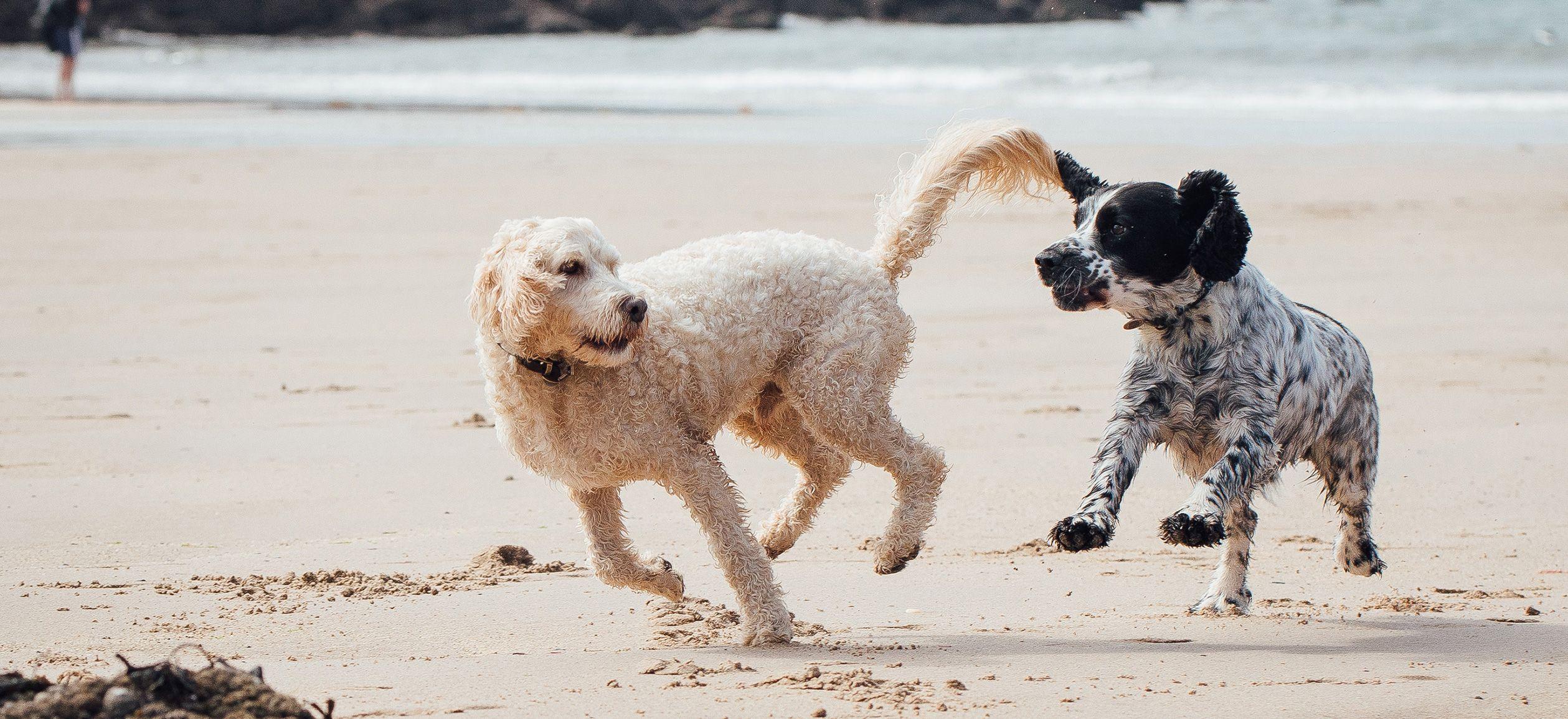 Camber Sands
There are few stretches of sand along the Sussex coast, but Camber Sands is one of the finest, not least because dogs adore bouncing around in the tufty blonde sand dunes. A 10-minute drive east of Rye – a charming Cinque Port town packed with dog-friendly pubs, shops and cafes – Camber is one of the best sandy stretches along the south coast.

Stretching for five miles, sandy plains are lapped by shallow waters making it perfect for cooling off after a day sizzling in the sun. It can get very busy in the summer months, and not all of the beach is open to dogs, but there's always a well-signed stretch that is. Visit out of season and it's like a video for 'Who Let The Dogs Out' as hounds run, romp and play across Camber's endless flat sands.
Hastings beaches
Hastings is a brilliant place for a dog-friendly holiday. Beaches, castles, a dog-friendly pier, not to mention some excellent pubs, cafes and restaurants who all welcome pups, it's the perfect seaside break for salty sea dogs.

Most of the beaches allow dogs all year round, but those who don't are well signposted. After a stroll along the prom, grab a bag of vinegary chips from the excellent Maggie's Fish & Chips and wander around the tall, tar-blackened net huts on Fishermen's Beach. And if your furry companion gets tired, you can always hop on the Hastings Miniature Railway where dogs ride free.

At the other end of the prom is Hastings Pier. More contemporary than most seaside piers, and one of the rare ones which allows dogs on leads, it hosts live music and arts events during the summer. A highlight of Hastings is its solid dedication to crazy golf. Host of the annual World Crazy Golf Championships, it's one of the rare sports you can play together as good dogs (on leads, of course) are allowed on all three of the Hastings Adventure Golf Courses.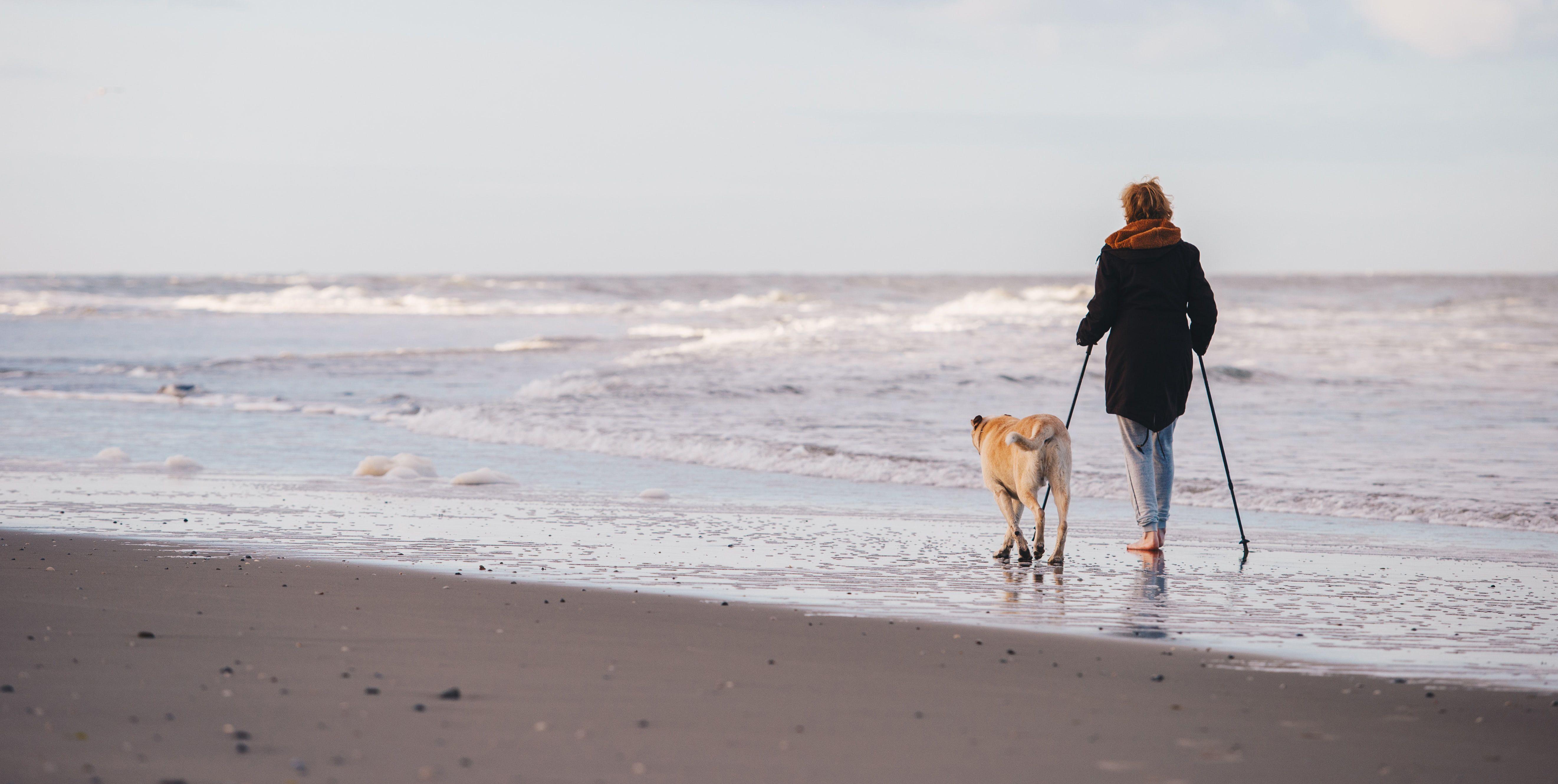 Brighton beaches
Considered one of the most dog-centric cities in the UK – Brighton probably has as many four-legged residents as it does two – dogs are pretty much allowed in all pubs, many restaurants and even some shops. While happy hounds are allowed on all beaches in Brighton and Hove between 1st October and 30th April, they can only paddle their paws in the sea on a handful of beaches during the summer months.

One such beach is East Brighton, the stretch between the Volks Railway Aquarium Station and the Marina, which takes in the new Sea Lanes outdoor swimming pool, beach bars and the brilliant Beach Box Sauna (humans only). Over in Hove, hot dogs can paddle between Hove Lagoon and the beach huts numbered 457 to 376 (precisely). A favourite walk is along the undercliff path which runs between Brighton Marina and Rottingdean. Most of the beaches are dog-friendly all year round and you can reward yourselves with a doggy ice cream from Molly's at the Beach cafe at the end.
Stay nearby at The Dairy at Streat Place Barn >
Eastbourne beaches
Eastbourne is another dog-friendly seaside resort. With miles of pebbly beaches lining the promenade, all bar the most central beaches allow dogs to play all year round. Our favourite is Holywell Retreat, along the western flanks of Eastbourne prom, it reveals crater-like rock pools at low tide – perfect for a spot of crab worrying. Swing by for lunch at Bistro Pierre, where dogs can drink on the terrace or in the bar. It's also within Frisbee-throwing distance of the beautiful South Downs Way and Beachy Head, although these famously high chalk cliffs are best experienced with dogs safely on a lead.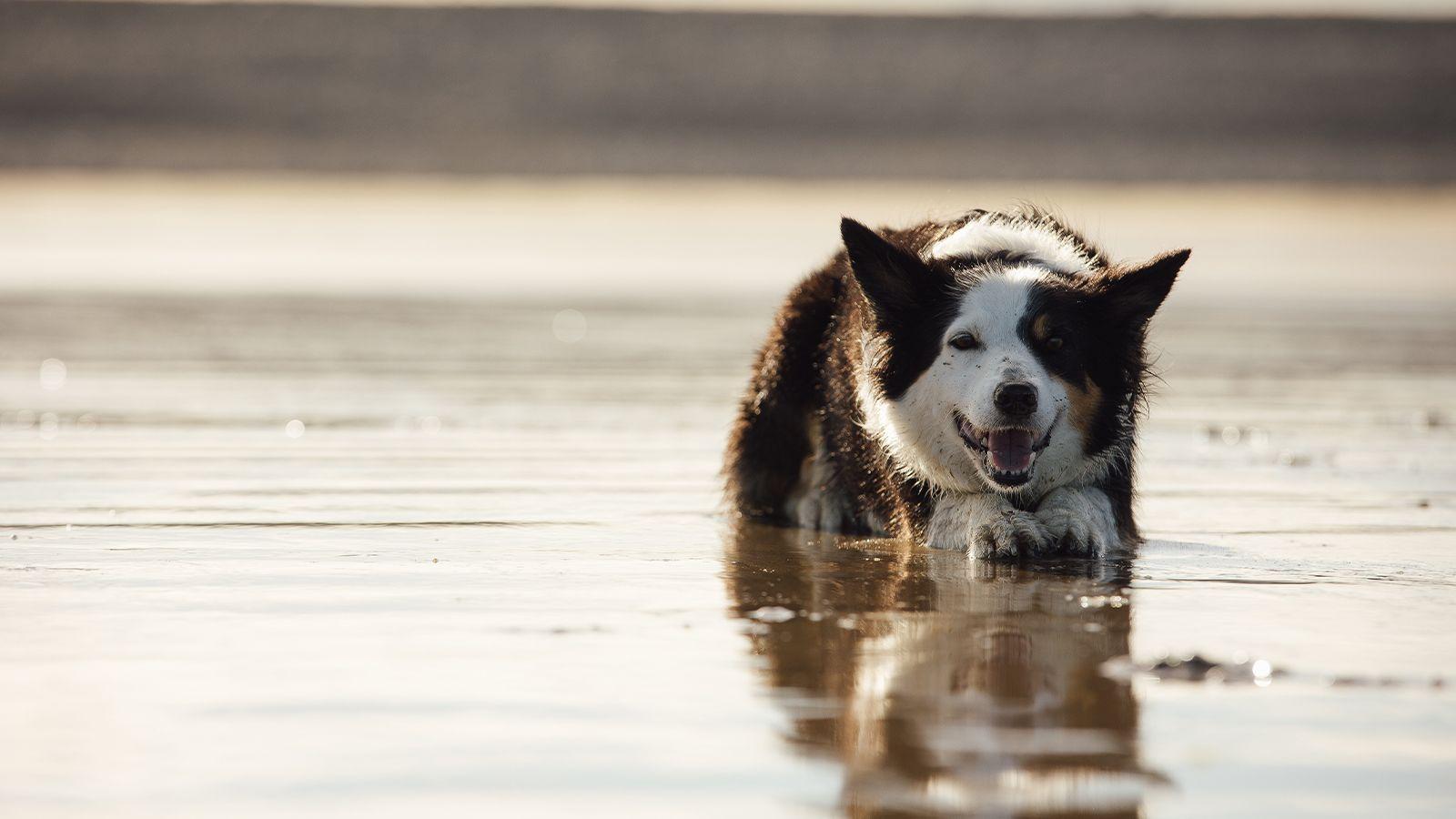 Littlehampton beaches
Further west still is Littlehampton, where the River Arun joins the sea. A sweet little seaside town it has everything you could want from candy floss to Kiss-me-Kwik hats. West Beach is the most dog-friendly of Littlehampton beaches. Accessible all year round, it forms part of West Beach Local Nature Reserve which has protected sand dunes and saltmarsh.

After digging up sandcastles in West Beach, wander over to East Beach Cafe, which is more an art installation than a purveyor of chips and Mr Whippy. Designed by British designer and architect, Thomas Heatherwick, the burnished steel roof is inspired by local driftwood. Dogs are welcome to dine outside.

A little further along is Climping Beach, one of the rare Sussex beaches which has both sand and shingle. Banked by protected sand dunes, dogs are welcome to wade and wander on the beach all year round making Climping brilliant for quiet doggy adventures and picnics (BYO sausages).
Stay nearby at West Pallant Townhouse >
Goring beach
If you and your dog want to escape the Worthing crowds then head west to Goring beach. One of the quietest dog-friendly beaches along this stretch of coast, it's an easy stroll west of Worthing and perfect for a scamper and a sunbathe. The boarded promenade is lined with colourful beach huts, while the beach is often adrift with colourful fishing boats – great for sniffing around. Stop for a fresh crab salad at the excellent Sea Lane Cafe, where dogs are allowed on the terrace.

If you get a chance, sneak a peek in Goring's English Martyrs Catholic Church, which has an exact replica of Michelangelo's Sistine Chapel fresco painted on the vaulted ceiling by parishioner Gary Bevans.
Browse all of our dog-friendly places to stay in Sussex >
---