The dog-friendly holiday checklist
The wonderful thing about planning a holiday, making lists, and ticking them off – is the fact you'll probably still forget something, no matter how hard you try. But to make sure that something is a something, and not somethings, we've had our team talk to their dogs and created a checklist of the items they couldn't do without when they're on the road.
---
31st March, 5 minute read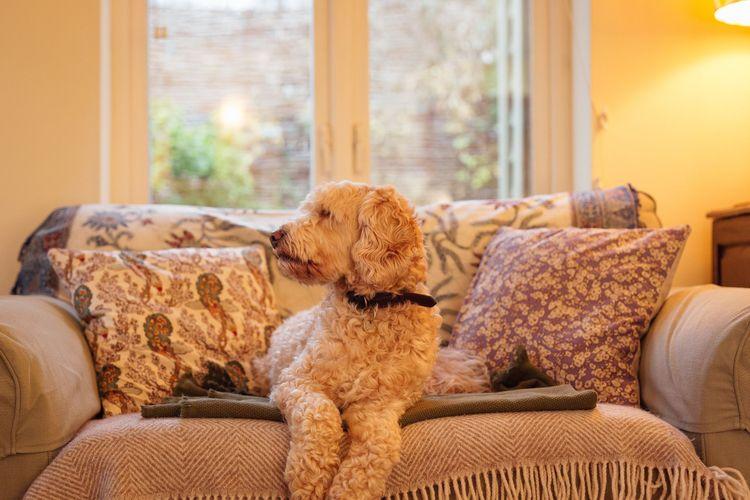 1. Collar and name tag
It may well be painfully obvious, but a collar and name tag are easily overlooked due to that very reason. It's a wise idea to consider getting a new extra tag with the address of the holiday accommodation on it, expediting your dog's safe return. A microchip is now a legal standard in the UK, it's easy to think it sufficient. But a tag allows any member of the public to catch and return your dog before having to go the extra mile to the nearest vet – with some of our places being quite remote, this might save you some time spent worrying! Anywhere between £5 - £20, it's a small cost you know you'd happily pay for the quick return of your four legged-friend. If you're able and willing, go for the extra step, and pay for a GPS tracker – and have no confusion over where your little scamp has disappeared off to.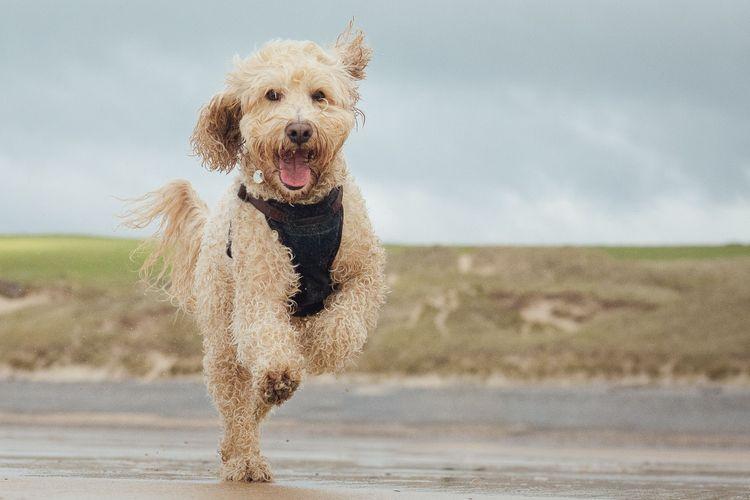 2. Leads and harness
We know. We did it again. Who would forget a lead? But even if you're staying at a dog-friendly place, not everywhere you go will be fully welcoming of your pets. If you've gone for a rural stay, be aware that not every field will be appropriate for your dog to run wild. If you encounter a field with livestock in, your dog should be on a lead, and kept close to you. In fact, you may be shocked to learn that a farmer is legally entitled to shoot your dog if it's threatening their livestock, so be familiar with the countryside code. Larger livestock can get scared and stampede, threatening the lives of you and your pets. Weird though it is, cows kill more people than sharks a year.

If you're in doubt, or can't see the full extent of the bounds of the field, take them in on the lead and play it safe. Which follows nicely into the need for a harness, if you've the type of dog to garotte themselves going after every new smell, a harness is a safer way to restrict their eager advances, taking the strain off their necks and spreading it out over their frame.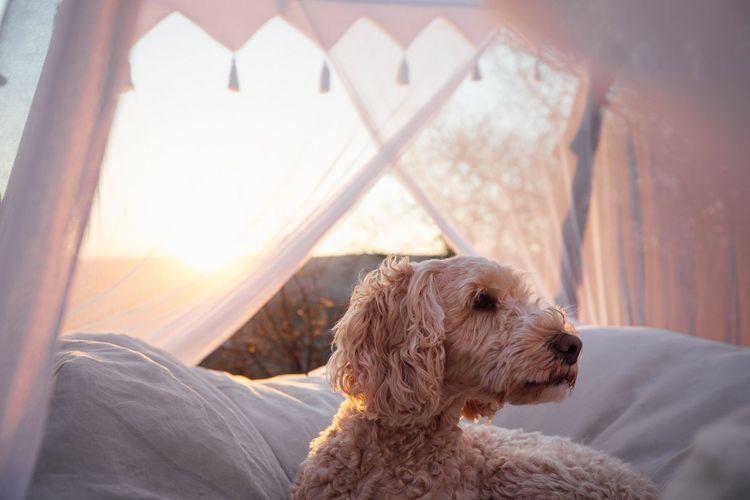 3. Bed and blankets
Your dog, just like you, is susceptible to strains on its mental health. Our little companions are sensitive creatures, and just as travel can be a little taxing on us, it is for them too. Some of our places have owners that go above and beyond, and provide extra blankets, treats and even a dog bed! However, it's always wise to have it and not need it. Consider taking the least obtrusive of your dog's beds, blankets and other nest-making materials. Not all our places will allow you to take dogs into the bedroom, but they'll always have somewhere comfy to curl up and things you've brought will be smothered in the delightful scent of home, providing a little refuge for your dog when they're still unsure of their new surroundings.
4. Towel
Though your dog is more than happy to shake a bare wall into a Jackson Pollock repro in under five seconds, this is less amusing to our owners. If you take a look at our dog-friendly collection, you'll find some properties with fantasy-worthy 'mud rooms', wet rooms by the back door, or a 'dog shower' out back. In all cases, don't rely on owners to provide the towels – though many do. Moreover, if you pick one of the places near the beach and your dog likes a swim, they'll want a towelling off before desecrating your lovely car seats.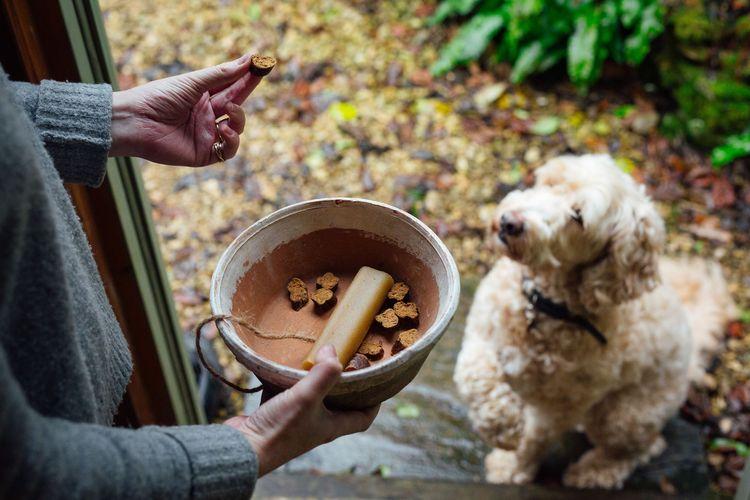 5. Dog food and treats
You may have already learned the hard way, changing your dog's food too quickly can lead to quite intense gastrointestinal upset. In fact, there are very specific recommendations for weaning your dog onto a new diet, and it can take five to seven days. It's therefore absolutely vital you don't rely on finding your dog's preferred brand wherever you're going. Should the worst happen, your best bet (outside of finding the original brand) is to go for a grain-free hypoallergenic brand, which could be: Pooch & Mutt, Skinners Field & Trial, Ella & Co's, Lily's Kitchen or Harrington's. Many dog foods contain grains, which aren't naturally within a dog's diet, but are instead added as a cheap filler. The above brands are grain-free, hypoallergenic and likely the most dog friendly and safest bets if you can't find your usual.
6) Food & water bowls
Unless you're feeling in a pretty Snow White kinda mood, we'd bet good money you're not planning on hand feeding your furry partner-in-crime, though of course they deserve it. So you're going to need a bowl. There are collapsible silicone bowls, which pack easily, but a more eco alternatives too, such as the biodegradable bowls from companies like Beco. Whilst you're at it, don't forget a water bottle to keep drip feeding them water. Dogs get dehydrated too!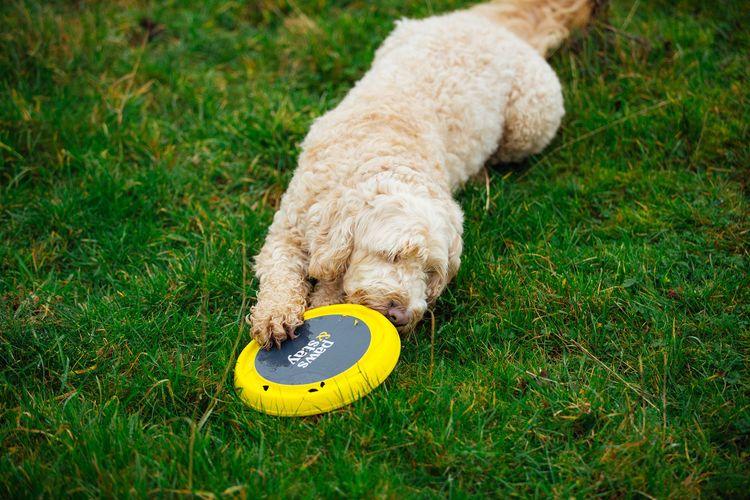 7) Toys
Our faithful friends may be able to turn the slightest wee twiglet into a game of fetch, but it doesn't mean they should have to. Just like a child, there's a debate to be had over whether you should bring their favourite toy, for comfort, or perhaps a lesser one to avoid mopey return journeys should it find itself lost to the long grass. Toys are a super effective way to distract distressed pooches, and there are many options to pick from to soothe anxiety. A frozen peanut butter-stuffed Kong perhaps, a snuggle puppy – for younger ones, or even just a fresh pack of the dog-friendly classic, tennis balls.
8) Brush & shampoo
If you plan on taking your dog on long walks, or hikes across wild areas, there's a strong chance you'll get back to your place needing to remove burs, sticky weed or seeds. For ticks, you'll need a tick remover which you can pick up at most pet shops. Don't be tempted to pull or burn them out. It's also worth considering that there may not be shampoo for your dog at the place, so pack your pooch's favourite to keep them fresh after long muddy walks. Once you're back indoors, if your dog is particularly long haired, you may need to carry a brush to avoid coating all your seats in fluff, however there is a far more important reason.
9) First aid kit
Dog-friendly first aid kits are always a good idea, and we can assure you, if you need one, you'd pay anything to have it right then and there. So grab one before you set out. In reality there's not a huge amount of difference between human and dog first aid kits, so if you'd simply like to bolster your human first aid kit, the additions might be – sting relief, iodine prep pads, parachute cord and most importantly, tongue depressors – for choking issues. It's also not a bad idea to consider colloidal silver, for cuts, scrapes or burns (from hot pavements).
10) Documents and contact details
Sometimes the worst does happen. As uncomfortable as it is to think about, it's best done regardless. Pack all the relevant contact details for your vet, your insurance information and any other data for your dog that might be of help for emergencies.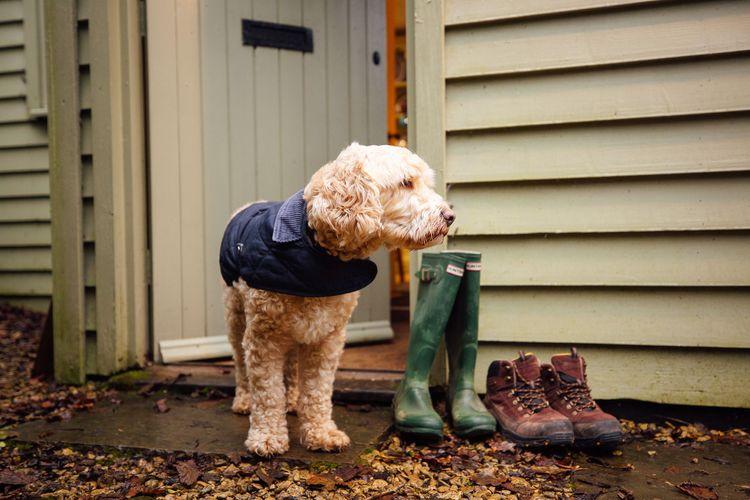 11) Coat and fleece
A lot of our places to stay have roaring fires and toasty log burners, but we can't help you out on the walks. Our little friends, though insulated, still get cold. Keep your long hikes a little more dog friendly temperature wise, and invest in a good coat for the rain, and fleece for the cold.
12) The unmentionables
There's a few items everyone agrees are beyond necessary for a trip – one of them, is poop bags. This is where it gets tricky. Some poop bags are listed as biodegradable when they're simply not. Whilst it seems perfectly normal to allow your dog to relieve themselves in wild spaces, it's actually a terrible idea. It can potentially be carrying worms, or serious bacteria and viruses – which remain alive in the soil for years, and even wash into water supplies. Even worse, it can be eaten by wild animals, or even livestock, and make them quite unwell. When choosing your dog poop bags, look for materials like corn starch PLA – it breaks down into starch, protein and fibre.
---