Unusual things to do with your dog on holiday
Travelling with dogs in the UK can be highly rewarding: new memories made together strengthens your bond and will help build your dog's confidence and trust in you. But sometimes, it can be tricky to know what to do while you're away with the hound, especially when the weather isn't great. Holidays should be about more than just a lovely place to stay and a good pub with a walk nearby (though I love all those things, too), so I've dedicated the last three years to finding the best activities for my books on dog-friendly travel. Here are some of my favourite unusual activities you (probably) didn't know you could do with your dog.
---
Go to a museum
Most people think museums are out of the question when travelling with their dog, but there are plenty of indoor and outdoor museums across the UK that permit dogs with well behaved owners. One of my favourites is the Pencil Museum in Keswick, Cumbria, where you can see a record-breakingly huge pencil and learn about the Derwent Pencil Factory's involvement in World War spy devices. Elsewhere, the Brunel Museum in London, St Fagans in Cardiff, and the Weald and Downland Museum in Sussex are also excellent days out with dogs.
Go shopping
If you love to shop but you don't love to leave the dog at home, there are plenty of places you can take them along with you for a little retail therapy. In Oxfordshire, the luxurious Bicester Village is on the edge of the glorious Cotswolds and welcomes discerning dogs into many of its designer stores and restaurants. There are even water bowls dotted throughout the place to keep them hydrated while you nip into Hunter for new walking wellies or Ted Baker for a new coat. In Hampshire, Portsmouth's Gunwharf Keys has over 90 dog-friendly designer shops to browse in right on the waterfront. Pair this with a boat trip around the harbour and you'll have a grand day out.

Of course, London has a brilliant shopping scene and most dog-friendly is the new shopping centre in Battersea Power Station, where designers like lululemon sit alongside high-street stores and independent craft and book shops.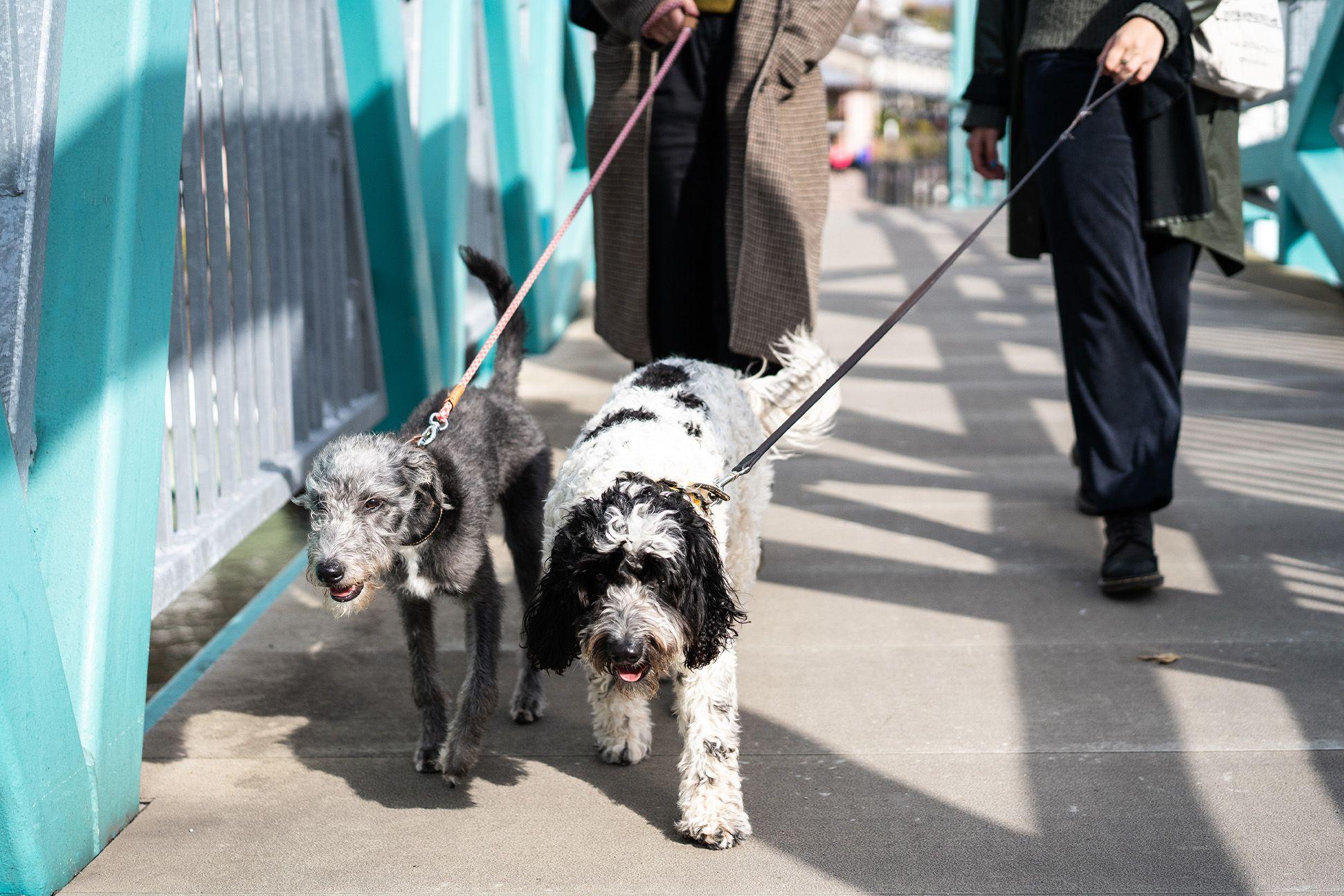 Glide across the sky in a cable car
From Scotland to the big city of London, there are a surprising number of cable cars that allow dogs on board their swaying transport. The capital's IFS Cloud Cable Car floats high above the River Thames and offers an exciting way to get from the Royal Docks in east London to Greenwich, where long walks in the park await. In Derbyshire, Matlock Bath has the Heights of Abraham cable car which takes you to the top of a hill for spectacular views across the town and surrounding countryside. There are plenty of things to do at the top, too, including mine tours, towers to climb and woodland walks for the dog.

Finally, if you don't fancy hiking all the way to the top of a mountain in the Scottish Highlands, head to the Nevis Range mountain gondola: on your journey up into the mountains you'll see mountain bikers zooming down the slopes below you, and at the top you can enjoy a series of short walks with spectacular views of nearby peaks and valleys.
Take a steam train to Hogwarts from Scotland
Alright, you can't really get to Hogwarts by train in Scotland, but you can ride the very railway that was used in the film as the Hogwarts Express line. The Jacobite Steam Train runs between Fort William and Mallaig and crosses the iconic Glenfinnan Viaduct. The journey is just over two hours long and you'll watch the Scottish Highland scenery pass by out the window, as you strike out towards the most westerly train station in Britain, trundling over the deepest freshwater loch in the country, Loch Morar. Dogs can join you in Standard Class in refurbished vintage carriages and there's a buffet car for snacks.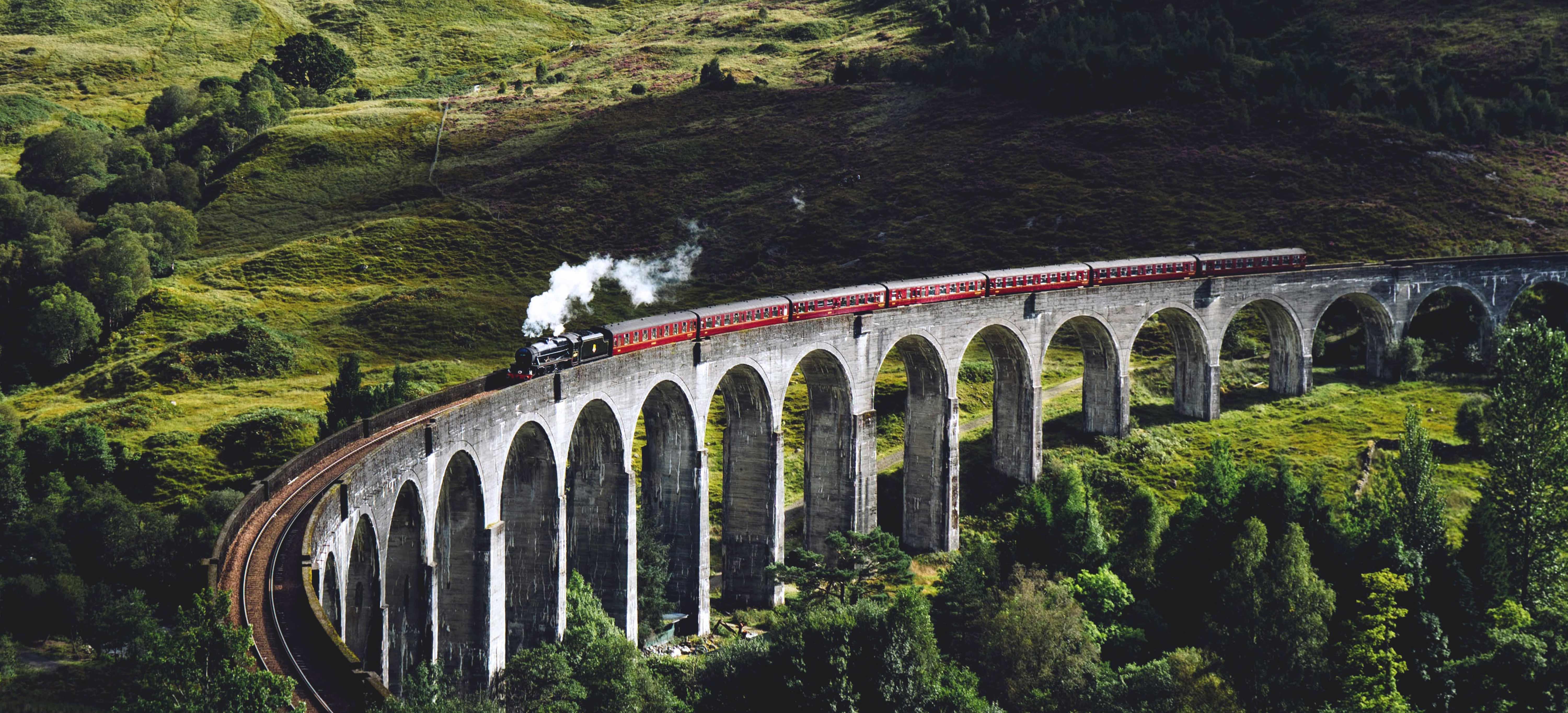 Try stand-up paddleboarding in the city
If you've got a dog that doesn't mind water, try your hand at stand up paddleboarding on the docks in Liverpool. The Liverpool SUP Company welcome water-confident dogs on their one-to-one group sessions and they'll provide all the gear you need. You'll paddle in view of the historic Liver Building and near the famous Albert Dock, and afterwards you can head to Sugar and Dice, a board game cafe, to warm up with a game of scrabble and hot chocolate.
---