Crusoe the Cocker's guide to the UK's best dog-friendly beaches
From their daily dose of Vitamin Sea on the south coast, to those breath-taking breakwaters discovered on trips away – Rebecca Belleni and her cocker spaniel Crusoe (@crusoe_the_cocker) are happiest when enjoying the wonderful shores around the UK. Rebecca has shared six of her favourite dog-friendly beaches to explore.
---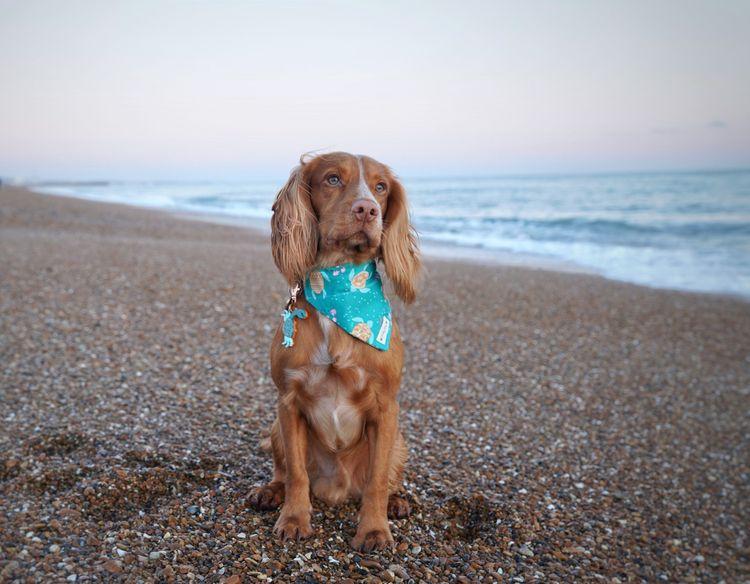 Shoreham Beach – Shoreham by Sea, West Sussex
Nestled between Brighton and Worthing on the Sussex coast – we are lucky to call Shoreham our home. This dog friendly beach is perfect if you are visiting the area and in need of some peaceful beach time.

Shoreham beach is predominantly shingle but has a boardwalk for those who require it and low tide exposes plenty of sand. We recommend taking the western direction towards Lancing; after around 2.5 miles you will reach The Perch which is a wonderful café where we love to stop and grab a coffee and doggie treats. This is usually our turn about point before walking back eastwards in the direction of Shoreham with views looking to the white cliffs of the Seven Sisters beyond.
Stay at The Dairy at Streat Place Barn, Ditchling, Sussex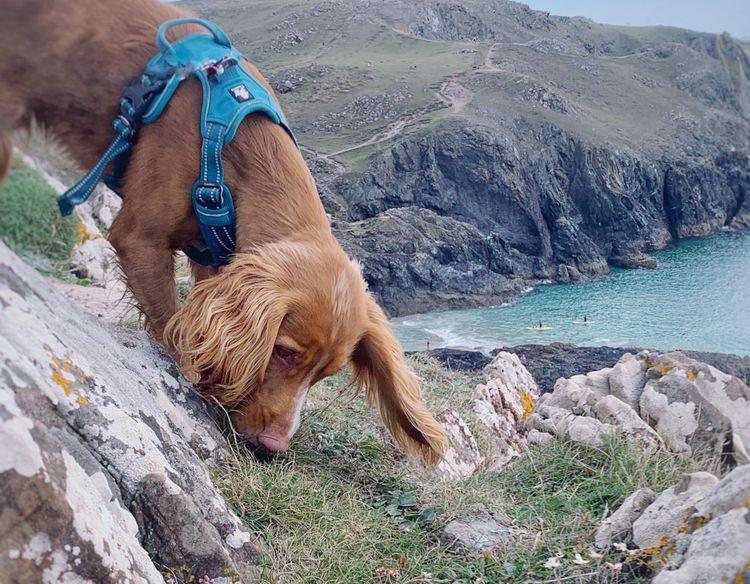 Kynance Cove – Cornwall
A national gem on the crown of Cornwall's coast – Kynance Cove is a breath-taking spot with intertidal rocky outcrops connected with white sand and turquoise seas – it's a must see if you're staying nearby.

The walk itself is around 40 minutes to the main cove but as we arrived early (highly advisable) and the tide was still going out, we continued past and up to the cliffs above. The views from the far side were just spectacular. We took a nice walk to the highest point and took in the whole surroundings, before heading down to play and explore the rocky bays which had Crusoe in his element.
Stay at Kalmynsi, Gweek, Cornwall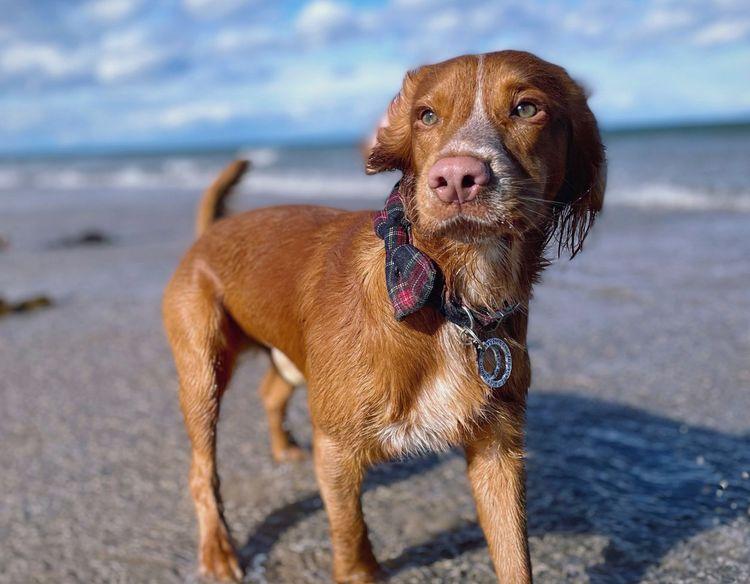 Covesea – Moray
Taking you from one corner of Britain to another with wonderful Covesea on the east coast of Scotland.

This is my top beach when I go back to my family home and one I just love to walk with Crusoe. The 4km long expanse of sand backing onto dunes overlooks the North Sea and is as picturesque as it sounds. Towering above is Covesea lighthouse where you start your walk before contouring the coast, discovering rockpools and caves at the far end. Be sure to look out for the resident dolphins as you go.
Stay at The Dairy at Denend, Huntly, Aberdeenshire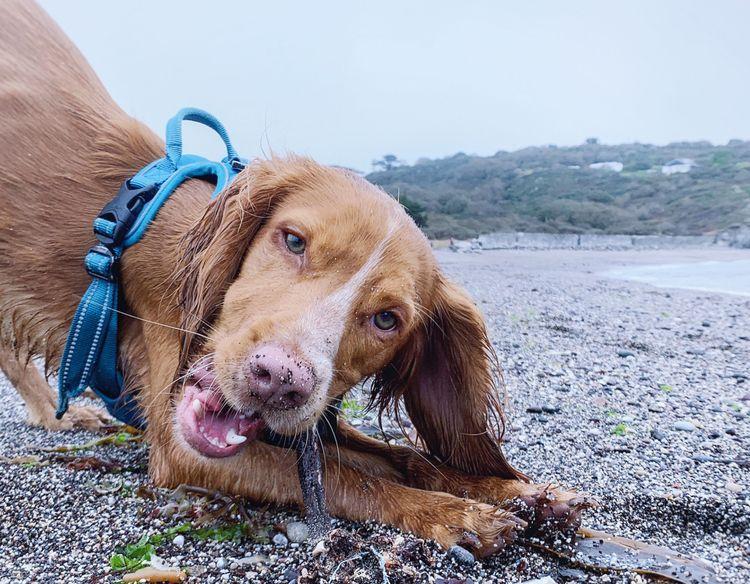 Kennack Sands – Cornwall
Secluded on the eastern Lizard peninsula of Cornwall lies a beautiful beach hidden from the main tourist routes, this little oasis is perfect for a play on the golden sand. This beach is split into two, the east side over the small hill is dog-friendly all year which allows for off-leash zoomies across the sands. This area has various routes to take and explore along clifftops to neighbouring coves which can make for a perfect adventure day with your four-legged companion with a picnic packed for en route.
Stay at Round House East, Truro, Cornwall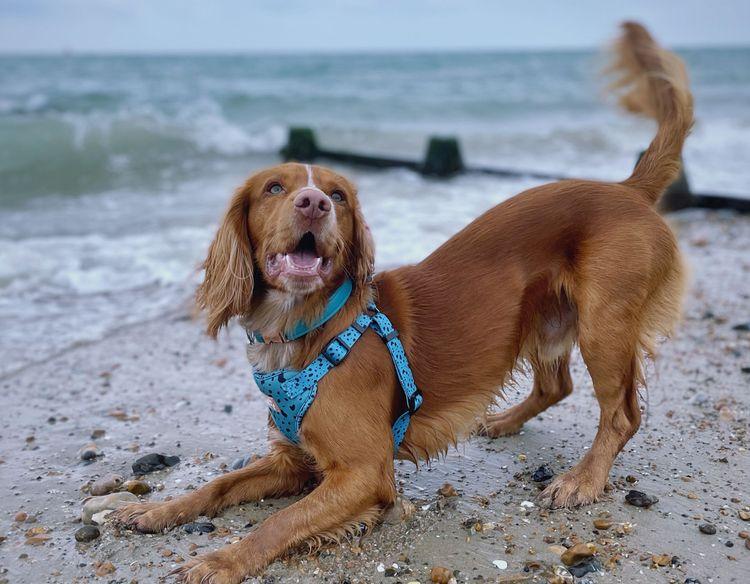 The Witterings – Chichester
One of our favourite seaside spots to escape to for a weekend, The Witterings are the closest thing you'll get to Byron Bay in the South. West Wittering is renowned for its extensive dunes and sandy beach, while the East offers pubs, restaurants and surf shops. Try Drifters for lunch before a walk from East Wittering beach down to Bracklesham Bay with views out to the Isle of Wright. If, like us, you love being out on the water and have a seadog like Crusoe, then we recommend taking your SUP or Kayak to paddle down the coast – grabbing some refreshments from Billy's on the Beach before setting off back up.
Stay at Harbour View House, Chichester, West Sussex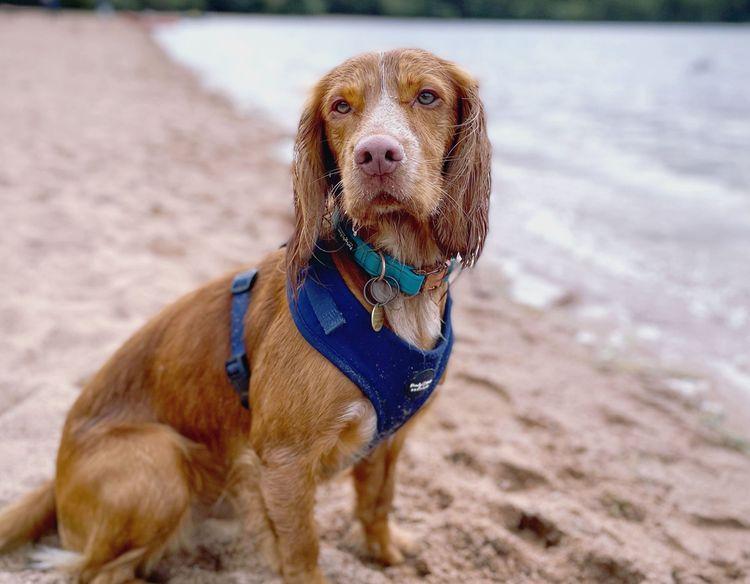 Loch Morlich Beach – Scottish Highlands
Taking you to new heights for our final beach location – literally. Loch Morlich beach sits 300 metres above sea level – surrounded by ancient pine forests and iconic mountains. Renowned as the most picturesque beach walk in Scotland, it has various trails taking you round the loch, with camera-worthy views of the Cairngorm National Park. An absolute must see when staying nearby in Moray and perfect for adventure enthusiasts. Stop off for an après hot drink on the beach overlooking the mountain range.
Stay at The Sheep Shed, Huntly, Aberdeenshire
---