Eight dog-friendly castles to visit in Scotland
Castles are almost ten-a-penny in Scotland, thanks to the country's rich clan history, whereby rich and powerful families built themselves grand homes and fortifications with which to hold onto their money. Today, while many of the clans – and the feuds that happened between them – have been disbanded, their mighty ramparts still stand across the country. Many of these are now stately homes or even royal residences, and others are preserved in a dramatic state of ruin, making them fascinating, atmospheric places to explore with the dog. These are a few of the best castles in Scotland to visit on your dog-friendly holiday.
---
Armadale Castle and Gardens, Isle of Skye
Right on the southern tip of the Isle of Skye, a 25-minute drive from Bothean Beileag, Armadale was the seat of the Donald or (MacDonald) clan, the largest in Scotland. The Donalds controlled much of Scotland's west coast for almost 400 years and this now-crumbling home was one of their most important strongholds. Today, ivy crawls across the grey stone surface of the ruined building and its gardens have rewilded themselves in parts, making it an utterly spellbinding stop for a dog walk on the Isle of Skye.
Stay at Bothan Beileag, Broadford >
Crathes Castle, Aberdeenshire
While the castle is the centrepiece on this estate in Aberdeenshire – just an hour's drive from the Dairy at Denend – it's the wildlife that will excite you most. Crathes Castle, on the edge of the Cairngorms National Park, is home to slinky pine martens, long-beaked woodcocks, nifty red squirrels and elegant roe deer, plus some of the northernmost wool carder bees in the UK. Its handsome gardens and wider estate are dog-friendly, so wander around with the dog on a lead (no squirrel chasing allowed!) before you snap a photo in front of the towering 16th-century castle.
Stay at The Dairy at Denend, Huntly >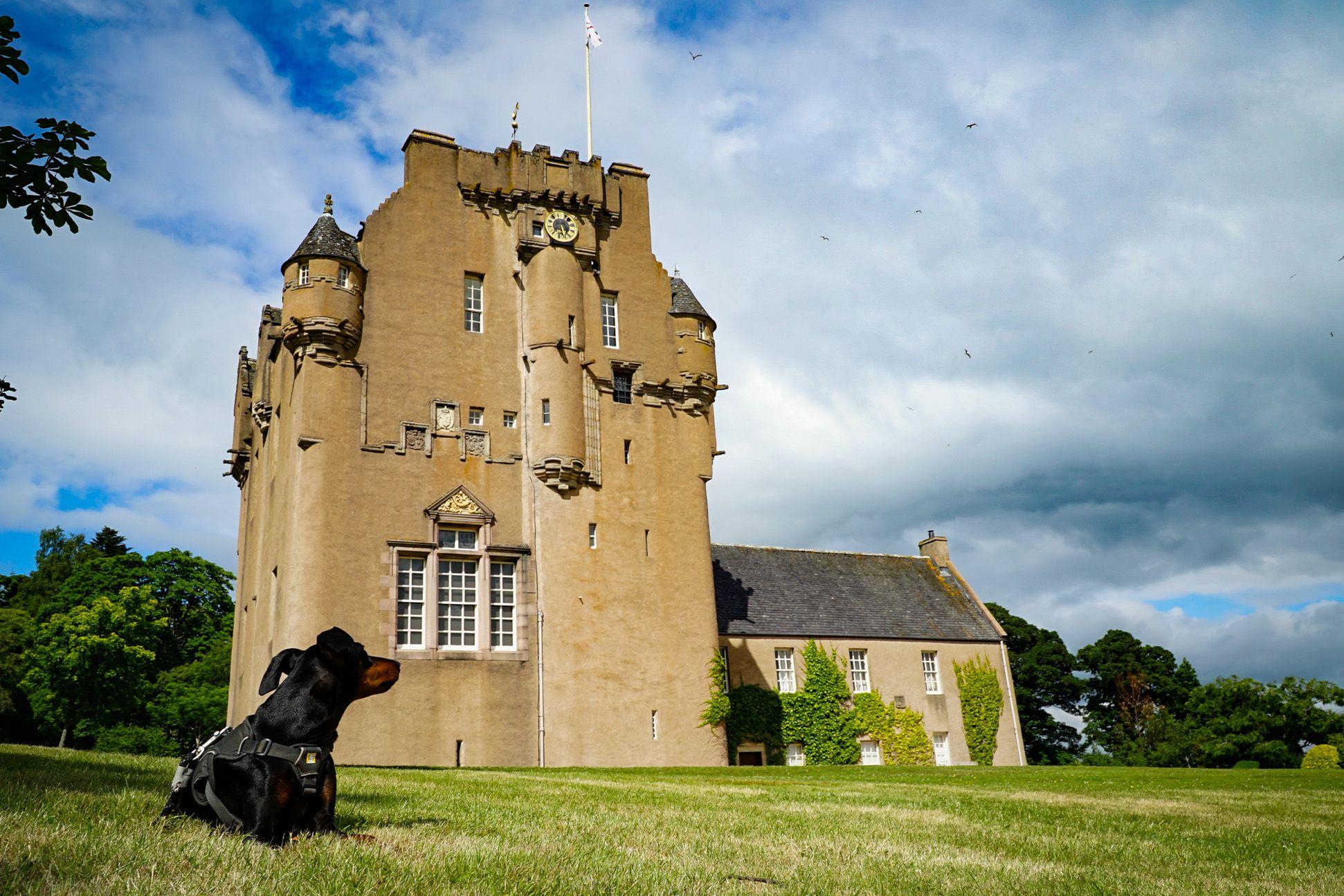 Dunvegan Castle, Isle of Skye
With a history that goes back to the 1200s, Dunvegan Castle is a truly impressive piece of history on Skye just an hour's drive from our Broadford bothy. It was home to the famous MacLeod clan, whose 25th chief restored his familial seat in the 19th-century to create the Victorian castle we see today. Walk the dog around its rugged grounds and manicured gardens, where stone bridges cross over lily ponds leading to small but gushing waterfalls. If you're travelling with human companions, take it in turns to look after the dog outside while the others head into the castle to see its MacLeod artefacts and paintings.
Stay at Bothan Buidheag, Broadford >
Dunnottar Castle, Aberdeenshire
If it's drama you're after, Dunnottar does a pretty splendid job: this ruined castle – once seat of the noble Keith family – sits on a rocky outcrop off the Aberdeenshire coast with near panoramic views of the North Sea. Its history goes well beyond the first castle stone laid in 1392, though, as evidence of Picts living here in 5,000 BCE have been discovered. The castle is accessed via a twisting walkway across the clifftops (dogs must be on leads for safety), and you can roam in and out of this magnificent ruin to admire the sea views.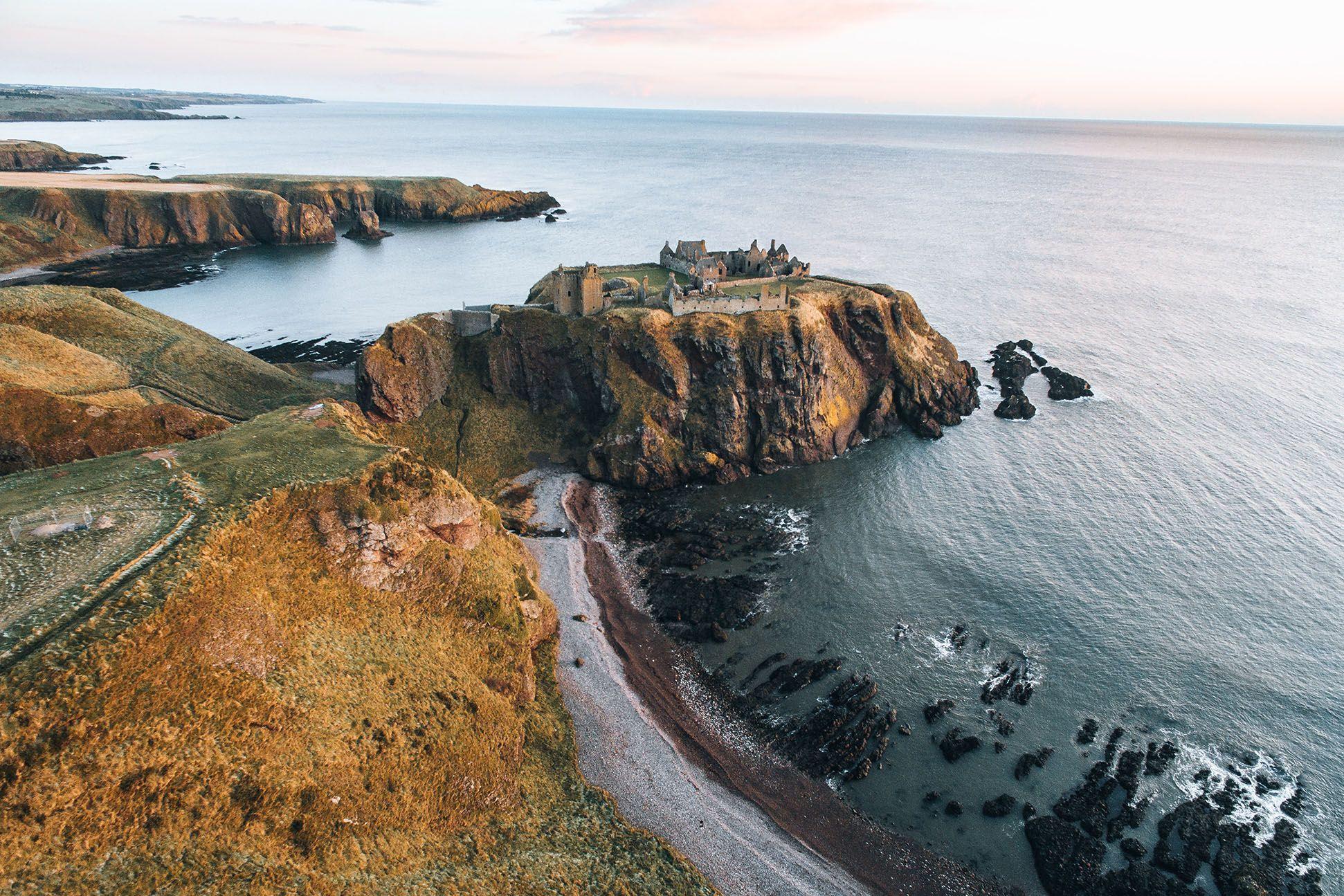 Balmoral, Aberdeenshire
The world over knows Balmoral as the late Queen Elizabeth II's favoured holiday home, perched on the edge of the Cairngorm Mountains and surrounded by spectacular pine forests. Dogs are welcome to explore the gardens when royals aren't in residence (usually between April and July), and the wider estate is open year-round. Hike the Cairn Trail for spectacular views over the castle.
Caerlaverock Castle, Dumfries & Galloway
Perhaps the most famous loch in Scotland, Loch Ness is known world over for one thing: that elusive monster. But there's much more to do here beyond looking out for Nessie's scaly back As fortifications go, this one looks pretty impenetrable. Caerlaverock's huge rounded towers and mighty battlements were built in a triangular shape to make it incredibly difficult to capture, and the addition of a deep moat that surrounds the entire geometric fortress offered extra protection. However, it was still attacked and besieged more than once, and finally in 1640 its south curtain wall was demolished to render it largely defenceless. Today, you can wander around its reddish ramparts with the dog on a lead before retiring to one of our nearby properties near Castle Douglas.
---