Keeping muddy paws clean on holiday
Whether you're going romping out in the rain or you've got a dog that just loves a muddy puddle – Golden Retrievers, we're looking at you – sometimes you can't help having a mucky pup. At home, this usually involves a careful clean up operation: perhaps it's an outside tap and hose, or a wipe down with a towel in the porch before heading up to the bathroom for a proper wash. When on holiday, though, we can't always guarantee there will be the right kind of cleaning equipment provided, so you'll need to come prepared for all eventualities. Plenty of Paws & Stay properties have an outside dog wash station, such as the fabulous Owl House in Shropshire and Lymore Orchard in Hampshire, but when you don't find what you need, here's how to keep your pet clean on your next dog-friendly holiday.
---
The trusted spare towels
The easy option is the ever-so-simple spare towel. One should be kept in the car for a wipe down after muddy walks, and another should be reserved for the porch or front door of your dog-friendly accommodation so you can make sure they're extra clean before they step inside. Microfibre towels are often best at keeping the dog clean, not least because they dry super-fast.
The self-cleaning coat
If you don't fancy doing all the hard work yourself, a dog drying coat can be a clever solution. There are several of these on the market, but the Ruff & Tumble coat is one of the most popular: made from cotton towelling, it covers your dog's body and fastens beneath the belly with a wide flap. Its collar is extra-long for covering the head and soggy ears, while there are elasticated leg straps to keep it close to your pet's body while they wear it, ensuring all areas are covered.
The extra-mile Mud Daddy
For pets with long hair and a penchant for the thickest, darkest mud, you might want to consider a Mud Daddy. This device is essentially a portable shower for your dog, but rather than using a noisy motor it utilises water pressure to keep flow going. This means it's silent, so it won't spook sensitive dogs, and it doesn't require power. They start at five-litre capacity and go up to 12 litres for the more serious dog walker, and they come with a two-metre-long hose with a two-in-one brush and shower head at the end for most efficient cleaning. You'll need to pair this with a spare towel, of course, to get your dog dry again before heading inside or into the car.
The cover-up operation
Of course, you might prefer to not have to wrangle your dog into a towelling coat or come at them with a hose at the end of the delightful dog walk. If you'd rather keep them clean from the beginning, there are clothing options that will help. A dog coat with legs can be an excellent way of keeping dogs with longer fur clean – likeI favour an Equafleece, which is ultra soft, comfortable and incredibly waterproof, but other types are available including this high-visibility coat from Funny Fuzzy. For avoiding pawprints all over your self-catering cottage or glamping hut, try rain boots like these from Ruffwear.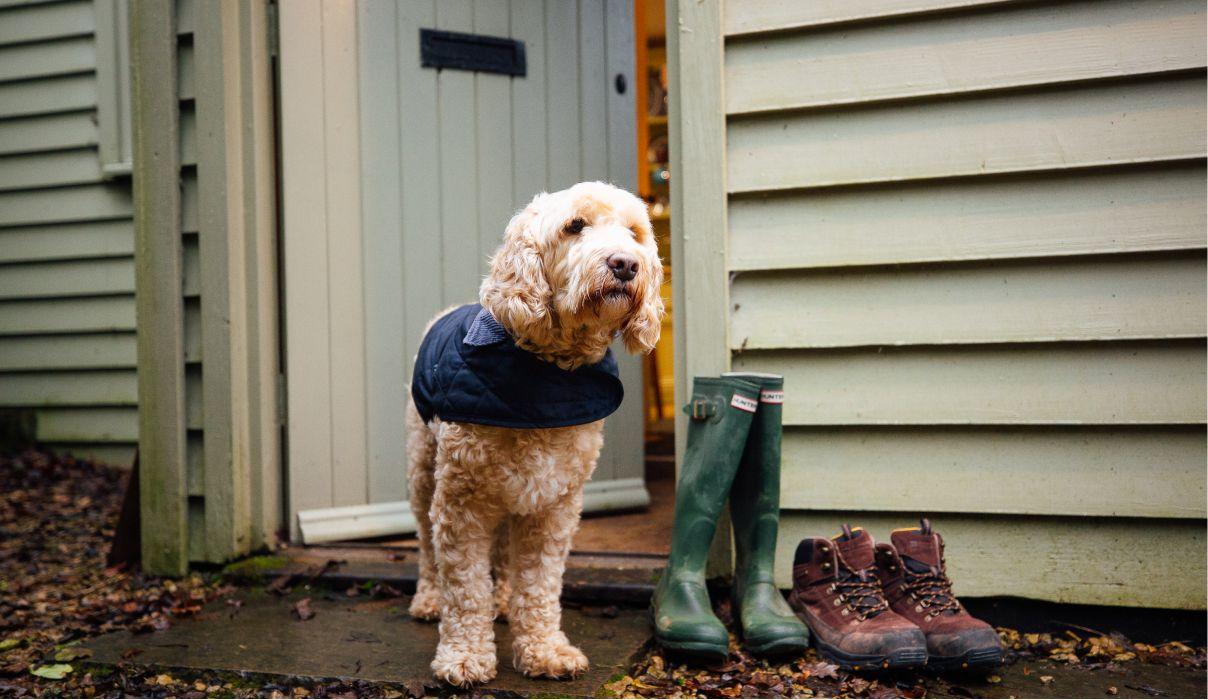 The paw print fixer
Not all dogs are prone to rolling in mud or swimming in filthy ponds, and often it's just the paws that come back looking a little browner than before. If that's the case, a handy Mudbuster might be the key. Your dog will need to be comfortable with having their paws touched by you and foreign objects before you try this, but essentially you just need to add a little water inside the cup and then pop your dog's paw inside and twist. There are soft bristles inside to dislodge stubborn mud clumps from their feet, and you can simply dry them off with a towel after.
The last-resort dog wipe
Wet wipes should never be the first port of call for muddy dogs – they are always the least sustainable option for keeping your pet clean. But sometimes, if the towels are already dirty or the dog has stepped in something unsavoury, a wipe might be the only option to have them sparkling again. Some dog's skin might be sensitive, so using kitchen wipes or other domestic products might not be suitable. Instead, opt for a pet-specific wet wipe such as Beco's unscented wipes or Tropiclean's hypoallergenic towels. New-to-the-market Pawgeous wipes are plastic-free and biodegradable, meaning they shouldn't end up harming the environment more than necessary. Always be sure to throw wipes in the landfill bin, not the composting waste or in the toilet, to ensure responsible disposal.

Now that you're prepared for even the muddiest of walks, start planning your next adventure:

Read Best dog-friendly walks in England >

Read Wales' most scenic dog walks >

Read The Paws & Stay team's favourite woodland walks >


Browse all of our dog-friendly places >
---