The five best dog walks along Devon's coastline
Devon's love of beaches may only be surpassed by its love of dogs. As our four-legged friends become even more common family companions, Devon continues to recognise their rightful place at our side, be that on the beach, on the trail, or below the table with pleading eyes. With more coastal visits on the cards and ever more eateries welcoming our tiny friends, here's a selection of some of our favourite Devonian walks, with a few suggestions of where to fuel up once you're there.
---
South West Coast Path – Welcombe Mouth to Hartland Point
There's a moderately difficult 8-mile hilly walk to the Hartland lighthouse starting at Welcombe Mouth that has wonderful views and a decent break at the halfway mark – Hartland Quay, where you can pop into The Wrecker's Retreat for a pit stop. There's also the chance to take a peek at Speke's Mill Mouth Waterfall – where water gushes a visually impressive 48 metres to the river below.

On the way your walk will be framed with tall cliffs, strange alien-looking rock formations that make ridges stretching into the sea. Your dog will love romping about on the beach, and with no restrictions, they'll be free to zoom themselves out. You'll need to divert off the South West Coast Path to reach the light house, but it's worth it for the panorama.
Stay close by at The Cosy Cowshed at Sleepy Owl >
Northam Burrows Country Park
Going in circles is rarely a sensible use of time – unless of course, you need to get back to the car. The circular walk at Northam Burrows Country Park is a great walk for dogs with coastal plains edging onto a salt marsh, as well as miles of grassland. It runs past both Westward Ho!, as well as Greysands Beach – the former allowing dogs on the northern end, and the latter allowing dogs all year except between 1st May and 30th September – though the walk will suffice to tucker out dogs without an extensive beach stroll.

If the wander proves snacky – there's a visitor centre to pick up a pick me up, but you're not far from Westward Ho!, or indeed Northam and Diddywell nearby, if you're looking for something more substantial. The whole route should be around two miles, and it's not too arduous terrain, so this makes for a great walk for less energetic days.
Stay close by at Nest Treehouse at Sleepy Owl >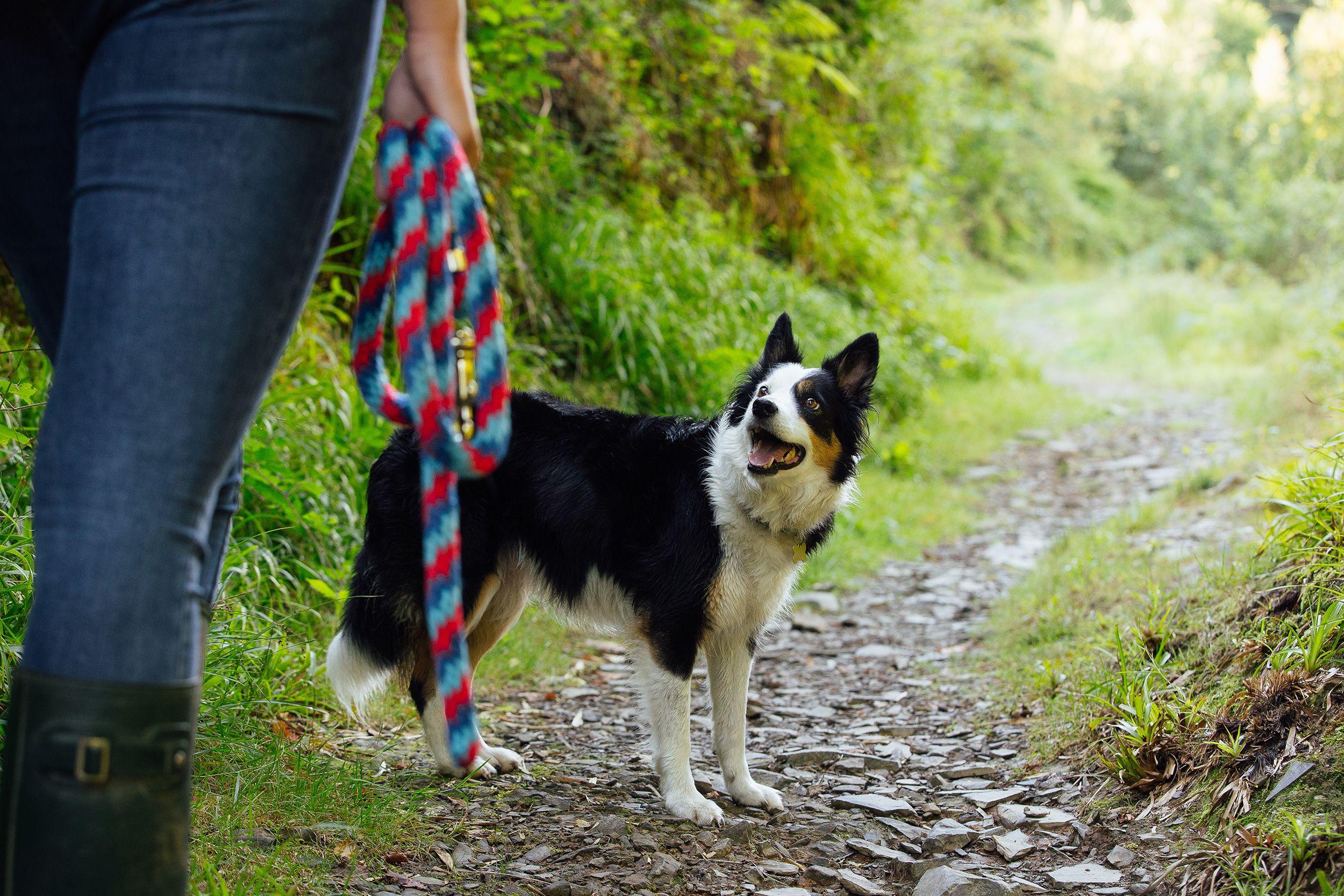 Hooken Cliff, Beer
Ask a local, and it's likely you'll have the Branscombe to Beer walk suggested to you, and with good reason. If you head towards the beach car park, before setting off, pop into The Sea Shanty Beach Café (dog-friendly) for a constitution strengthening coffee and snack. Dogs are allowed on the beach here, but only in specific areas, so be sure to have the staff point them out, as they rely on landmarks to be defined.

To start the walk, find the South West Coast Path marked opposite the car park, and head east. It's known to be a little confusing as to which path to follow, as one section will take you closer to the beach, and another is set a little further back – but both are great walks. You might spot The Undercliff Cave on your way, or the Hooken Cliffs, a spectacular white section of rock jutting out sea-wards. At this point you'll head northwards and begin the home stretch to Beer, where you can pop out onto the beach worth your four-legged friend (from 1 October until 30 April). By now you'll be ready for food, and there's plenty of places to pick from, so grab a little snack, and a pint of… cider.
Stay close by at Hill's Cross Hide >
Killerton
Another excellent circular walk, Killerton House – now owned by the National Trust, is a massive 6,400-acre estate where you can have your dog join you on lead to explore the grounds. It's a great idea to take a quick stroll here, perhaps load up on some snack from the two cafes, and then visit any of the other National trust spaces nearby. Or alternatively, finish off here, and use the cafes as a reward, as well as making use of their hose by the toilets to freshen up your newly-mud-coated friend.

There's also the Deodar Glen backing onto the estate which has 2.5mi of track, Poltimore House just down the road – where dogs can peruse the grounds, and join you in the cafe, or even Ashclyst Forest an 8-minute drive away for some off-lead sprints amongst the 700 hectares of woodland.
Stay at Willow at Dittisham Hideaways >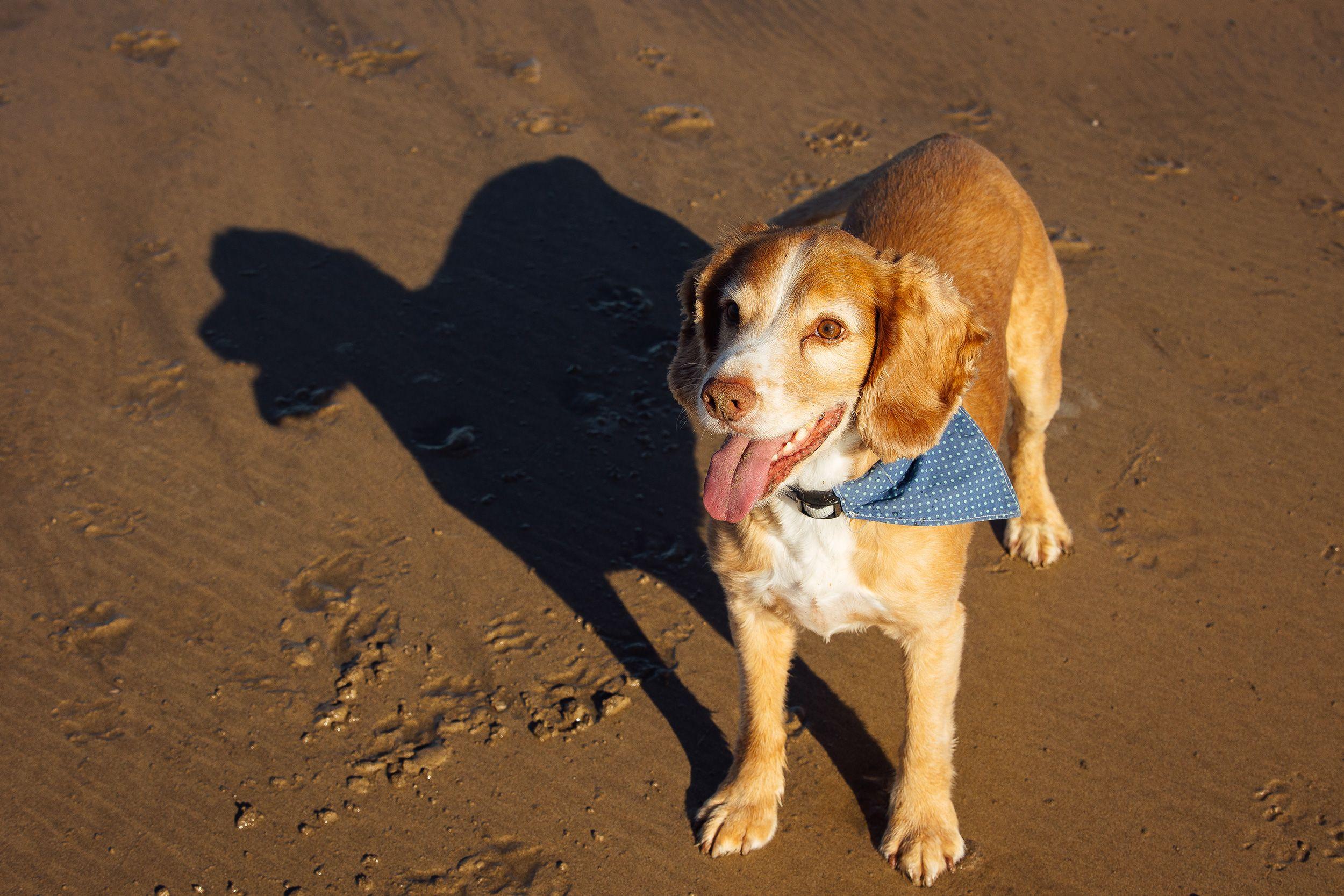 Putsborough to Woolacombe
Linking two of the finest and award-winning dog-friendly beaches there are, Putsborough to Woolacombe beach is an obvious choice. Most importantly, it's basically the same beach. At one end, Putsborough – round the corner from Croyde - and at the other, shockingly, Woolacombe. Both beaches have no dog restrictions, and a large stretch of wide-open sand to play on, as well as rock pools, dunes and even some decent surf.

Once again on the South West Coastal Path, this area joins up with the rest of Devon via this tiny track, so if you're looking for something longer, you can always tack on a couple more miles. Woolacombe is a fantastic choice for pit stops and refreshments, with copious dog-friendly institutions to visit for snacks and meals. If you want a little more beach-action, pop round the corner to Barricane or Combesgate beach for some more sandcastle-crashing fun – though be sure to check their seasonal restrictions.

Stay at Hideout Treehouse at Sleepy Owl >
Browse all of our dog-friendly places to stay in Devon >
---