Feeling flexible? Browse the full collection of places to stay here
Luxury dog-friendly cottages
Almost everything is better with a dog, and if you could ask them, we're sure they'd agree. After all, they always try to let us know before we go anywhere without them. That's why we've curated this page to help find all the luxury dog-friendly cottages we have (and a few others that might not quite be cottages, but you'd be annoyed if we didn't show you). Whilst there are some things you might find in nearly every one, like crackling fires, decadent bathrooms, enclosed gardens for the hound to run about in – the one thing you'll definitely love is how unique each place is.
Other luxury dog-friendly holidays
1/6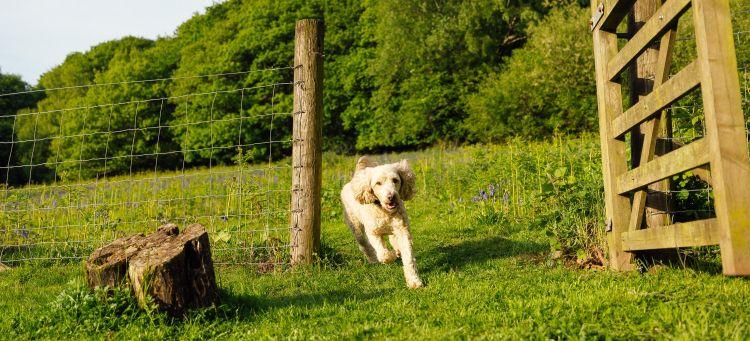 Dog-friendly cottages with enclosed gardens
Take a look at our dog-friendly cottages with enclosed gardens across the UK, because we know it's the most important feature for our guests.
Start exploring
Some of our favourite articles
About Paws & Stay luxury dog-friendly cottages
Where did Paws & Stay come from?
Knowing where something comes from can be pretty handy. That way, your beagle doesn't turn out to be a wolfhound (and the bed you bought them to grow into doesn't end up as a slipper). We use our experience finding unique places to stay for Sawday's and Canopy & Stars to sniff out special spots where humans and dogs are both welcomed like guests.
What makes a place right for Paws & Stay
That all comes down to its dog friendliness! We like a place where the dog's welcomed as another guest. But what can that look like? Well, in every place it's different. It could be a dog exercise field, or it could be a special dog shower, or even doggy beer! But often, it can look very similar, which is why many of our spaces have enclosed gardens, or dog beds and dog bowls left out for them!
How do we know each place is good enough?
Good question! You want to know when you pick a place, that it's all it's cracked up to be. That's why we send inspectors to every place we have, at least one human, and at least one dog. We get a feel for the place, chat to the owners, have a little sniff around (that's the dog part), and generally make sure it's the kind of place that we'd like to stay ourselves.
Where will I find Paws & Stay places?
We've got places all the way from the tip of Cornwall to the Scottish Lowlands, and places all the way in between. You could hit the beach in Cornwall and Devon, explore the midlands for the miles of unbroken countryside or hop the border to Wales and find hidden waterfalls and lofty peaks. We've new places coming on every week – so check back in to find our newest dog friendly getaways.
Sign up to our newsletter
Get new dog-friendly places, travel tips and destination ideas delivered to you in a format your dog can't chew to pieces.