Feeling flexible? Browse the full collection of places to stay here
Dog-friendly cottages
It's not a holiday, unless everyone's coming, right? And that includes the dog. Well, that's how we feel about trips away, and it turns out, a lot of you feel the same. And if you're going to pick somewhere that everyone likes, two or four-legged, well you'll probably want to listen to the guys who inspect with a team of dog-loving, dog-owning, dog-friendly travel experts. That way you're sure it's the kind of place you, and your hound will love. So, check out our collection of dog-friendly cottages – all inspected by humans, and their dogs, to ensure you'll love them as much as we do.
Bath & North East Somerset
1/2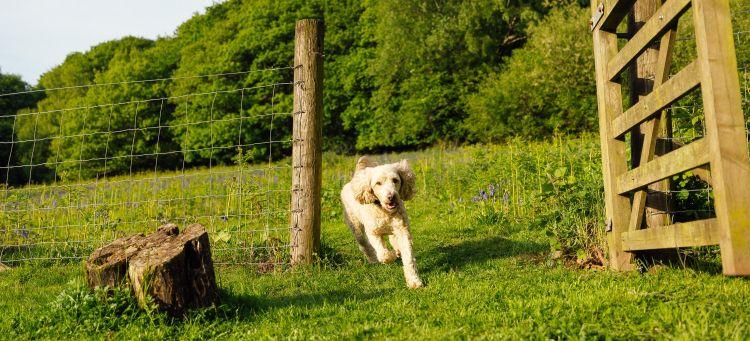 Dog-friendly cottages with enclosed gardens
Take a look at our dog-friendly cottages with enclosed gardens across the UK, because we know it's the most important feature for our guests.
Start exploring
Some of our favourite articles
About Paws & Stay dog-friendly cottages
Where did Paws & Stay come from?
With decades of experience between them, our team at Sawday's and Canopy & Stars found that when we travelled with our dogs, dog-friendly accommodation wasn't as welcoming as we'd hoped. We'd go as far as to say, it was often 'dog-tolerant', not 'dog-friendly'. So, we embarked on finding those special places where owners were as thrilled to see four-legged guests as they were two-legged ones – and the best part – is that we found those special owners and put them all on the same site.
What makes a cottage right for Paws & Stay
At first, we thought this would be simple – after all, how hard could it be to work out what dog-friendly means? It means different things to everyone, so we did the smartest thing we could think of – we asked all of our guests. We found most of you didn't mind a few rooms or a piece of furniture being off limits – just as long as they have a spot to sleep, are warmly welcomed, and have considered how your four-legged friend will use the space.
How do we know each cottage is good enough?
Easy – we went and checked. With a dog. A member of our team always goes out to new cottages to check them out and brings a hound along too to sniff it out. We have a similar ethos to our other brands, Sawday's and Canopy & Stars, we're not out doing white glove tests and sternly ticking boxes on a clipboard. We go in and get a feel, speak to owners, check out the area, and most of all, makes sure we leave with tails wagging.
Where will I find Paws & Stay places?
That's a hard question to respond to, because every day, it's a different answer. New places are added all the time and by the time you read this, there'll be a new place to visit! But right now, you could find a spot to relax in on the Scottish Coast as easily as you could the Cornish one. You'll find cottages in woodland, scenic cities, and even AONBs. Where will you find Paws & Stay places? The easiest answer is, wherever you're planning on staying.
Sign up to our newsletter
Get new dog-friendly places, travel tips and destination ideas delivered to you in a format your dog can't chew to pieces.